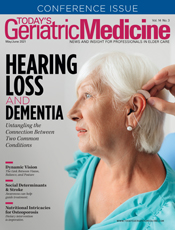 May/June 2021
Clinical Matters: The House Call Comeback
By Lindsey Getz
Today's Geriatric Medicine
Vol. 14 No. 3 P. 30
A system of personalized medicine could have a positive impact on geriatric patients.
Health care delivery is shifting. As the model moves more in the direction of preventive care and away from reactive, crisis care, the concept of the doctor house call is resurfacing. In many ways, this form of health care makes sense for the geriatric population, as it keeps older adults out of hospitals and emergency rooms. It may also be more effective at managing overall health. In fact, a new survey conducted by The Harris Poll for CareMore Health has found that house calls may allow for higher quality and more accessible care for people living with chronic conditions. In turn, this alleviates caregiver burden as well as the financial burden on the hospital system.
Daniel Devine, MD, and Michael Devine, MD, are among a growing number of doctors who have recognized the need to accommodate house calls. The brothers opened Devine Concierge Medicine, a boutique practice based in Wayne, Pennsylvania, to be able to offer the kind of personalized medicine they'd always envisioned when they began pursuing a medical career. They have seen firsthand how this model can positively affect the geriatric population.
"The geriatric population is by far the sickest, most needy age group and stands to greatly benefit from house call medicine," Daniel Devine says. "During my fellowship in geriatric medicine, I had robust training in performing house calls, and I just fell in love with the concept. It was truly focused on optimizing quality of care within a value-based care framework."
Daniel Devine witnessed a marked difference in the way care was able to be delivered in an office-based primary care setting vs home setting, and he's observed that it's challenging to deliver the same quality of care outside of the home.
"In the office-based primary care setting, you have a team of providers made up of different doctors, midlevel providers, and nurses, and nobody really takes responsibility for an individual patient," he says. "Everyone works in shifts. Patients never really get to know their doctor and vice versa. But the house call model is completely different. You're developing these personal relationships with each patient."
This shift, he says, supports preventive care and keeps older adults out of hospitals and at home, which is a win-win scenario.
"When you're working in the office-based primary care setting and seeing 20 to 30 patients in a day in order to accomplish what insurance requires of you, you have no way of getting to know each patient," he adds. "But with a house call, we're spending an hour with a patient and getting into the nuts and bolts of their disease process. In many cases, that is allowing us to make meaningful changes in the patients' lives and improve their health without requiring a hospital admission."
For patients with dementia, this may be particularly critical.
"It's well studied and documented that when patients with dementia go into the hospital, they are more likely to experience delirium or confusion related to the change in environment," he says. "If we can keep patients at home, you ultimately get a better-functioning patient."
A house call model also improves accessibility—which can be a major barrier for the geriatric population, Michael Devine says.
"Even if the patient is not home-bound, it can require a significant amount of planning to get to the doctor's office and back," he continues. "It could mean requiring a son or daughter to take the day off of work and drive the patient. There can be safety [issues] involved in transferring the patient to and from the car and office—and back. Even some of these seemingly small barriers can start to add up when there are multiple doctor appointments and can cause patients to avoid going. I think the house call model encourages better participation on the part of the patient."
A Different View
In addition, Michael Devine observes that treating patients at home opens a "view into their lifestyle" that physicians never have in an out-of-home setting.
"The patients have all of their medications in front of them, and they can show me exactly what they're taking," he explains. "Even if you ask a patient to bring their medications into the office, they might forget. It is incredibly beneficial to see them in their home setting, as it also brings to light any potential issues that we need to address related to their living conditions or even their food—which could be impacting their health. You get that complete picture view of how the patient is living and what changes might make a difference in their life."
Daniel Devine agrees that it offers doctors a great deal of insight they would not be able to gain in the traditional office setting. When patients get dressed up and come to a doctor's office, it's not truly indicative of what their lives may be like at home.
"Food scarcity issues can be brought to light," he says. "When you open up the refrigerator, is there expired milk? Do they have nutrient-rich foods? Poor health as a result of a poor diet can manifest in a fall, but that can be brought to light more easily when you're in the patient's home. It also gives you the opportunity to perform some risk assessment. Throw rugs or even just the layout of the furniture can increase fall risks. In the home setting, you can look at obstacles that could be preventing the best quality of life."
According to Michael Devine, raw data show that patient outcomes with care at home are ultimately better. Patients have less morbidity associated with hospital stays due to occurrences such as infection or hospital falls. And many chronic conditions are better managed.
Many Benefits
In addition to the clear impact on quality of care, a health care model focused on house calls could also stand to have a tremendous effect on the financial burden created by older adults living with chronic conditions. According to the Centers for Disease Control and Prevention, 2 out of 3 older adults have more than one chronic condition that needs to be managed and treatment for these conditions accounts for nearly two-thirds of the country's health care spending. The fact is, if these conditions were better managed, this burden could be greatly reduced.
Using this form of medicine as a "continuum of care," even for situations once reserved for the hospital, can also make a huge impact, Daniel Devine says.
"Looking at how can we treat conditions like pneumonia or heart failure exacerbations at home rather than requiring a hospital stay each time can reduce the cost of care on an already over-burdened system," he says.
Michael Devine adds this could be a driving force in potential changes on the horizon.
"The current crunch on the health care system is real and changes need to happen," he says. "Concierge medicine is not the only solution out there, but it's certainly one of them. By offering better care that focuses on prevention rather than waiting until patients are incredibly sick to do anything, we can really start to alleviate some of the burden on the current system."
The interest from patients is also strong. The CareMore Health survey found that 64% of adults surveyed were interested in the house call model. The major selling points for interest in this model were convenience and personal attention. In expounding upon that latter point, the majority (87%) of survey responders also expressed that they wanted their health care provider to treat them or the person they care for like a member of the family.
That's exactly why the Devine brothers got into medicine in the first place.
"Having grown up in this tight-knit Italian American family, we were very close with our grandparents and watched them deal with a lot of end-of-life issues," Daniel Devine says. "We saw a lot of frustrations with the health care system and in many ways found it demoralizing. In high school, we made the decision that we were going to become doctors and practice medicine together. Our philosophy of patient care was going to be delivering the kind of care we would have wanted for our grandparents. That has been our guiding light for going into concierge medicine."
— Lindsey Getz is an award-winning freelance writer in Royersford, Pennsylvania.