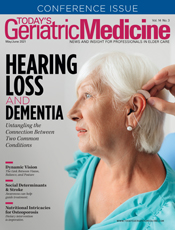 May/June 2021
The Last Word: See Me
By Josephine Bryan, SP, BSN, MSN
Today's Geriatric Medicine
Vol. 14 No. 3 P. 34
Clinicians must see patients not as commodities but as fellow human beings.
When visiting an assisted care facility, I met a woman with limitations in mobility but whose mind was sharp, oriented, and clear, and who was determined to be the decision maker in her health care. Having had a position in government with top security, she was determined to be the pilot of her care and free to voice her opinion on everything from politics, religion, and finances. However, a few health care workers and her child continued to see her only as a commodity with wonderful insurance benefits, ordering therapies or equipment she didn't want or need. These would have been expenses to taxpayers and a burden on the younger generation for medication, equipment, and treatment that the woman knew would be futile and that she would not use.
Everyone wants be seen as sensuous humans being and to belong—to be more than a commodity or someone's benefactor.
As Anita Borrows and Johanna Macy say in their translation of Rainer Maria Rilke's Book of Hours, "A person comes to exist by being met in the most authentic way by another." Medicine is a science as well as an art; therefore, a physician, in order to diagnose, must have the knowledge that comes from conversation. If you listen to older patients, they will usually tell you their diagnoses, but you must treat them as fellow human beings who are full participants in their health care, not as bit players or simply people described in health care notes. See the person.
Loneliness is the state of feeling isolated, desolate, and alone. Often, frail older adults die spiritually long before they die physically. Can you converse with the spirit as well assess the body of your patient? Can you really see and hear them? Looking and really listening can heal by inspiriting the life in the patient.
Due to Medicare regulations and reimbursement, patient encounters are limited to 15 minutes, and assessment may be limited to placing the stethoscope over the patient's left breast and perhaps listening to the lung sounds over her back. Physicians often listen to the nurse or the patients' children and read the patient notes before listing to the older adult in front of them. I've heard it said that one would have to grow a third breast before some doctors nowadays would note an anomaly.
To be a physician is a noble calling—a healing art. But for it to remain a calling, its practitioners must emphasize service in its weave. Assessment can all be done in 15 minutes if one sees the patient as a fellow human being and shares the energy of life. I remember bathing a senior and she said to me, you wouldn't touch me if you knew me. I said, try me, and we began her healing process.
— Josephine Bryan, SP, BSN, MSN, has a BS in education and a background in research and ministry, chiefly in gerontological nursing. She's been a head nurse, supervisor, director of nursing, and retirement director for two religious congregations. After the Tet Offensive, she served for 18 months in Vietnam caring for children in orphanages and day care centers.