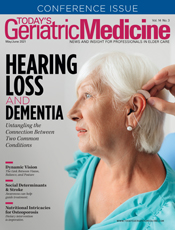 May/June 2021
From the Editor: Social Determinants of Health
By Kate Jackson
Today's Geriatric Medicine
Vol. 14 No. 3 P. 4
Of course our genes and our lifestyles contribute to our health risks, but equally important are factors that to some extent may be out of our individual control—the social determinants of health. The World Health Organization defines social determinants of health as "the conditions in which people are born, grow, work, live, and age, and the set of forces and systems shaping the conditions of daily life."
Often dictated by economic factors such as the distribution of wealth, systems of power, and access to local and national resources—these aspects not only influence individual health and may be direct causes of chronic and infectious diseases but also are the drivers of health disparities among various population groups.
Among social determinants are access to and quality of education and health care, discrimination, economic stability, poverty, employment, stable housing, food security, access to transportation, neighborhood factors including crime and violence, and environmental issues such as air quality. These and other social factors may contribute to cancers, stroke, type 2 diabetes, pulmonary diseases, kidney diseases, and, possibly, obesity.
In this issue, contributor Jennifer Lutz explores the social determinants of stroke by talking to experts about the factors that influence stroke and what role physicians can play in educating patients and improving outcomes. "When we think of stroke, stroke is a chronic illness, and like all chronic illness, we have to take into consideration every dimension of a person's care," Sharon Horesh Bergquist, MD, Rollins Distinguished Professor at Emory University, tells Lutz. "Beyond just the physical (which is the primary emphasis in health care) we must look at psychosocial and environmental factors. I think by asking those questions and helping people find ways to improve their psychosocial and environmental support, the physician can guide patients toward better health outcomes, even within the constraints of social determinants of health," she explains.
Physicians and other clinicians can improve patient health by considering social determinants—asking questions beyond a basic history and gathering and sharing information about how patients may be affected by social and economic factors. Resources that can help clinicians and consumers alike learn more about programs and policy resources are available from leading health care organizations including the Centers for Disease Control and Prevention, the Office of Disease Prevention and Health Promotion, and the Agency for Healthcare Research and Quality. Providers can also act as community leaders, educating patients and the public about the impact of social determinants and advocating for health equity.