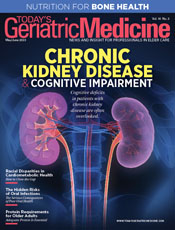 May/June 2023
Eye Health: Glaucoma and Ethnicity
By Lindsey Getz
Today's Geriatric Medicine
Vol. 16 No. 3 P. 28
Study Shows Black Patients at Higher Risk of Glaucoma-Related Vision Loss
Despite numerous advances in the field, glaucoma remains one of the leading causes of blindness in the world. It's been called the "thief of vision" as it can initially progress without noticeable symptoms. By the time people realize they have some vision loss, the damage has already been done. Recently, a study from Mount Sinai found that Black patients are six times more likely to have advanced vision loss after a glaucoma diagnosis than are white patients. Considering that Black individuals are already at a higher risk of developing glaucoma, this is a significant finding.
The study, which was published in Transitional Vision Science and Technology, demonstrates that being of African heritage is an independent risk factor for a drastic decline of vision in patients with primary open-angle glaucoma (POAG).
According to the CDC, glaucoma is a group of diseases that damage the eye's optic nerve and can result in vision loss and blindness. Approximately three million Americans have glaucoma, and it's the second-leading cause of blindness in the world.
POAG is the most common type of glaucoma and is the leading cause of optic nerve degeneration related to the pressure level inside the eye. POAG does not cause symptoms and has a strong hereditary component.
The Importance of Early Detection
The earlier glaucoma is detected, the more effectively it can be treated. Early detection can also help prevent blindness. This study demonstrating that Black individuals have a higher risk of blindness from glaucoma should prompt more early glaucoma eye screening in this population group.
"Screening earlier in life could significantly increase the chance of detecting glaucoma and slowing down progression before it reaches one of the advanced patterns shown in our research," according to senior author Louis R. Pasquale, MD, FARVO, deputy chair for ophthalmology research at the Icahn School of Medicine at Mount Sinai and director of the NYEE Eye and Vision Research Institute. "Typically, glaucoma starts in middle age. The disease prevalence increases with each passing decade, so all people over the age of 65 should have a comprehensive eye exam about once every two years."
For patients with a family history of glaucoma, glaucoma screening should be performed each year, particularly in Black Americans older than 50 and everyone older than 65, Pasquale says.
"The risk among Hispanics is intermediate between Blacks and whites, so they should be screened annually starting around age 60," he adds. "During screening, we measure vision and eye pressure, assess visual fields with a computer-based platform, and image the optic nerve with a noninvasive instrument."
Ethnicity as a Risk Factor
In the study, researchers analyzed nearly 210,000 participants from three population-based databases of nurses and health professionals from the Nurses' Health Study and the Health Professionals Follow-up Study. Participants were older than 40, and their data were collected during comprehensive eye exams. None of these participants had glaucoma at baseline.
"This study started decades ago in three health professional cohorts that were not as diverse as current numbers—and if we had more representation of people of color, our results would likely be even more profound," Pasquale adds. "African descent is a risk factor for glaucoma blindness, and this work provides insight into why that might be the case. We suspect that the reason why Blacks presented with more advanced patterns of loss compared to whites is that the disease starts one to two decades earlier in the former group compared to the latter group. This emphasizes the importance of early screening strategies in Blacks to identify early-onset glaucoma so that visual disability in this population is averted."
Pasquale adds that the researchers are in the process of confirming that African Americans develop the disease earlier than whites do using a nationwide health care database with nearly 60 million covered lives that include people with a wide variety of professions.
"Specifically, Blacks between the ages of 20 and 40 years of age were six times more likely to have advanced primary open-angle glaucoma compared to whites, based on ICD-10 codes in the database," Pasquale explains, adding that they're also exploring why this is the case. Although it is known that Black patients hold a higher risk for blindness from glaucoma, the reasons remain unclear.
"We are specifically exploring the role of everyday racism—an environmental factor—and telomere structure—segments of DNA at the end of chromosomes that contribute to DNA stability—in relation to glaucoma," he continues. "We have looked at common genetic polymorphisms in Blacks but have not found many genes responsible for glaucoma in this ancestral group."
While the reasons this population is at a higher risk of glaucoma blindness remain unknown for now, it is not unusual that ethnicity is considered a factor in disease risk. In other eye diseases, ethnicity can play a role.
"African Americans have a lower risk of age-related macular degeneration compared to white patients," Pasquale says. "Hispanics have a lower risk for nonarteritic ischemic optic neuropathy, the most common acute optic nerve disease in middle-aged adults. Asians are at increased risk of angle closure glaucoma compared to white patients."
Management and Treatment
While glaucoma cannot be prevented or cured, it can be managed. The key, of course, is catching it before significant damage has already occurred.
Patients should be advised that maintaining a healthy weight, controlling blood pressure, being physically active, and avoiding smoking can help prevent vision loss from glaucoma.
If patients receive a glaucoma diagnosis, they are usually treated with eye drops, oral medicine, or, sometimes, surgery, Pasquale says. The goal is to reduce eye pressure and ultimately prevent vision loss.
According to Pasquale, primary care physicians play a role by referring patients for glaucoma screening, especially if they have a known family history of the disease. Another way they help in the management of glaucoma is by talking to patients about their medications. While ophthalmologists are having these conversations, it always helps to have extra reminders about medication adherence. Compliance is a key factor in the successful treatment of glaucoma.
A Potentially Brighter Future
While glaucoma is a devastating disease, new advances and treatment options continue to brighten the horizon. And ongoing research, like that occurring at Mount Sinai, is helping to shed more light on a better understanding of the disease.
Management options will continue to evolve as more is understood about this disease.
"Although we have come a long way, there is certainly still much to be done," Pasquale concludes. "The better that we understand this disease, the more success that we will have in early detection and treatment."
— Lindsey Getz is an award-winning freelance writer in Royersford, Pennsylvania.