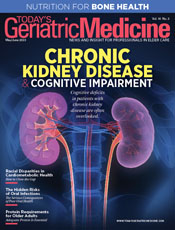 May/June 2023
The Last Word: Helping Care Partners Access Patient Portals
By Catherine DesRoches, DrPH, and Jennifer Wolff, PhD
Today's Geriatric Medicine
Vol. 16 No. 3 P. 32
Over the last two years, the COVID-19 pandemic has shifted much care from in-person to telehealth and increased clinician and patient reliance on electronic communication. As a result, patient portals have played a prominent role.
The efforts of health care organizations to promote the use of portals through educational campaigns have generally focused on individual patients. However, millions of older Americans manage their health with the help of friends, family members, informal caregivers, and other care partners who are not part of the formal health care system.
While the engagement of care partners has a significant effect on a patient's care quality, it is not well supported by the health care system. At the most basic level, care partners often can't get the information they need about a patient's health and care. This lack of access affects care partners' ability to provide needed care and can heighten stress and anxiety.
Most health care organizations permit patients to grant a care partner "shared access" to their portal account. Care partners with this privilege have their own portal login credentials and passwords. However, the process for granting shared access can be cumbersome. As a result, care partners may instead access the portal using the patient's identity credentials.
Whether care partners access the portal with their own user name and password or the patient's has important implications. For example, care partner use of the patient's user name can cause confusion and uncertainty. Clinicians may not be sure whom they are communicating with or whether the care partner has the patient's permission to access their account. In contrast, accessing the portal through shared access provides a clear communication channel for care partner and allows patients greater control over both granting and revoking portal access.
A small but growing body of research finds that shared access to the patient portal can increase patient and care partner engagement, communication satisfaction, and confidence in managing caregiving responsibilities. However, while portal access is valued by patients and care partners, uptake has been limited. The reasons for this low uptake are complex. Health care organizations may be reluctant to encourage care partner use of the portal due to concerns about patient privacy, and patients and care partners may not be aware of this functionality or its benefits.
Often, portal design is not simple or intuitive and requesting care partner access can be difficult. Also, organizations have had little financial incentive to increase portal use among patients' care partners.
Research Findings
Recognizing the importance of care partners having access to loved ones' health information, the John A. Hartford Foundation and the Cambia Health Foundation have supported work to learn the best ways to increase proxy portal registration and use.
A current project seeks to implement, evaluate, and disseminate organizational awareness strategies to increase the number of care partners with shared access to patient portals. This 36-month project, funded by the John A. Hartford Foundation, involves a partnership between OpenNotes, the Roger C. Lipitz Center for Integrated Health Care, and leaders from three geographically diverse health systems—the University of Rochester (Supriya Mohile, MD, MS, and colleagues from geriatric oncology), University of Utah geriatrics and geriatric psychiatry (Tim Farrell, MD; Mark Supiano, MD; and Kristina Purganan, DO), and Providence Institute for Human Caring (Ira Byock, MD, and Matthew Gonzales, MD)—and three primary care sites in Portland, Oregon (led by Caroline Reay, MD; Marianne Parshley, MD; and Doug Niehus, MD).
The project, led by Jennifer Wolff, PhD, the Eugene and Mildred Lipitz Professor in the department of health policy and management at the Johns Hopkins Bloomberg School of Public Health, and Catherine DesRoches, DrPH, an associate professor of medicine at Harvard Medical School and executive director of OpenNotes, is testing patient and care partner educational materials and clinician/staff discussion points aimed at providing information on how proxy access can help patients and care partners, as well as information on how to register.
These materials, developed in collaboration with patients, care partners, staff, and clinicians at the participating sites, build on the well-known idea that patients remember less than half of what they hear at a clinical visit and that the information correctly remembered decreases with additional stress.
Using the tagline "What did the doctor say?," posters, pamphlets, clinician/staff discussion points, and redesigned organizational webpages were developed to reinforce the idea that access to information via the patient portal can help both care partners and patients remember next steps, understand their medications, and feel more in control of their care. Additionally, the materials emphasize the convenience of using the patient portal for tasks, such as scheduling appointments, messaging, and viewing lab and other test results. For broader reach and impact, support from the Cambia Health Foundation has enabled the translation of all materials to Spanish and several other languages specific to each clinical site.
The project team will evaluate the pilot's success through several methods. First, the team will track increases in portal registrations at each site throughout the project period. Second, the team will interview clinicians and staff to understand the effect of the intervention on their workflows. Given the strain that health care providers have experienced throughout the pandemic, it is critical that the project does not cause undue burden on clinicians and staff.
Third, the team will survey patients and care partners to ascertain their perceptions of the usefulness of the intervention materials, and their overall satisfaction with proxy access and communication with the clinician's office.
Providing care for a friend or family member can be rewarding but also stressful. The CDC has named caregiving as an emerging public health issue, recognizing that adults with significant caregiving responsibilities have higher levels of depression and anxiety and worse self-reported physical health. Despite the known impacts of caregiving on health, screening for caregiver responsibilities is not common.
A new project, funded by the Ralph C. Wilson Jr. Foundation, focuses on understanding the best ways to identify when patients have caregiver responsibilities, assessing their needs, and connecting them with services using the patient portal. The project, a partnership between OpenNotes at Beth Israel Deaconess Medical Center, Johns Hopkins Bloomberg School of Public Health, and ARCHANGELS, is in the early stages and will pilot the intervention in late fall/early winter.
Access and Dementia Care
Due to dementia's extended disease course, high rate of co-occurring medical conditions, and its progressive and profound disability, shared portal access may be particularly helpful. Evidence-based models of support for caregivers of persons living with dementia have typically been developed outside real-world care settings. Little is known about electronic information sharing preferences and practices of persons with dementia and their caregivers, or the feasibility of deploying novel interventions through consumer health IT to better support dementia care and management.
A new five-year, National Institute on Aging–funded Leadership Award to Wolff is convening an interdisciplinary group of social scientists and clinician-scientists from Johns Hopkins and external institutions, including OpenNotes, to better understand and address the needs of caregivers of persons living with dementia.1 The grant aims to produce new knowledge of the factors that affect patient portal use and contribute to evidence of the effects of access and use of such technologies on the care quality and outcomes of Alzheimer's disease–related dementias.
The project also seeks to understand how persons with dementia and their caregivers, clinicians, and other relevant stakeholders perceive and use consumer health IT, and identify and test novel technology-supported scalable innovations, such as person-family agenda-setting and OurNotes.2,3
The larger goal of the collective work is to change the way the health care system identifies and works with care partners. To date, there has been little research focused on the best methods for using the patient portal to engage care partners as part of the health care team. As health care organizations realize the value of this engagement, they should ensure that shared access is offered to patients, that this offer is broadly communicated to patients and care partners using methods that are appropriate and engaging for the audience, that the process for requesting and granting shared access is not overly burdensome, and that they are routinely assessing the number of proxy portal registrations as a measure of success.
— Catherine DesRoches, DrPH, is executive director of OpenNotes and an associate professor at Beth Israel Deaconess Medical Center. Jennifer Wolff, PhD, is the Eugene and Mildred Lipitz Professor and director of the Roger C. Lipitz Center for Integrative Health Care in the department of Health Policy and Management at the Johns Hopkins Bloomberg School of Public Health.
References
1. Consumer health information technology to engage and support ADRD caregivers: research program to address ADRD implementation milestone 13.I. National Institutes of Health RePORTER website. https://reporter.nih.gov/search/HLgMM6eu7UePEw96oWqzyw/project-details/10207913#details. Accessed June 20, 2022.
2. Wolff JL, Roter DL, Boyd CM, et al. Patient-family agenda setting for primary care patients with cognitive impairment: the SAME Page trial. J Gen Intern Med. 2018;33(9):1478-1486.
3. Walker J, Leveille S, Kriegel G, et al. Patients contributing to visit notes: mixed methods evaluation of OurNotes. J Med Internet Res. 2021;23(11):e29951.