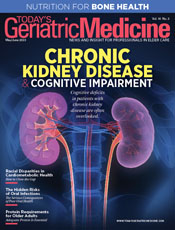 May/June 2023
Bone Health: Nutrition Support for Osteoporosis
By Michele Deppe
Today's Geriatric Medicine
Vol. 16 No. 3 P. 8
Nonpharmaceutical intervention may help prevent and reverse bone loss.
Cases of osteoporosis are on the rise, expected to affect more than 13 million postmenopausal women by 2030. About one-half of those women and roughly one-quarter of men in the United States older than 50 will suffer a fracture due to osteoporosis. It's estimated that 20% of these patients who fracture a hip will die within a year. Worldwide, the osteoporosis figures are staggering; about 200 million women are diagnosed and experience nearly nine million bone fractures.1 In the United States, the cost of osteoporosis averages $19 billion annually.2
Bones and their structure are different than many people imagine. Claire Gill, the CEO of the National Osteoporosis Foundation, now named the Bone Health and Osteoporosis Foundation, says, "Some people think of bones as hard and lifeless, but they are living, growing tissue." Osteoporosis means "porous bone." Viewed under a microscope, healthy bone looks like a honeycomb, Gill says. "When osteoporosis occurs, the holes and spaces in the honeycomb are much larger than in healthy bone. As a result, osteoporotic bones have lost density or mass and contain abnormal tissue structure," Gill says. "As bones become less dense, they weaken and are more likely to break."
Historically, osteoporosis has been linked to endocrine, metabolic, and mechanical factors. But since 2005, evidence continues to show that inflammation remarkably influences bone turnover, setting the stage for osteoporosis.3 A baseline of inflammatory biomarkers guides researchers to helpful interventions since inflammation is present in poor bone health.4
According to a 2021 statement by The North American Menopause Society (NAMS), lower amounts of estrogen in women are the primary reason for postmenopausal bone loss.5 At about age 40, the breakdown of old bone cells (resorption) happens faster than bodies can respond to produce new bone cells. In postmenopausal women, oxidative stress and inflammation rise.6
The honeycomblike spongy or trabecular bone, and the hard exterior of the bone, known as the cortical bone, are both affected by increased inflammatory mediators. Mediators are compounds that initiate, perpetuate, or aggravate a pathological process. The aging process, combined with low estrogen, contributes to an increase in inflammatory mediators in bone, causing more significant bone resorption and suppression of bone formation.7 Bone resorption is a natural process by which bones remodel themselves. With osteoporosis, resorption causes bone loss and a decrease in bone mass and density, and without osteoblastic bone formation for new bones, the bones become weak and at risk for fractures.
Other common risk factors for osteoporosis include having other diseases, using certain prescription medications, being thin, and smoking cigarettes. But the NAMS indicates that a good exercise program and healthy eating habits—especially adequate protein, vitamin D, and calcium-rich foods—can help lower risk.5
The Fruit That Benefits Bones
A new review published in 2022 in Advances in Nutrition investigated nondrug treatments for osteoporosis. In studies on rodents, experts discovered that consumption of prunes helped prevent and reverse bone loss. Research from 10 preclinical studies concluded that prunes or extracts from prunes offer anti-inflammatory and antioxidant support and help strengthen immune pathways.8
Dried plums (prunes) are sweet and chewy and may remarkably influence bone health. "One of the best foods for bones are prunes, which are nutritional powerhouses," says Charleston, South Carolina–based dietitian Lauren Manaker MS, RDN, LD, CLEC, CPT. "A 12-month study from Pennsylvania State University showed that eating five to six prunes daily for a year preserved hip bone mineral density and reduced hip fracture risk in postmenopausal women."9 Postmenopausal women with the most significant risk averaged about 10 prunes a day for a year and showed less bone loss. "But even six months was long enough to show lower loss of total bone mineral density compared to women who didn't eat prunes," Manaker says. The lead author concluded that prune consumption helped bone mass density and strength in the hip, whereas women who didn't eat prunes lost 1.1% of bone density by the end of the study. The tibia bone showed similar results. These effects came with eating five or six prunes a day, which researchers note is more achievable; the participants consuming 10 to 12 prunes a day tended to drop out of the study.
But not all research has been geared toward women. The National Osteoporosis Foundation reports that up to one in four men older than 50 will break a bone due to osteoporosis, meaning a man is more likely to have osteoporosis and break a bone than to get prostate cancer.1 A recent study from Florida State University published in Nutrients on 35 men older than 50 showed positive results in only three months of consuming 50 g of prunes daily. Before the study, the men had bone loss and experienced enhanced bone resorption and increased release of growth factors and calcium. The study also showed a positive slowing of osteocalcin, a bone turnover biomarker.10
The "prune effect" has been correlated with bone health, but experts aren't completely clear about why prunes are so beneficial.11 One serving (40 g) of prunes has roughly 18 mg of calcium and 6% of the daily recommendation for potassium, plus vitamin A, boron, magnesium, vitamin K, phenolic compounds, and the benefit of no added sugar. Some components of prunes make apparent contributions. Vitamin K, for example, makes proteins that help build bones. Potassium helps prevent the leaching of calcium from bones. Polyphenols found in prunes also help reduce inflammation.12
"The phenolic compounds are thought to block bone resorption and support the formation of healthy bones," Manaker says. As mentioned previously, the gut microbiome affects bone health. Prunes, she explains, benefit microbiome health, lowering inflammation in the body, reducing oxidative damage to cells, and promoting bone density.13 In a small 2014 study, researchers found that participants consuming prunes as part of a healthy diet lost about 4 lbs despite prunes being high in calories.14 They concluded that prunes helped alleviate hunger and control appetite. Manaker says that prunes eaten in moderation aren't likely to spike blood sugars since they have a lower glycemic index and 3 g of fiber per serving. However, she says, prunes could cause bloating and gas when eaten daily because of their high sorbitol content.
Other foods also play an important role in bone health. "Most people remember that dairy foods are important not only as a source of calcium, vitamin D, and magnesium but also boron and vitamin K, which are essential but not often discussed," Manaker says. Cottage cheese ranks as her favorite dairy recommendation because some brands include probiotics, which, according to a small 2020 study, could also help bones.15 Plant milks are also great for bones for people who don't tolerate dairy. Made from soybeans, almonds, or coconuts, they're often fortified with calcium and vitamin D.
"Nuts, particularly almonds, are an easy snack to support bone health. Other foods include green leafy vegetables, particularly broccoli, bok choy, kale, collard greens, turnip greens, and cabbage," she says. "Research suggests that soybeans (tofu) give bone-building isoflavones and are rich in calcium. Fatty fish that has omega-3 fatty acids aids bones, especially fish that have soft bones like sardines and pilchards." Manaker says limiting intake of sugars, caffeine, soft drinks, and fried foods supports bone health.
Management Is Key
The NAMS stresses that lifestyle choices should be combined with expert health care and possibly medication. Gill says, "The goal of osteoporosis therapy is to try to restore the balance of resorption and formation in the bone. It can be done by slowing resorption through antiresorptive medication or promoting bone formation using anabolic medication. By doing so, these therapies lower the risk for fractures, which is the goal of treatment."
Medical intervention may also be necessary if a person uses steroids or other medications that may cause bone loss and when high amounts of potassium and vitamin K in foods like prunes may be contraindicated.
Diet and exercise alone cannot reverse osteoporosis. Still, Gill says they are "incredibly important" as part of the overall treatment plan, adding that these necessary lifestyle measures also help medications for osteoporosis to work to their full potential. "There is no cure for osteoporosis. It takes a whole-person approach to manage the disease," Gill says. "Get enough dietary calcium, take vitamin D, exercise regularly, fall-proof your environment at home, and avoid smoking and excess alcohol. Then, talk with your health care provider to determine if a medication is right for you."
— Michele Deppe is a freelance writer based in South Carolina.
References
1. Shen Y, Huang X, Wu J, et al. The global burden of osteoporosis, low bone mass, and its related fracture in 204 countries and territories, 1990-2019. Front Endocrinol (Lausanne). 2022;13:882241.
2. National Osteoporosis Foundation. Osteoporosis fast facts. https://www.bonehealthandosteoporosis.org/wp-content/uploads/2015/12/Osteoporosis-Fast-Facts.pdf. Accessed January 25, 2023.
3. Ginaldi L, Di Benedetto MC, De Martinis M. Osteoporosis, inflammation, and ageing. Immun Ageing. 2005;2:14.
4. Ding C, Parameswaran V, Udayan R, Burgess J, Jones G. Circulating levels of inflammatory markers predict change in bone mineral density and resorption in older adults: a longitudinal study. J Clin Endocrinol Metab. 2008;93(5):1952-1958.
5. Management of Osteoporosis in Postmenopausal Women: The 2021 Position Statement of The North American Menopause Society'' Editorial Panel. Management of osteoporosis in postmenopausal women: the 2021 position statement of The North American Menopause Society. Menopause. 2021;28(9):973-997.
6. Bonaccorsi G, Piva I, Greco P, Cervellati C. Oxidative stress as a possible pathogenic cofactor of post-menopausal osteoporosis: Existing evidence in support of the axis oestrogen deficiency-redox imbalance-bone loss. Indian J Med Res. 2018;147(4):341-351.
7. Riggs BL. The mechanisms of estrogen regulation of bone resorption. J Clin Invest. 2000;106(10):1203-1204.
8. Damani JJ, De Souza MJ, VanEvery H, Strock NCA. The role of prunes in modulating inflammatory pathways to improve bone health in postmenopausal women. Adv Nutr. 2022;13(5):1476-1492.
9. De Souza MJ, Strock NCA, Williams NI, et al. Prunes preserve hip bone mineral density in a 12-month randomized controlled trial in postmenopausal women: the prune study. Am J Clin Nutr. 2022;116(4):897-910.
10. George KS, Munoz J, Ormsbee LT, et al. The short-term effect of prunes in improving bone in men. Nutrients. 2022;14(2):276.
11. Citroner G. Osteoporosis: prunes may help preserve bone mass, fight inflammation. Healthline website. https://www.healthline.com/health-news/osteopororsis-prunes-may-help-preserve-bone-mass-fight-inflammation. Published October 20, 2022. Accessed January 23, 2023.
12. Bohn K. Eating prunes may help protect against bone loss in older women. Penn State News website. https://www.psu.edu/news/research/story/eating-prunes-may-help-protect-against-bone-loss-older-women/. Published February 10, 2022. Accessed February 15, 2023.
13. Cooney OD, Nagareddy PR, Murphy AJ, Lee MKS. Healthy gut, healthy bones: targeting the gut microbiome to promote bone health. Front Endocrinol (Lausanne). 2021;11:620466.
14. University of Liverpool. Eating prunes can help weight loss, study shows. ScienceDaily website. www.sciencedaily.com/releases/2014/05/140530124331.htm. Published May 30, 2014. Accessed January 25, 2023.
15. Rizzoli R, Biver E. Are probiotics the new calcium and vitamin D for bone health? Curr Osteoporos Rep. 2020;18(3):273-284.