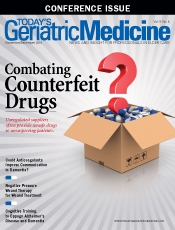 November/December 2016
Better Oral Health Means Better Health
By Terry Fulmer, PhD, RN, FAAN
Today's Geriatric Medicine
Vol. 9 No. 6 P. 34
As the new millennium dawned, former US Surgeon General C. Everett Koop declared in a major public service announcement: "You're not healthy without good oral health." This is particularly true as we age, yet good oral health remains a challenge for far too many older adults.
Among people over the age of 65, one-third have untreated dental caries, commonly known as cavities, and slightly more than 40% have periodontal disease. Certain medications taken by many older adults with chronic conditions, including antihistamines, diuretics, and antidepressants, have side effects that are harmful to their oral health.1
While it is good news that more than ever before older adults are keeping their natural teeth, this positive outcome is not evenly distributed. Those who live in poverty are twice as likely as those with higher incomes to have lost all their teeth.
Lack of access to affordable oral health care is a major factor for these dental problems. It is estimated that 70% of the Medicare-aged population have no dental insurance because, except in very rare circumstances, oral health is not covered under basic Medicare Part B.2
This lack of access has larger implications. Research in recent years has only underscored the wisdom of the late Koop's words, showing that oral health is linked to general health, especially to diseases associated with inflammation, such as diabetes, coronary artery disease, and stroke.3
Major studies conducted by insurance companies United Concordia and United Healthcare both found that access to dental care, especially preventive and periodontal care, is linked to substantially lower total health care costs. They estimate projected savings for patients with stroke, cardiovascular disease, and diabetes who receive oral health care at around $20 billion annually. These findings do not even take into account the clear benefits of good oral care in everything from making healthier food choices to social acceptability, self-confidence, and communications skills.4-7
If good oral health can improve the general health and quality of life of older adults while significantly decreasing health care costs, why does it remain out of reach for so many? And why does oral health too often remain siloed from systemic health care?
The John A. Hartford Foundation is supporting efforts by the Santa Fe Group, the nation's leading think tank on oral health policy and practice, to answer these questions by charting a course over the coming years to improved access to oral care for this vulnerable population.
Those efforts started in late September with a salon, or convening, hosted by the Santa Fe Group titled "Expanding Oral Healthcare for America's Seniors," which brought together notable scientists, clinicians, patient advocates, payers, representatives of the Centers for Medicare & Medicaid Services, health economists, public policy experts, and other interested parties. The gathering assessed current research on the links between systemic and oral health, evaluated best dental benefit options, reviewed optimal communications strategies to enhance oral health literacy, and began the work to determine the best pathways to increase access to dental care for older people.
In addition to looking at what it would take to include oral health under Medicare Plan B, the salon participants also explored alternatives including private insurance, a more efficient dental delivery system, managed care, expansion of Medicare Advantage dental programs, and public education programs.
Building on the interest and energy generated by the salon, the Santa Fe Group will undertake targeted activities and additional meetings to advance the identified recommendations. This may include communications and education for the public, health care professionals, and payers; technical assistance to federal agencies and private entities; and convening advocacy groups.
As a nurse, I have never encountered patients who said they were comfortable if their mouths were uncomfortable. Think about it. The time is long overdue to include good oral health in our core definition of what it means to be truly healthy. Working together, we can identify and implement the best way to make quality oral health care accessible to older adults who need it.
— Terry Fulmer, PhD, RN, FAAN, is president of The John A. Hartford Foundation in New York City, a private nonpartisan foundation dedicated to improving the care of older adults. An elected member of the National Academy of Medicine, she is internationally recognized as an expert in geriatrics and best known for her research on elder abuse and neglect. She previously served as distinguished professor and dean of the Bouve College of Health Sciences at Northeastern University and as the founding dean of the New York University College of Nursing.
References
1. New series of reports to monitor health of older Americans. Centers for Disease Control and Prevention website. http://www.cdc.gov/nchs/pressroom/01facts/olderame.htm#ORAL%20HEALTH. Updated January 26, 2010.
2. Manski RJ, Moeller J, Schimmel J, et al. Dental care coverage and retirement. J Public Health Dent. 2010;70(1):1-12.
3. Scannepiecco FA, Cantos A. Oral inflammation and infection, and chronic medical diseases: implications for the elderly. Periodontol 2000. 2016;72(1):153-175.
4. Jeffcoat MK, Jeffcoat RL, Gladowski PA, Bramson JB, Blum JJ. Impact of periodontal therapy on general health: evidence from insurance data for five systemic conditions. Am J Prev Med. 2014;47(2):166-174.
5. Jeffcoat M, Hall M, Hedlund C, et al. Periodontal treatment and medical costs in diabetes and cerebrovascular accident. Paper presented at: International Association for Dental Research Meeting; 2009; Miami, FL.
6. Jeffcoat M, Tanna NK, Hedlund C, Hahn MS, Hall M, Genco RJ. Does treatment of oral disease reduce the costs of medical care? Medscape website. http://www.medscape.com/viewarticle/751609.  Published October 19, 2011.
7. Korda H, Erdem E. Prevalence and spending on diabetes for Medicare's fee-for-service population: US trends, 2010. Chronic Dis Int. 2014;1(2):1-2.