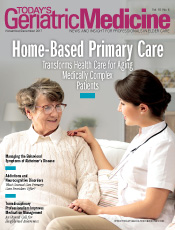 November/December 2017
Innovations in Geriatrics: Nonmelanoma Skin Cancer — Prevention, Diagnosis, and Treatment
By Michael Lin, MD
Today's Geriatric Medicine
Vol. 10 No. 6 P. 30
Nonmelanoma skin cancer (NMSC) is the most common form of skin cancer. It is estimated that more than 3 million people in the United States are diagnosed with NMSC each year, and this number continues to rise.1 According to a recent Mayo Clinic study, the incidence of the two most common types of NMSC has increased significantly in recent years. The report showed an increase of 263% in cases of squamous cell carcinoma (SCC) and 145% in cases of basal cell carcinoma (BCC) between 2000 and 2010.2 As a result, it is increasingly important to understand how to identify NMSC and the best prevention strategies. It is also essential for clinicians to stay up to date on the most advanced treatment options available that could potentially improve patient outcomes and comfort.
Identifying NMSC
While many people know how to identify the suspicious irregularly shaped moles that could be melanoma, fewer are familiar with the warning signs of NMSC. BCC is the most common type of skin cancer and occurs in about eight out of 10 skin cancer cases.3 These cancers often appear as small bumps or itchy red or pinkish spots that can bleed easily from slight friction. BCC often develops on the face, where it might be confused with a pimple. Meanwhile, SCC typically appears as a rough or wartlike growth that is thicker and more irregular in shape compared with BCC and can be extremely painful. As a rule of thumb, skin cancer warning signs typically include changes in size, shape, or color of a mole or skin lesion, the appearance of a new growth on the skin, or a sore that does not heal.
Both BCC and SCC are usually caused by chronic sun exposure and most commonly appear on the ears, face, scalp, chest, arms, hands, and legs. Most NMSC occurs in people over the age of 50; however, it can occur earlier, especially among people who are very fair skinned and have had excessive sun exposure. The American Academy of Dermatology (AAD) recommends performing skin self-exams every month to check for signs of skin cancer. If any suspicious spots on the skin are detected, it's important for patients to contact a dermatologist immediately.3 Most cases of NMSC can be treated if detected early.
In addition to performing monthly skin self-exams, patients should take steps to protect themselves from chronic sun exposure and harmful ultraviolet light to reduce the risk of developing NMSC. Some strategies include seeking shade (especially during the hottest times of day), wearing protective clothing, and using sunscreen with a sun protection factor of 30 or higher.3
Current Treatment Landscape
There are several treatment options available for NMSC, including electrodessication, cryosurgery, laser therapy, excision, Mohs micrographic surgery, and traditional radiation therapy. Electrodessication, also known as curettage, is a procedure in which a skin lesion is removed using a curette, or a sharp, spoon-shaped instrument. The area is then treated with an electric current that helps control bleeding and destroys any remaining cancer cells.
Cryosurgery is another option that destroys NMSC by freezing it with liquid nitrogen. Clinicians may need to repeat the process more than once to ensure all of the cancer is removed. According to the AAD Guidelines of Care, electrodessication and curettage are best suited for primary lesions, but they may be useful in treating some recurrent lesions.4 Select low-risk lesions (small well-defined primary lesions with nonaggressive histology, usually in noncritical sites) can achieve five-year cure rates of up to 97% when treated with electrodessication and curettage.5
Excision is one of the more common treatment options and involves surgical removal of cancer cells and surrounding healthy tissue known as the margin. According to the AAD guidelines, excision is an effective treatment for both primary and recurrent tumors.4 For small (<20 mm) primary, well-defined BCCs, excision can remove the entire skin lesion in up to 95% of NMSC cases.5 However, one disadvantage of excision is that it may result in difficulty healing and scarring. In some cases, surgeons may need to use a skin graft—healthy tissue from another part of the body—to close large wounds. Some patients are eligible for treatment with laser therapy, which is an alternative to excision and which the AAD recognizes as an effective and evolving treatment option for NMSC.4 Laser therapy involves a narrow beam of high-intensity light that can destroy precancerous skin conditions, specifically lesions located in the outer layer of the skin.6
In recent years, Mohs micrographic surgery has been considered the standard of care for treatment of NMSC. This technique involves surgical removal of a skin lesion one layer at a time. As each layer is removed, its margins are studied under a microscope for the presence of cancer cells. When the margins are clear of cancer cells, the surgery is complete. Mohs surgery allows clinicians to examine 100% of the entire tumor's margin, reducing the chance of NMSC recurrence. While Mohs surgery has been shown to be very effective for many patients—it is performed on more than 876,000 tumors per year in the United States—it can result in disfiguring scarring depending on the size and anatomical location of the lesion.7 In severe cases, patients may require corrective plastic surgery following Mohs surgery, resulting in additional costs and increased risk of complications. Also, about 50% of patients with one NMSC will develop additional skin cancers within five years. With each additional skin cancer, the risk of disfiguring scarring increases.8
Radiation therapy is another treatment option that has been used for decades to treat NMSC. The traditional methods of administering radiation therapy for NMSC, including brachytherapy, orthovoltage, and electron beam treatment, can be cumbersome for both providers and patients. During radiation treatment, patients must typically remain alone in the treatment room while health care professionals remain far enough away to reduce their risk of radiation exposure. In addition, traditional radiation regimens usually consist of daily treatment sessions for up to six weeks, which can present logistical challenges and significant inconvenience to patients.
There are benefits and risks with any treatment, and the best course of therapy for each patient depends on several factors including the size and location of the skin cancer, possible side effects, and the patient's preferences and overall health.
A Painless Targeted Alternative
In recent years, an increasing number of clinicians and patients have opted for treatment with an advanced form of low-energy radiation therapy called electronic brachytherapy (eBx). This option has been clinically proven to be safe and effective for appropriate patients. The procedure is painless and noninvasive and involves a shorter course of treatment compared with other forms of radiation therapy. With eBx, clinicians use a miniaturized high-dose rate X-ray source to deliver targeted radiation directly to cancer cells. This targeted approach reduces the risk of radiation exposure to nearby healthy tissue and results in virtually no scarring and a reduced risk of complications compared with traditional surgical options. For both patients and health care teams, eBx requires minimal shielding, allowing medical personnel to remain in the room during treatment, which can improve patient comfort.
Treatment with the Xoft Axxent eBx System typically requires only two visits per week for four weeks and can be performed in an outpatient setting such as a dermatologist's office or cancer center. Each eBx treatment session lasts only about three minutes. The eBx treatment schedule can make it a much more convenient option when compared with traditional radiation therapy and allows most patients to resume their normal activities immediately after treatment.
Xoft eBx can be a very important and effective treatment alternative for many patients who meet specific selection criteria. Because in younger people there is a higher risk of developing secondary cancers from the radiation treatment, ideal eBx patients are typically over the age of 70; however, the risk is only about 0.1% a year.9 Candidates for eBx also include those with lesions in anatomically challenging locations, patients who may have trouble with wound healing, patients who take anticoagulants, those with medical comorbidities such as dementia or Parkinson's disease that may preclude them from surgery, or patients who may prefer not to have surgery for personal reasons. Patients appear to appreciate the advantages of eBx, including added convenience, fewer treatments compared with traditional radiation therapy, and excellent clinical results. In a recent study, patients unanimously agreed that treatment with eBx was convenient, and most patients said they would recommend the treatment to a friend with NMSC.10
In addition, recent data have also shown that treatment with Xoft eBx offers virtually identical low recurrence rates of NMSC compared with Mohs surgery. According to a study published in the Journal of Contemporary Brachytherapy, 99.5% of NMSC lesions treated with Xoft eBx and 100% of NMSC lesions treated with Mohs surgery were free of recurrence at about three years posttreatment.11 Statistics provided by the American College of Mohs Surgery indicate that Mohs surgery has a success rate of "up to 99%."12 These results reflect findings from previous studies that assessed outcomes with eBx in the treatment of early stage NMSC. During one study, a review of outcomes of treatment for 297 lesions at up to 63 months of follow-up showed only one case of recurrence at years four to five.13 A second study of 524 lesions treated with eBx with mean follow-up at 12.5 months showed a 0.7% recurrence rate.14 Clinical research is currently underway to continue to assess the long-term outcomes of NMSC patients who are treated with eBx.
While Mohs surgery is considered the standard of care in treatment of NMSC, a growing body of clinical evidence supports the use of eBx for appropriate patients. Not everyone is a candidate for eBx, so it is important to discuss the advantages and risks of each treatment option with patients to determine the best course of treatment. With the incidence of NMSC continuing to rise in the United States, there is a critical need for patients to have access to all of the most advanced treatment strategies proven to be safe and effective while providing the highest levels of comfort and convenience.
— Michael Lin, MD, is a California-licensed physician and board-certified dermatologist. He specializes in the diagnosis and treatment of skin cancers of all kinds at the Advanced Dermatology Skin Care Institute in Sherman Oaks, California.
References
1. Rogers HW, Weinstock MA, Feldman SR, Coldiron BM. Incidence estimate of nonmelanoma skin cancer (keratinocyte carcinomas) in the US population, 2012. JAMA Dermatol. 2015;151(10):1081-1086.
2. Muzic JG, Schmitt AR, Wright AC, et al. Incidence and trends of basal cell carcinoma and cutaneous squamous cell carcinoma: a population-based study in Olmsted County, Minnesota, 2000 to 2010. Mayo Clin Proc. 2017;92(6):890-898.
3. Skin cancer. American Academy of Dermatology website. https://www.aad.org/media/stats/conditions/skin-cancer 
4. Drake LA, Ceilley RI, Cornelison RL, et al. Guidelines of care for basal cell carcinoma. The American Academy of Dermatology Committee on Guidelines of Care. J Am Acad Dermatol. 1992;26(1):117-120.
5. Telfer NR, Colver GB, Bowers PW. Guidelines for the management of basal cell carcinoma. British Association of Dermatologists. Br J Dermatol. 1999;141(3):415-423.
6. Skin cancer (non-melanoma): treatment options. Cancer.Net website. http://www.cancer.net/cancer-types/skin-cancer-non-melanoma/treatment-options. Updated December 2016.
7. Olson JM, Alam M, Asgari MM. Needs assessment for general dermatologic surgery. Dermatol Clin. 2012;30(1):153-166, x.
8. Karagas MR, Stukel TA, Greenberg ER, Baron JA, Mott LA, Stern RS. Risk of subsequent basal cell carcinoma and squamous cell carcinoma of the skin among patients with prior skin cancer. Skin Cancer Prevention Study Group. JAMA. 1992;267(24):3305-3310.
9. Beck M. Skin cancer removal with miniaturized radiation. The Wall Street Journal. April 6, 2015. https://www.wsj.com/articles/skin-cancer-removal-with-miniaturized-radiation-1428358712
10. Bhatnagar A. Clinical outcomes and patient reported outcomes following electronic brachytherapy for the treatment of non-melanoma skin cancer. Int J Radiat Oncol Biol Phys. 2016;96(2 Suppl):E713.
11. Patel R, Strimling R, Doggett S, et al. Comparison of electronic brachytherapy and Mohs micrographic surgery for the treatment of early-stage non-melanoma skin cancer: a matched pair cohort study. J Contemp Brachytherapy. 2017;9(4):338-344.
12. Appropriate use guidelines validate Mohs micrographic surgery. Mohs Surgery Patient Education by American College of Mohs Surgery website. https://www.skincancermohssurgery.org/in-the-news/auc. Updated June 10, 2015.
13. Bhatnagar A. Electronic brachytherapy for the treatment of non melanoma skin cancer: results up to 5 years. Int J Radiat Oncol Biol Phys. 2015;93(3 Suppl):E637-E638.
14. Doggett S. Electronic brachytherapy for non-melanomatous skin cancer: report of first 565 lesions. Brachytherapy. 2014;13(Suppl 1):S47.