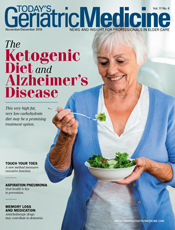 November/December 2018
Vintage Voices: No One Has to Live With Gout
By Theodore Fields, MD
Today's Geriatric Medicine
Vol. 11 No. 6 P. 34
There are many misconceptions about the causes of and treatment for gout—the most common form of inflammatory arthritis. This is unfortunate because we know the cause and there are many excellent treatments for it. Yet, according to a 2017 CreakyJoints survey of 1,000 gout patients and 500 caregivers, gout is a disease that's out of control.
One-half of all patients said they failed to tell their health care providers about all their gout attacks, and almost one-third hid attacks from loved ones. Patients surveyed experienced an average of eight painful gout attacks per year, and more than one-half of these patients reported attacks that lasted three or more days.1
Gout is very common in older adult populations. It will affect more than 13% of men and 6% of women by the age of 75, which puts them at greater risk for functional disability, particularly in the lower extremities.2
When gout is out of control, patients can experience painful and lasting flares, some of which might last days or even weeks. In the CreakyJoints survey, three-quarters of patients reported that gout hinders their ability to walk, climb stairs, or sleep. Many patients and their caregivers also reported missing a significant amount of work days due to gout flares. Combined, these consequences of uncontrolled gout influence the quality of life for patients, caregivers, and families.
One of the major misconceptions about gout is that it's a disease driven largely by lifestyle. Gout patients and their caregivers, as reflected in the CreakyJoints survey, as well as the general public, often believe that gout is almost entirely due to excessive alcohol intake, too much red meat consumption, being overweight, or using diuretics. But this perspective doesn't reflect the true cause of gout, which is the over- or underproduction of uric acid (urate), leading to a condition called hyperuricemia—high serum urate (sUA) levels, which is almost always hereditary in gout patients. Diet can exacerbate the condition but isn't the root cause.
Health care providers need to better educate their gout patients about the causes of gout and its successful management. Lifestyle changes (exercise, weight loss, and diet) combined with medications that lower sUA levels can keep gout under control. Patients need to be encouraged and invested in treating their gout, understanding that the goal is to keep their sUA levels under 6 mg/dL. Some gout patients have lumps of urate that can be felt under the skin, called tophi. For them, the target sUA level is under 5 mg/dL.
CreakyJoints, a nonprofit patient advocacy group for people with all forms of arthritis, recently published "Raising the Voice of Patients: The Patient's Guide to Treating and Managing Gout." These patient guidelines are the first developed by patients and reviewed by rheumatologists (including myself), specifically for use by gout patients and their caregivers.
The patient guidelines explain how people with gout can speak to their rheumatologists or other health professionals about their treatment plans, how to ask questions of their insurance companies regarding coverage, and how to engage in best practices for meeting or communicating with local legislators to advocate for patient-friendly health care laws. The new publication uses accessible language to educate patients and the public about gout while giving them the knowledge they need to ask the right questions when they see their doctors.
People with gout and their loved ones should know that sticking with the right treatments will provide them with an extremely good chance of completely eliminating gout. No one should have to "live with gout."
— Theodore Fields, MD, is a professor of clinical medicine at Weill Cornell Medical College and attending physician at the Hospital for Special Surgery.
References
1. The 2017 state of gout survey. CreakyJoints website. http://creakyjoints.org/goutsurvey/. Accessed May 23, 2018.
2. Burke BT, Kottgen A, Law A, et al. Physical function, hyperuricemia and gout in older adults enrolled in the atherosclerosis risk in communities cohort study. Arthritis Care Res (Hoboken). 2015;67(12):1730-1738.