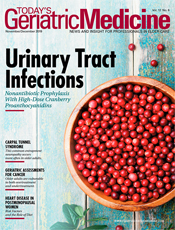 November/December 2019
Technology: Six Ways to Use Technology to Improve Patient Experience
By Norm Schrager
Today's Geriatric Medicine
Vol. 12 No. 6 P. 26
It may be tempting to dismiss today's health care technology as less relevant for older adults, but that would be a mistake. People across all age demographics are taking advantage of the information access that technology delivers, from researching a provider online to receiving lab results digitally. When you also consider the online habits and demands of elder patients' caregivers and families, every practice has multiple reasons to bring technology into the patient experience.
Many older patients are already using tech in their health care world. A 2019 PatientPop survey revealed one-half of patients older than 60 check online reviews from other patients to help form opinions about a provider. More than one-quarter have even posted a review of a health care practice.
When looking for and assessing doctors online, even if older patients aren't taking part as often, you can assume younger family members are; in the survey, people 30 to 44 years old surfaced as the health care industry's most active online group.
Of course, health care technology is a broad term, encompassing everything from wearables to ride-coordinating apps. But focusing on technology that's applied to patient touchpoints outside the exam room can deliver convenience to patients and success to practices. Following are six such touchpoints.
Step 1: Searching for a Provider
Consider the very first touchpoint in today's consumerization of health care: A patient or caregiver searches online to find out more about a doctor. In the survey mentioned previously, three of four people say they've done exactly that—and 57% do so with some regularity.
To ease patients' search for local care and attract new patients to your practice, focus on offering clear, consistent, descriptive information online. Start with Google, simply because that's where so many patients start. In June 2019, analyst StatCounter estimated an 88% US market share for the search engine. In another PatientPop survey, providers listed Google as the site on which they most often see reviews of their practice.
Claim your business profile at google.com/business and fill it with your practice name, address, phone number, specialty, hours of operation, and as much detail as you can. Be sure to include photos of your practice (inside and out) to get patients familiar with your surroundings before they visit.
Then check your professional profile across other high-visibility websites—Yelp, Facebook, Vitals, WebMD, and Healthgrades are recommended—and ensure all information is accurate and consistent. Even just confirming your phone number is correct helps ensure a good first impression to every patient who would consider calling.
Finally, fill your practice website with the basic information mentioned previously and details about your services, providers, and office, and include patient testimonials. Use phrases and language your prospective patients are most likely to use so they are more likely to land at your site during their searches. Remember, your website is the one aspect of the online world you control, so make it exclusively yours to set expectations with patients.
Step 2: Scheduling an Appointment
Technology done well helps patients find you online with greater ease. Once they determine you're the right choice for their care, you have the opportunity to "convert" them into new patients—and that demands two types of technology that make it simple to request an appointment.
The first is online scheduling. This allows a patient to request a date and time, often with the provider of their choice, simply by clicking on a button to see available schedule slots. This successfully mimics the act of online shopping: Customers research products, find what they want, and buy it with a click or two. Online scheduling brings this same familiar convenience to the patient experience.
The second tech function is click-to-call—an improved experience for your mobile users. Click-to-call appears on nearly all smartphones as a single click that instantly dials your practice. For any patient who favors mobile devices or speaking to someone directly, this is a plus.
Step 3: Receiving an Appointment Reminder
One of the more frustrating aspects of practice management is the no-show. Late cancellations and no-shows leave you with unexpected open spaces in your schedule, and lost revenue you can't get back. (A quick side recommendation: Don't double-book. It's a risky rabbit hole not worth going down.) For some patients, a no-show is nothing more than an honest mistake, especially if they're seeing multiple doctors the same week.
A proven solution to this issue is the automated appointment reminder. Not the manual phone call, which saps valuable time from practice staff, but automated messages sent to patients or caregivers via text message or e-mail. Some electronic health record and practice management systems offer appointment reminder delivery, as do practice growth software and services. Some solutions receive a digital confirmation back from patients (often by a single click or tap), and can deploy reminders at intervals that optimize the chance of hearing from the patient.
Busy or forgetful patients appreciate this technology, and it also elevates practice productivity: Not only can you reach out to patients at scale but you also benefit from an advanced view of your schedule you likely don't have, allowing you to fill open slots more readily.
Step 4: Arriving at Your Practice
Since this discussion is about ways technology can improve the patient experience, it doesn't focus on making patients comfortable in person, but top tips are worth repeating. Be welcoming and use a short front desk script if necessary; remember that everyone who walks in the door is first a person, then a patient, and then a customer. Tell patients about waiting room perks and comforts; be as clear as possible about wait times or delays. If you have a waiting room TV, choose something light (avoid the news).
Heeding the cry to ditch the clipboard, more practices are inviting patients to fill out necessary intake information via a tablet. This may not be viable for all your more senior patients but is usually appreciated by caregivers accompanying them.
Ideally, patients would have the opportunity to complete basic data online from home before arriving at your practice. But any digital intake form, which should integrate directly with your electronic medical record or practice management system, is almost always more engaging than pen and paper and more efficient for your practice.
Step 5: Receiving a Request for Feedback
In the digital age, patient feedback has become a central component of the patient-provider relationship. By asking all patients about their experiences after a visit, you're letting them know their opinion is valued and their business is appreciated. By driving this increasingly essential process with technology, you can reach out to more patients without taking time away from other work.
As with appointment reminders, the key is automation. An online reputation service automatically sends a short satisfaction survey (sometimes only two to three questions) to each patient at a certain time following their visit. Again, like appointment reminders, these surveys arrive via text message or e-mail and invite patients to share feedback with the practice. To maximize patient participation, surveys are sent at carefully set times if not initially answered.
For patients, this represents an open door to your practice, the opportunity to be heard. But it comes with a very important caveat for you: Respond whenever possible, and absolutely respond to negative feedback. PatientPop data show that when unhappy patients received responses from the practice, patient satisfaction doubled, increasing 99%. When a valuable feedback loop is established, a relationship can be salvaged and even improved.
The interaction also delivers added benefits to your practice, including opportunities for an improved online reputation and a direct line to understanding what your practice excels at and what needs more attention.
Step 6: Receiving Follow-Up Communication
For too many practices, the patient experience concludes at the end of the visit. That's a short-sighted view of health care that does nothing to maintain a relationship with the patient. Good, useful, ongoing communication from practices can improve patient adherence and overall health while ensuring return visits that keep your schedule full.
But, as any staff member will tell you, reaching out to patients regularly can be a time-consuming task. By using e-mail technologies, however, you can expand your reach quickly and send targeted messages to different slices of your patient population.
E-mail content can run the gamut based on your practice and patient needs. You might send an informative message about a particular condition, a reminder that promotes good health, an update on practice services or hours, or an invitation to come in for a vaccination or check-up. With the right e-mail service, you can create and deploy these messages at scale, successfully using technology to drive a retention strategy that also brings value to patients.
The Value of a Connected Experience
With the proliferation of digital technology, patients no longer have to wait for medical practices to answer the phones or rely solely on neighbors to learn about a local doctor. Now, information is available at the ready, and convenience is in high demand. In a 2019 study from NRC Health, patients listed convenience and access to care as the top factors in their decision making.
The use of technology to meet those needs is refining and redefining the patient experience, putting power in patients' hands in ways that not only benefit their well-being but also bring value to practices.
— Norm Schrager is senior strategist at PatientPop, with a focus on practice growth. He helps providers thrive by identifying and sharing business insights about health care practices and improving the patient experience. Prior to joining PatientPop, Schrager developed content at athenahealth.