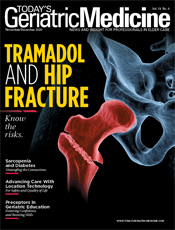 November/December 2020
Advancing Care With Location Technology
By Deric Blattenberger
Today's Geriatric Medicine
Vol. 13 No. 6 P. 18
New technology aims to keep older adults safe and their environments pleasant.
The health care industry is on the cusp of transforming itself with location technology, with hospitals around the world reporting meaningful benefits to workflow, patient experience, and safety. Given the fact that they also employ clinical staff and face several of the same security and financial challenges as hospitals, many believe older adult living communities are the logical next step.
But these living communities go beyond hospital environments—they are the crossroads of health care and hospitality. Not only do these communities aim to provide quality care but they also strive for a pleasant resident experience. Location technology offers a variety of applications to address both objectives.
Technically Speaking
There are two primary location technologies driving industry advancements for elder care living: the Internet of Things (IoT) and Real-Time Location Systems (RTLS).
IoT refers to the system of computing devices that exchange data over a network without requiring human-to-computer or human-to-human interaction (which is particularly important now in light of COVID-19). It allows for the easy integration of real-time location data with other older adult living technology systems, such as those used for emergency calls.
RTLS is most well-known for its equipment management capabilities in health care settings. Wake Forest Baptist Medical Center, for example, reported saving $3.5 million per year by using RTLS to improve and optimize the use of its equipment. But RTLS has several more health care use cases, such as data analytics, contact tracing, wireless emergency calls, environmental monitoring, wander management, and access control of restricted areas—all of which can also improve the safety for residents and workflow for staff in older adult care communities.
The most advanced RTLS integrates with other software, such as an electronic health record (EHR) solution, for the purpose of data collection and analytics. When a community implements multiple location technology applications, it's referred to as an RTLS.
RTLS works to create total wireless campus coverage, meaning environments do not need to rely on traditional connectivity through the internet. There's also the added benefit of a closed network, which improves network reliability and security. Essentially this private network gives communities the ability to control who is accessing records and how they are using them, minimizing the chance of data breaches.
Installation of location systems are often seamless—older adult care communities can even utilize staff members for installation. A comprehensive RTLS provider will give step-by-step instructions and certification of systems through a wizard and mobile application programs for each device.
Beyond the Basics
An added benefit of RTLS is its ability to integrate with or replace existing building alert systems, such as nurse call, fall detection pressure pads, smoke detectors, and EHRs. This flow of data can help staff make wiser, more personalized decisions when it comes to a resident's care.
Certainty-based technologies—including infrared and ultrasound—support wall-constrained systems, meaning they don't bleed through a community's walls and ceilings. This provides the most accurate location of staff, residents, and visitors in a defined area.
In addition to being increasingly affordable, wireless, and simple to install, certainty-based locating is also the most reliable, giving staff the ability to access true location down to room-level accuracy. This is compared with approximate locating, which gives an estimate or vicinity in which an individual might be located.
In the case of older adult living, accuracy matters. In an emergency, every second counts; ensuring a resident who needs assistance can be found is crucial. With certainty-based locating, precious seconds won't be wasted trying to locate the resident in need.
In short, RTLS coupled with IoT provides a real-time view of the location of people and products in a given community. There are multiple use cases for these technologies, but they all have one common goal in older adult living: to improve the quality of care and life of residents.
The Role of Wearables
Part of location technology deployment means residents and staff wear small sensors that connect and communicate to the facilities' RTLS. These wearables come in many forms, but most commonly they're built into in a pendant, belt clip, or watch. They are battery powered and waterproof, and can even be customized to the individual.
Administrators have the ability to set unique permissions based on risk level and other factors. For example, for residents in memory care, zone triggers and access control can be set to help prevent residents from wandering off or inadvertently causing themselves harm. Likewise, if residents are at risk for wandering at specific times during the day, administrators can also set time-based rules. These features allow older adults to maintain a sense of independence within their communities while giving staff the ability to ensure their safety and their families' peace of mind.
IoT wearables connect to a facility's RTLS, making their use convenient and efficient for caregivers of older adults. Staff can receive real-time notifications through connected mobile apps, SMS messaging, and e-mail. A facility can set and distinguish multiple alert types, including resident-initiated alerts from pendants and pull cords, while automating location alerts that indicate wandering, loitering, or lack of activity. Other alerts include fire, supervisory, and duress alarms.
After an alert is addressed, the staff member is given a simple form to log documentation codes into the system. This can automatically sync with the older adult communities' EHR systems. Data collection allows a team to know more about an individual, making it easier to plan for subsequent experiences.
Creating a Safe Environment
The reality in most older adult living communities is that staff are often stretched thin and pulled in several directions at any given time. Monitoring an entire campus is a challenge, and traditional manual monitoring methods can create gaps in coverage. An unreliable monitoring system could severely hinder the safety and experience of residents, but an RTLS can provide automated updates for staff to efficiently maintain the welfare of residents.
Wander Management
As discussed previously, devices worn by residents enable proactive response to dangerous wandering events, eg, if a resident attempts to wander outside. They can also be integrated with security control to actively restrict zones within a community, so rather than wait for a resident to wander into a protected zone, the sensor can be set to lock entrances to unsanctioned areas. Facilities can use geofencing to create outdoor safe zones that will trigger an event or alarm in the case of a resident beginning to wander off property. Cables can be buried outdoors to provide protection over large areas such as ponds, courtyards, and walking paths or can be hung indoors to monitor points of egress.
Sundown Syndrome
Facilities can help detect early onset dementia by studying residents' activities throughout the day, but this can take a lot of dedicated effort. RTLS not only paints a picture of their routines but also can automatically identify trends and empower caregivers to take action. If residents enter the wrong living quarters, caregivers can be quickly notified and intervene. Sundown syndrome residents mean no harm when, for example, they steal clothes from another person or argue with another resident; they're experiencing a side effect of their condition. RTLS can help keep caregivers ahead of conflict.
Infection Control
As we've seen with COVID-19, infection can wreak havoc in older adult care communities where vulnerable populations live in close quarters, but contact tracing and hand hygiene can go a long way in minimizing the spread of a contagious disease. An RTLS can provide interaction reports that track which residents, staff, and even equipment came in contact with an exposed individual and for how long. Staff are also able to see what areas of the community the infected person visited to prioritize their sanitation. Tracing the source of an infection can greatly reduce its spread within a community.
Likewise, RTLS can be implemented to improve hand hygiene compliance by recording when caregivers enter and exit resident rooms and whether they washed their hands or used hand sanitizer before and after doing so. The system then generates a report for management to review. They're significantly more efficient and reliable than manual hand hygiene monitoring of the past.
Security and Duress
Wearable sensors can also come equipped with emergency buttons that, when pushed, immediately notify nearby staff that a resident needs help. This has a few benefits. For one, it empowers residents with a feeling of control—they're left knowing independence doesn't have to mean danger. It can also improve emergency response times, as caregivers, nursing directors, and security staff are able to see how quickly a situation was addressed. And advanced analytics can help reveal resident trends and routines, so if repeated incidents occur, staff can try to mitigate the source of the problem and provide evidence of a resident's routine to the resident's family members.
Staff wearables also act as emergency buttons; similar to how residents can push them if they need help from a caregiver, staff members can push theirs to alert other nearby staffers and security personnel that they need assistance. That way the staff member can remain in place when rendering aid to residents or remotely call for help in the unlikely event they are unable to move themselves.
Detailed Security
Though acts of violence are uncommon, it's important that communities plan for security risks. For older adult care staff members, lift assist or help with an aggressive resident are common requests addressed by emergency buttons. As caregiving is a 24/7 job, it's important that every person has the ability to get help—from the parking lot, walk-in cooler, or medication room—if they feel they are at risk. A mobile duress button can get them help in an RTLS-enabled campus.
In the event a staff member or resident is unable to reach their emergency button, or a visitor needs assistance, facilities also can implement stationary emergency call devices that connect to the facility's RTLS. This stationary device has a pull cord or button press to signal an emergency. Emergency buttons have been around for decades, but the benefit of more modern devices is there's no cabling required, and if moved, an RTLS can automatically update to indicate its new location.
Automated Alerts
In addition to wander management, RTLS can trigger more automated alerts that elicit action among caregivers, allowing staff to be more proactive without increasing the number of people on the clock. For example, with RTLS, caregivers can see when a resident has not moved for a given period of time. If a resident has been in the same location for a while, it could indicate a fall or accident that requires attention and prompt staff to complete a wellness check. Staff can also analyze these activities to see trends and provide better care when recurrent activities begin to deviate from a resident's normal pattern of behavior.
Managing Staff and Visitors
Optimizing Workflows
Older adult care communities can and should equip staff with their own advanced wearables, including ID badges and pendants, which can be leveraged to improve workflow as well as care and outcomes for residents. Sensors worn by caregivers record activities such as the duration of care time between resident and staff and give users the ability to view metrics including average response time and documentation completion rate. Facility leaders can review these metrics and find obstacles in the system that might be affecting workflow.
Visitor Management
Temporary tags, similar to those given to staff and residents, can also be given to outside visitors, including family members, visiting clinicians, and even vendors. Community staff are empowered to monitor who is in the facility, where they were, with whom they interacted, and the length of their visit. In light of COVID-19, this is especially helpful if a visitor later finds out they are infected with a communicable disease. In the case of an emergency, staff are able to confirm how many visitors are in the building and their exact locations.
The Future of Older Adult Living
As with many things in our world, wireless connectivity is the inevitable next step for older adult care. Location technology is a relatively easy way to introduce digital transformation to a community and give it a competitive advantage in the marketplace. It opens up a whole new world of building blocks for safety, communication, and operational efficiency that benefit both residents and staff.
The data provided can help leadership teams make better decisions that lead to improved safety and health outcomes. Systems can easily be expanded over the years to add different use cases and, one day, tell us not only where we are at but also where we are going—by helping us predict potential issues before they happen.
Perhaps most important, it can be a tough process transitioning into a full-time adult living care community, but RTLS coupled with IoT technology can provide comfort for residents and their families. A location system for older adult living gives residents the independence and dignity they deserve while also ensuring their safety and security. Family members can rest assured knowing that their loved ones are safe and receiving quality care.
For more information on location technology in older adult living communities, CenTrak is hosting a joint webinar with Direct Supply on Wednesday, December 2, 2020.
— Deric Blattenberger is a product manager at CenTrak, a provider of location-based IoT solutions for the health care industry. CenTrak has been named a visionary in the Gartner Magic Quadrant for indoor location services and recently added contact tracing capabilities to its TruView platform for senior living communities.