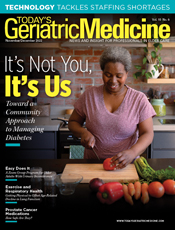 November/December 2022
The Last Word: Gender-Affirming Care
By Kellan Baker, PhD
Today's Geriatric Medicine
Vol. 15 No. 6 P. 34
When I had a total hip replacement this summer at the ripe old age of 40, friends were quick to joke that I had skipped over middle age and landed in my 80s. But for transgender people like me, getting older is actually no laughing matter.
Everyone knows that it's hard to age in our youth-obsessed culture, which spares little attention and few resources for older adults. For transgender people, however, the experience of aging not only brings common concerns such as health and financial security but also invites the very real possibility of having our identity stripped from us or used as a pretext to mistreat or exclude us.
As the first sizeable cohort of transgender elders in the United States begins to age, its need for nursing homes and other assisted living facilities is beginning to grow. With it, concerns are surfacing about transgender older adults being turned away from care facilities, being misgendered, or even being required to "detransition" to a gender presentation that doesn't match who they are and being subjected to harassment and discrimination from health care providers and other caregivers.
To underscore the trend, in June 2022, the Maine Human Rights Commission intervened in a complaint brought by Marie King, a 79-year-old transgender woman who was denied admission to an assisted living facility because she is transgender.
A 2021 study exploring the experiences of transgender elders identified a number of themes, including fears of mistreatment because of their transgender identity, exacerbated loneliness and isolation as transgender-friendly social networks narrow, and concerns that clinicians will not provide gender-affirming medical care. As one 76-year-old transgender woman shared, "I can only hope that when that time comes, I will be in a facility where I am allowed to be who I am and that I will be treated with dignity."
The 2015 US Transgender Survey (USTS), the largest-ever survey of transgender and nonbinary people, found that 22% of respondents older than age 65 who had seen a doctor in the previous year had at least one negative experience, including being verbally harassed or physically assaulted, having to teach their doctor about transgender health care, or being denied care outright.
Medicare also routinely fails to support transgender elders: among USTS respondents with Medicare coverage, 14% and 48% were denied coverage for gender-affirming hormone therapy and surgery, respectively, in the previous year.
Barriers to gender-affirming coverage and care for transgender people are an increasing concern nationwide. A number of states have enacted legislation criminalizing the provision of gender-affirming care to minors and even threatening to prosecute doctors who work with transgender youth and their families to provide individualized and age-appropriate care. At least one state so far has gone further by establishing a ban on gender-affirming care for all Medicaid beneficiaries and pushing the state's medical board to enact new restrictions on gender-affirming care for transgender adults.
Every expert US medical society, including the American Medical Association, the American Psychological Association, and the American Geriatrics Society, has issued statements opposing these discriminatory laws and affirming the importance of access to appropriate care for transgender people.
"Study after study demonstrates that gender-affirming care significantly improves the mental health and overall well-being of transgender individuals," says Richard J. Baron, MD, president and CEO of the American Board of Internal Medicine. "With the geriatric population, it is especially important to preserve dignity and ensure transgender patients receive the medical care they need to maintain the best quality of life possible as they age. Compassion and respect are so important and are something that the transgender population has not always received, even from health care professionals."
Key steps that geriatricians can take to help transgender patients access the health care they need include incorporating gender-affirming services such as hormone therapy into their practices and speaking up against laws that would criminalize or restrict access to this care.
Other important ways to support transgender elders are outlined in resources from organizations such as SAGE (Services and Advocacy for GLBT Elders), the nation's leading nonprofit focused on LGBTQ+ aging issues. SAGE's national programs include SAGE Care, a cultural competency program for care providers; technical assistance and education through the federally supported National Resource Center on LGBTQ+ Aging; and the Long-Term Care Equality Index, an assessment tool to help promote LGBTQ+ cultural competency in long term care communities.
Today's transgender elders fought hard to create a world safe for younger transgender people like me. Welcoming them into your practice is a wonderful way to help say "thank you" to these pioneering trailblazers.
— Kellan Baker, PhD, is the executive director of the Whitman-Walker Institute, one of the country's premiere organizations focused on advancing the health and well-being of people facing barriers to quality care, particularly LGBTQ people and people living with HIV. Baker was previously a Centennial Scholar and a Robert Wood Johnson Health Policy Research Scholar in the Department of Health Policy and Management at the Johns Hopkins Bloomberg School of Public Health, where his research focused on transgender population health. Prior to that role, he was a senior fellow at the Center for American Progress in Washington, D.C., where he worked on health and data collection policy at the federal and state levels and cofounded the Out2Enroll campaign, which has helped the Affordable Care Act halve the number of low-income LGBTQ people without insurance coverage. Additionally, he's a consultant for the National Academies of Sciences, Engineering, and Medicine and in advisory roles for entities such as the National Human Genome Research Institute, the US Transgender Survey, and AcademyHealth. He's also the board cochair of Equality Federation, a nationwide organization that supports advocates fighting for LGBTQ+ equality nationwide.