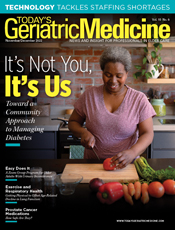 November/December 2022
Technology: Battling Staffing Shortages
By Danielle Myers
Today's Geriatric Medicine
Vol. 15 No. 6 P. 8
How Technology Can Fill Gaps Created by Staffing Shortages While Keeping Patients Safe
Globally, as many as 4 in 10 patients are harmed or injured in primary and outpatient care, and up to 80% of that harm is preventable.1 In 2019, the Association of American Medical Colleges predicted the United States would face a projected physician shortage of between 37,800 and 124,000 by 2034.2 While COVID-19 has certainly accelerated these numbers and exacerbated the issue as staffing shortages are hitting health care facilities hard, it's certainly not the only cause.
Prior to the pandemic, the physician shortage was already cause for concern as baby boomers age and overwhelm demand for care, particularly from specialists.3 Moreover, people are living longer, thus taxing the health care system for an extended period of time.4
While solving these challenges isn't easy and certainly won't happen overnight, technology can help relieve some of those risks quickly in the interim, at a time when safety concerns are higher than ever. Technology helps keep patient care at the forefront in three ways: it enhances patients' overall experience, supports quicker healing, and decreases the chances of unexpected complications that require significantly more attention.
Knowing that many patients utilize nursing homes for long-term and short-term care, one type of technology that helps with quality of care is an in-room resident engagement portal. This portal is an always-on appliance that lives in the resident's apartment or home and provides access to information as well as communication tools at the resident's fingertips. The portal is self-service and helps keep residents informed, active, and engaged in their communities. Many are designed specifically for use by older adults and feature an intuitive, easy-to-use interface that will benefit even the most technology averse. The same information may also be available via digital signage and online to meet residents' needs right where they are to keep them connected to the day's activities.
Positive Patient Experiences
One way an in-room portal helps is by monitoring mental health, which is essential for overall wellness care of senior citizens. Data points such as loneliness, anxiety, depressive symptomatology, perceived stress, positive and negative emotion, well-being, subjective sleep quality, and perceived social support can all be collected through self-reporting. These data can, in turn, be analyzed by staff and physicians and reveal how residents are faring with their mental health over a set period of time and what may be triggering any issues.
Activities and socialization within retirement communities and nursing homes help facilitate a well-rounded approach to health care. Specifically, resident engagement platforms not only help residents stay connected within their communities but also help them connect with friends and family more often, especially when frequent visitation is not possible. These platforms efficiently put the residents' care and well-being right in their own hands while keeping the staff informed about how they are feeling both mentally and physically.
Platforms help by providing two-way communication and allowing residents to take surveys and give feedback to staff, as well as provide daily wellness check-ins with staff, who can also keep residents informed of things such as upcoming activities, events, and new protocols through real-time notifications, providing announcements that encourage residents to participate and keep them engaged and social. They can even sign up via these platforms, making it easy for them to feel connected within their living spaces. Residents can also interact with their neighbors through digital bulletin board messages and can even order food for delivery to their rooms, which is especially important when isolation is necessary due to illness. Many residents report that these in-room portals are almost like having a personal assistant, and they help give independence back to those who crave it.
Healing Timeline
Providing residents great care is an essential intention within older adult living communities, and staffing shortages can impede those efforts. Technology can help by increasing efficiency to mitigate staffing shortages, especially with any last-minute call-offs or even scheduled time off when there isn't enough staff to back-fill. Many people utilize older adult living facilities and nursing homes not only for care needs but also for temporary rehabilitation to help recover from surgery, injuries, and more in a safe and comfortable environment.
Quality of care is essential in older adult living settings, making staffing shortages a great concern. If staff are busy taking care of tedious day-to-day tasks, it can take away from patient care. Resident engagement platforms can play an important role in creating more time for staff to focus on patient care because residents can access services themselves through their in-room portals. When residents are scheduling transportation and signing up for activities themselves, they don't need to utilize a staff member's time, therefore freeing them for other needs around the facility. For example, residents are often interested in when the mail arrives at their facilities, and rather than calling repeatedly into the front desk, they can simply check their in-room portal to see whether the mail has arrived yet. Likewise, they can call maintenance themselves to change a lightbulb or schedule housekeeping to pick up refuse. These simple changes can free valuable time for staff members to complete other tasks that may have more immediate needs, such as patient care.
Facilities can also utilize technology in their favor to help with staffing shortages. Investing in relevant technology can help staff feel more supported by their employers and in their careers, which can help lead to retention.
Avoiding the Unexpected
A variety of emergencies can happen anywhere and anytime. In the case of older adult residences, such as nursing homes and beyond, technology is not only essential for communication among the residents and for connecting with their families and staff but also a very important factor in safety plans, namely monitoring to ensure the well-being of each resident. Technology solutions help monitor access points, beds, and communication tools. This helps keep track of the whereabouts of each resident, especially important for patients with dementia care needs. When an emergency does happen, staff have a way to communicate with residents, especially important, for example, in retirement villages where separate apartments mean a PA system may not be effective. With staff being able to report an all-facility message through the portal, residents are reassured that the incident is handled quickly and efficiently, and no further action is needed from them. In the case that there is action needed from the residents, a resident engagement platform provides a quick way to send directives and allows the resident to communicate with their families as needed to provide updates on their well-being.
The pandemic certainly changed communication needs, but technology has always been relied upon to meet the needs of the moment. There were also many factors during the pandemic that now have physician's offices busier than ever. From delaying care to an increase in illness, physicians need to be able to rely on tools to keep their patients well and help them keep up with their care plans between visits. Physicians also need to be able to ensure that there is a reliable way to document health care needs in the intermediate.
By utilizing user-friendly resident engagement platforms, patients get the great quality of care they seek and need, and it helps keep them engaged and informed and a part of their living community experience, which is so important to their mental health. Technology not only is a time saver but also gives residents the autonomy to self-report any bothersome symptoms they may be having, and the staff can report those to the physician. This keeps them on top of their care and provides ways to make sure staffing shortages do not impede that care, assuring their primary care physicians and care team that needs between appointments and procedures are being met and staying top of mind.
— Danielle Myers is the general manager at Status Solutions, which offers CATIE, a resident engagement solution that delivers digitized content and endless self-service options, giving residents access to information and services they want while keeping staff informed in order to provide the highest quality of care. Myers' expertise includes working with customers in senior living, health care, education, manufacturing, hospitality, and government to design, deliver, and maintain solutions for integrated alarm management and automated mass notification. She's also been instrumental in expanding the company's US channel with the addition of new voice, data, fire, security, audio-visual, and managed services providers as certified resellers.
References
1. Patient safety data. World Health Organization website. https://www.who.int/news-room/fact-sheets/detail/patient-safety#:~:text=Globally%2C%20as%20many%20as%204,80%25%20of%20harm%20is%20preventable. Published September 13, 2019.
2. Association of American Medical Colleges. Physician Shortage Projections. https://www.aamc.org/media/54681/download. Published June 2021.
3. Increased need for specialists. Vision Monday website. https://www.visionmonday.com/business/article/demand-for-specialists-drives-physician-recruitment-shortages/. Published November 5, 2019.
4. Institute of Medicine. Exhibit A-2, Health Status, Life Expectancy and Long-Term Care Utilization by The Elderly. In: Toward a National Strategy for Long-Term Care of the Elderly: A Study Plan for Evaluation of New Policy Options for the Future. Washington, D.C.: National Academies Press; 1986.