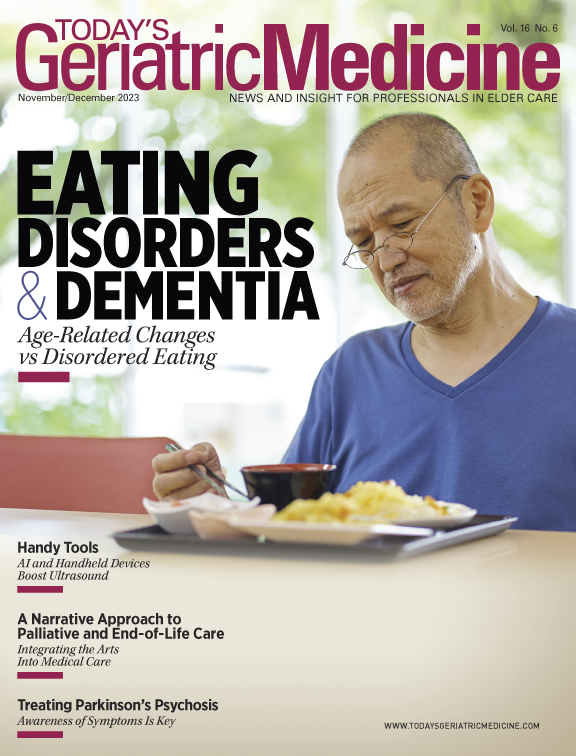 November/December 2023
Handy Tools
By Keith Loria
Today's Geriatric Medicine
Vol. 16 No. 6 P. 14
AI and handheld advances boost ultrasound.
There's been a great deal of innovation in ultrasound during the past few years, with advances in the technology of portable, handheld ultrasound units; artificial intelligence (AI); 3D/4D software; and workflow/workstream optimization tools. Now, with support from digital solutions and AI, caregivers, physicians, and surgeons are using ultrasound in real time for precision care at the bedsides of patients, in the operating room, at the primary care physician's office, at home, or wherever the patient happens to be.
"Handheld ultrasound continues to make ultrasound more ubiquitous, particularly at the point of care," says Roland Rott, president and CEO of ultrasound for GE HealthCare. "During the pandemic, care expanded beyond the traditional 'walls' of hospitals and closer to home. The capabilities of handheld ultrasound to perform a quick scan wherever the patient may be translated into wider applications to screen for early detection or triage patients at the point of care for effective follow up."
These advances focus on improving the safety and quality of ultrasound procedures, with efforts to standardize protocols and ensure that patients receive appropriate care. "The industry may also focus on improving the accessibility of ultrasound, especially in low-resource settings," says Jeff Cohen, general manager of ultrasound at Philips. "This could involve systems that can be used by nonspecialist health care workers."
Ajay Gannerkote, head of ultrasound for Siemens Healthineers, says AI for ultrasound in 2023 and beyond is probably one of the modality's most important developments. "Using AI to help clinicians perform ultrasound in a very intuitive way is where the market is going to go," he says. "Another area where the market is headed is that the use of ultrasound is increasing quite a bit—ambulatory surgery centers, physicians' offices, pain management clinics—all of those places are going to use more ultrasound to guide and decide." However, Gannerkote believes that a deeper level, with quantitative innovation, is where the trend really is most important for changing the clinical pathways for patients.
Clarius Mobile Health surveyed approximately 700 clinicians and found that 87% plan to purchase additional ultrasound machines in the next year as a way to expand their services, a clear indication that clinicians who are using ultrasound believe there's enough value to continue investing in legacy system upgrades or expanding access with additional systems. "Many of our customers report they are replacing legacy systems with personal handheld devices," says Ohad Arazi, president and CEO of Clarius Mobile Health. "There are also those who are realizing the unique benefits of carrying a personal device with them, in addition to having access to traditional devices."
Innovations
For many parents, their first experience with ultrasound shows them their unborn child's tiny hands and spines—a grainy glimpse into their family's future. But ultrasound has vast applications beyond assessing the health of a growing baby. It is used to look closely at the heart after a patient's heart attack, evaluate lung function in a patient stricken by COVID-19, and assess why a patient brought in by ambulance is in shock.
"Having clear 2D, 3D, and 4D real-time images and clips that accurately capture tissues, fluids, and structures inside the body, while not exposing the patient to any ionizing radiation, is powerful for diagnosis, treatment, and improved patient outcomes," Rott says.
He paints several scenarios where innovation is making a notable difference: Imagine a surgeon who is able to operate on certain fetal anomalies in weeks 11 to 12 of gestation, a feat that until recently was possible only in week 20, and achieve a better outcome for the unborn baby. Or imagine a physician who is performing a lumpectomy on a breast cancer patient and can see exactly where the tumor is, allowing it to be excised precisely with clean margins, ensuring the patient's successful breast cancer treatment.
"Adding real-time surgical intervention to our pre- and postoperative ultrasound capabilities not only gives us entry into the operating room but improves surgeons' decision-making, efficiency, and accuracy, as well as health care outcomes for millions of people," Rott says.
DiA is a provider of FDA-cleared and CE-marked ultrasound AI solutions and has partnered with GE, Philips, and other vendors to utilize its AI software in ultrasound. "In the past few years, AI has completely changed the way ultrasound images are being analyzed and acquired. We're just scratching the surface, and there's more to do," says Hila Goldman-Aslan, CEO and cofounder of DiA. "While people are using AI, the pace is too slow for many, and they need more AI solutions for better workflow. So, we are just starting to see an impact."
The company was recently FDA approved for its LVivo IQS, which aims to be a vendor-neutral AI software package that provides real-time feedback to users while they perform scans. Goldman-Aslan says by changing colors and displaying a numerical score to rate the overall quality of an image of the left ventricle, the new software will help technologists capture clear and accurate scans that can be used to diagnose a range of potentially hidden heart conditions.
Siemens Healthineers' latest ultrasound machines are the Acuson Sequoia Crown Edition and the Acuson Sequoia Select Edition, both powered by the company's flagship BioAcoustic Imaging architecture that delivers image enhancement and expanded applications. Additionally, both include new advancements in platform design, display technologies, and improvements in ergonomics and workflows.
"By using the Sequoia, studies have shown that scan times have improved by 20%," Gannerkote says. "You can drive return on investment (ROI) by doing more procedures and reducing time, so we feel it's a six- to nine-month ROI on the new machines." According to Gannerkote, ultrasound is a high-growth market from the clinicians' perspective. The market is growing anywhere from 6% to 12% and is the fastest growing image modality.
Earlier Diagnoses
Philips' newest ultrasound systems, from its Lumify handheld ultrasound to its brand-new Compact 5000, were produced in response to technology trends and cater to all aspects of ultrasound imaging. The Lumify is portable and can be used on a smartphone or tablet, offering features such as early obstetric calculations, pulsed wave doppler, teleultrasound, and connectivity, without compromising on image quality. The Compact 5000 series is a mobile and advanced version of the Philips EPIQ and Affiniti systems, featuring a shared workflow, common interface, and transducer compatibility across Philips' portfolio.
On the premium end of its product range, the Affiniti and EPIQ solutions offer advanced features such as AI, a smart workflow user interface/user experience, and 3D/4D imaging capabilities. The company also offers a portfolio to meet the financial needs of certain customer groups, including the InnoSight, ClearVue, and 3300 models.
"Our main objective is to provide health care professionals with breakthrough ultrasound tools that deliver clarity and confidence, no matter where care is needed," Cohen says. "We believe in a human-centered approach that takes into consideration the patient, clinician, facility, and even the country where the equipment is being used."
GE HealthCare has been active in the AI field. The FDA recently released an overview of more than 500 cleared medical devices in the United States; GE HealthCare came out at the top of the list with 42 devices.
"Based on our Edison Digital Health platform that connects clinical and operational workflows and data, layered with AI and analytics across the enterprise, … investment in science and development, and global research collaborations, GE HealthCare has built a [platform] to develop and integrate AI applications," Rott says. "This [platform] is currently being used to improve image quality with advanced postprocessing; perform automatic image detection, segmentation, and measurements; and provide tools that aid in clinical decision making."
GE recently acquired Caption Health, a privately-owned AI health care company that creates clinical applications to aid in early disease detection, using AI to assist in conducting ultrasound scans. Caption AI applications enable a broader set of health care professionals to conduct basic echocardiogram exams.
"This technology can help detect signs of diseases such as heart failure in at-risk patients across doctors' offices, the home, and alternate sites of care, potentially preventing hospitalizations and supporting improved clinical outcomes," Rott says. "Guiding ultrasound users during examinations with the help of AI is of growing importance, especially as we reach a broader set of health care professionals."
Earlier this year, Esaote, an Italian-based biomedical company, released the MyLabX90, a new premium ultrasound system that offers advanced ergonomics in clinical solutions. "Accuracy and precision across the entire image generation chain, data processing speed, and native AI-based application management lie at the heart of MyLabX90," says Guillaume Gauthier, ultrasound global product marketing manager for Esaote. "As well as providing high-quality images and advanced clinical solutions, our aim was to increase the speed and accuracy of analysis, together with improving the operator experience and the clinical outcome for patients."
Time for Something New?
The ROI for a new ultrasound can vary depending on factors such as patient volume, reimbursement rates, and the specific needs of a facility. However, there are several benefits that a new ultrasound can offer that can lead to a positive ROI. "For example, systems in our portfolio can have faster processing times, improved image quality, and more advanced features such as AI and automation, all of which can lead to increased efficiency and accuracy in diagnoses," Cohen says.
As for determining when a facility should consider updating its ultrasound equipment, Philips has noticed a trend of facilities updating approximately every five to seven years, generally to ensure that the technology remains up to date with the latest advancements and clinical needs. "Our systems are designed to be upgradable with firmware and software updates, allowing facilities to maximize their investment and grow with their clinical practice; so, you are not always required to upgrade the capital portion," Cohen says. "Ultimately, the decision to upgrade should be made following a careful evaluation of the facility's needs and potential benefits of new technology."
For GE HealthCare, digitization and automation, along with miniaturization, will continue to be a growth vector for its ultrasound business. "The adoption of wearables and home health care will fuel future growth, with the industry poised to grow with [mid-single-digit compound annual growth rate] through to 2025," Rott says.
— Keith Loria is a freelance writer based in Oakton, Virginia.