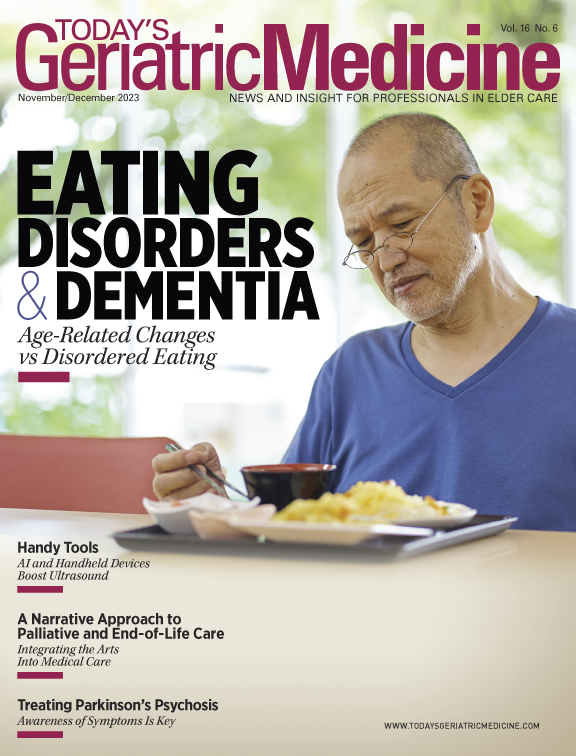 November/December 2023
A Narrative Approach to Palliative and End-of-Life Care
By Lindsey Getz
Today's Geriatric Medicine
Vol. 16 No. 6 P. 18
For many years, health care has been so focused on extending life that, some would argue, it loses sight of quality of life. But the introduction of palliative care programs that are increasingly focused on providing relief while also maintaining a focus on quality of life seems to be making meaningful changes. One change in particular—the implementation of narrative palliative care—has transformed Johns Hopkins Bayview Medical Center's palliative care program. It's all part of a growing movement looking to integrate the arts and humanities into medical care.
This approach to care is has driven David S. Wu, MD, director of the palliative care program at Johns Hopkins Bayview Medical Center. He's always been passionate about the power of stories and has found that they have an important place in palliative care.
"Much of this has to do with communication," Wu says. "I think we often set the bar too low when it comes to communication in health care. It is deprioritized in training, role modeling, and practice. But when we talk to patients and their families, they often tell us it's the most important thing to them. So, I think we need to work on the art of conversation. And in order to do that, we need to incorporate the arts, including listening to and telling stories."
Wu says that by taking the time to hear patients' stories, clinical care can be transformed. It has the power to humanize the patients, which can improve their care.
This unique approach to palliative care is part of the reason the John Hopkins' Bayview program recently won the 2023 Circle of Life Award from the American Hospital Association. The Center for Hospice Care in Mishawaka, Indiana, was also a winner along with runner-up (Citation of Honor recipient), Prospero Health. This award recognizes innovative and excellent palliative care programs and highlights their impact on patients, families, and communities.
"The way we weave narrative throughout our approach to palliative care is something that makes us unique and a major reason why we won this award," Wu explains. "I have a BA in English, and the link between storytelling and health care has always been a passion of mine. This narrative-based approach can help us tailor our approach to the individual. When we factor in the patient's 'larger than life story' and then we look at how their illness fits into that, we can tailor the care to the person sitting in front of us, in their complexity and depth. It's an art. Science is involved, but it's truly an art form."
Wu saw this play out during the height of the COVID-19 pandemic when the medical community was heavily overburdened. He recalls one patient's story in particular. "We had a patient who had been on a ventilator for weeks and the care began to feel futile to much of the staff," he recalls. "But we started talking to the family about what we should know about their loved one as a person—their story beyond their illness. We started to hear about how he was an anchor of his neighborhood, a sports coach and mentor, and impacted an entire generation of youth. As we framed our discussion around his story—his larger life story—it not only helped us connect with his family but also humanized him as a patient. The team told us that as a result they were able to take better care of the patient because they felt more connected to him as a person."
With this approach, Wu says, the emphasis is on the person—not just their illness. He adds that it involves looking at the "holistic picture" as opposed to just the "technical details."
Following the Three-Act Model
In order to put these ideas into practice, Wu led his team in designing the "Three-Act Model," which he says helps define a narrative approach to medical conversation. It's been implemented not only in his program but also in multiple programs and beyond palliative care in Johns Hopkins as well as at other institutions.
This model provides an approach to the serious illness conversation that puts the patient's voice at the center of the care. Act I of the Three-Act Model is to understand the patient's story. Act II is to share the medical opinion in big picture terms. And Act III is focused on shared decision-making, with information from both Acts I and II coming into consideration.
"In Act I, If I am doing my job well, I am talking for significantly less than half of the time meeting with the patient and their family," Wu explains. "I start by saying that our aim is to match the care to what's important to the patient, and then I ask about the patient as a person. By starting this way, the patient's voice is empowered. And I am actively listening for threads we can then tie into medical decisions at hand in Act III."
It's all about matching the care that patients receive to their preferences and values. Generally speaking, that can easily be overlooked if Act I isn't given the attention it deserves, Wu adds.
"There are other modalities for teaching communication like checklist and acronym-based approaches," Wu says. "But I think one unique aspect of the Three-Act Model, and this story-based approach, is that it is 'elegantly simple,' as one learner put it. This allows the provider to be fully present to the patient and family members, attentive and adaptive. Also, the narrative approach is very engaging for learners. We use literature, poetry, and film to attune our learners to the kind of attentive listening and adaptive conversation that's required."
Looking at the Research
While Wu has seen this approach work in action, he's also been involved in studying it. His research demonstrates that this mode is not only effective but preferred posttraining. One study, "Narrative Approach to Goals of Care Discussions: Assessing the Use of the Three-Act Model in the Clinical Setting," published in the Journal of Pain and Symptom Management, found that the preponderance of internal medicine interns who were involved in the study reported preferential use and effectiveness of the Three-Act Model several months after completing training.
Another study, "Integrating Narrative Goals of Care in the MICU: Impact on Educational and Clinical Outcomes," published in American Thoracic Society Scholar, found that training and workflow changes in the ICU were associated with communication skills proficiency and a dramatic increase in the documentation of goals of care conversations for patients in the ICU for seven days or more.
Wu adds that it's important to recognize that a narrative approach also can address provider wellness. Prior to the COVID-19 pandemic, he had already begun to recognize signs of staff burnout. As a result, he was led to create a program called "Thrive by Design," which addresses the well-being of providers on the levels of program, team, and personal. Incorporating the arts in regular meetings is one key element.
"Once a month, we have a meeting that's centered on an arts-based activity, led by different team members on a rotating schedule," Wu explains. "One of the favorites was when everyone brought in a favorite song. We played it and then the person explained why it was meaningful to them."
This program not only got the team through the pandemic, Wu says, but also helped them thrive at some of the hardest times.
"Part of this approach involves connecting on a heart level, and that's something that health care providers may not be familiar with," he continues. "We are also reflecting on our own emotions in the process of hearing the patient's story. And each other's stories."
Disparities in Palliative Care
This narrative approach to palliative care can also be highly effective at addressing health disparities. Wu leads the Palliative Interprofessional Collaborative for Action (PICAR) team at Johns Hopkins, a team that spans the Johns Hopkins Schools of Nursing, Medicine, and Public Health. It aims to empower the voices and stories of patients and their families and communities in all of their diversity in an effort to provide excellent, equitable care.
"We gather together with our diverse community members to better understand their needs and also partner with them in redesigning how we care for our community," Wu says. "Their voices need to be front and center. For example, we are partnering with our Black community here in Baltimore to codesign how we teach and provide care. If we want to provide excellent care tailored to our community, we need to codesign with our community."
One project the team is working on, funded by the Hillman Foundation, is "a nurse-led approach to improving palliative care in the ICU for Black populations." Another, funded by the Johns Hopkins School of Nursing, seeks to understand the impact of environmental care team members on the experiences of hospitalized patients and their families.
"Our clinical and PICAR team members get together regularly as part of our palliative creative operations team, to pursue creative ideas and collaborate on projects," Wu says.
Looking Ahead
A narrative-approach to palliative care is something that other institutions can also implement. Wu and his team have developed a curriculum for a Three-Act Model training that can be followed.
"Sometimes the greatest difficulty lies in just getting the door open—but once it is open and the success of this approach is experienced, keeping the door open is usually no problem," he continues.
Wu has witnessed more and more programs and institutions adopting these principles, and that's paving the way for the future.
"As we're giving more talks and publishing more research, we're seeing this approach being increasingly integrated," he says. "It's building momentum. At John Hopkins, we've seen the Three-Act Model integrated into multiple fellowship programs, including oncology, pulmonary critical care, geriatrics, and geriatric psychiatry. I think geriatrics was already very familiar with a person-centered approach and this only supported much of what they were already doing."
It all comes back to the core mission of palliative care, Wu says, which is optimizing quality of life. "We emphasize that could mean at any stage of illness; however, it does include end-of-life care and what might be considered 'the sickest of the sick,'" he says. "At the heart of it is matching the care that is most important to each patient and family member. As we look at our aging population and the increasing burden of their comorbidities, it's very important that we are weaving excellent palliative care into the fabric of the health care system."
— Lindsey Getz is an award-winning writer in Royersford, Pennsylvania.
Spotlight on the Center for Hospice Care
Center for Hospice Care (CHC) was a 2023 Circle of Life Award winner for its innovative programming and education.
Each year, the American Hospital Association's Circle of Life Award recognizes organizations that demonstrate innovative, patient-centered and sustainable approaches to caring for patients with serious illness. The 2023 Circle of Life Award winners included Johns Hopkins Bayview in Baltimore (our feature story), as well as CHC in Mishawaka, Indiana. The CHC is strongly focused on community education and partnerships—as well as improving international palliative care.
The CHC serves nine counties in Northern Indiana and operates an extensive list of programs and services. This includes two hospice inpatient units, an outpatient palliative care clinic, a community bereavement program, an adult day care facility for people with dementia, a large educational program, an advanced care planning program, and an international palliative care partnership organization.
According to Cyndy Searfoss, director of education and collaborative partnerships, community engagement is an area of differentiation for CHC. They believe that keeping the community abreast of information on end-of-life care, including what services and resources are available to them, is important.
"Being engaged in our community is absolutely essential to making sure that everyone in our community eventually will know what hospice and palliative care does and why you would want to use those services for as long as possible and not just the days and weeks leading up to the end of life," she says. "And this also makes sure that we are developing the next generation of providers for those services."
Some of the highlights for which CHC was recognized included drop-in care for dementia patients, bereavement support services, and its international palliative care partnerships. In regard to the latter, by joining with Global Partners in Care, CHC has been able to also work on improving access to palliative care and hospice care in sub-Saharan Africa.