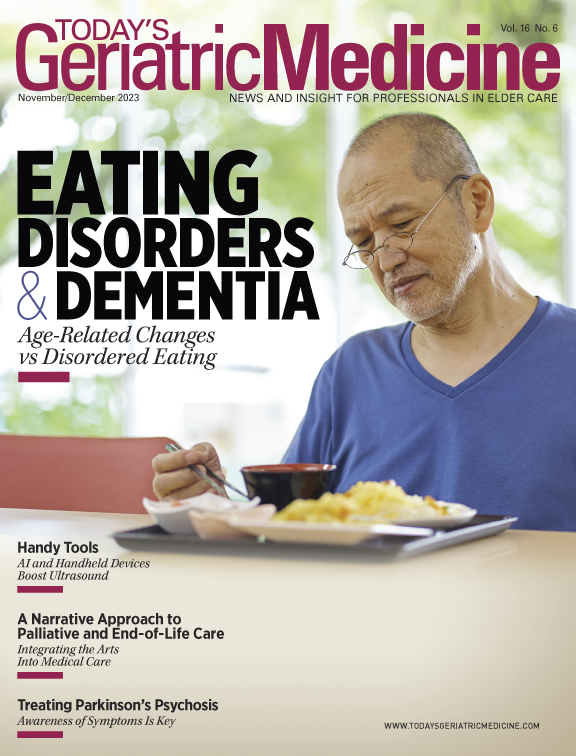 November/December 2023
The Last Word: How EMDR Can Help Older Adults
By Rebecca Kase
Today's Geriatric Medicine
Vol. 16 No. 6 P. 34
Traumatic experiences can affect people of all ages, from the very young to the very old. Effective treatment for those who have suffered through trauma or are experiencing PTSD can often be found through eye movement desensitization and reprocessing (EMDR). EMDR is an evidence-based therapy that utilizes bilateral stimulation and is a way of identifying specific memories that are leading to traumatic responses.1
In older adults, unresolved trauma experienced in childhood or adolescence can lead to accelerated aging, psychiatric disorders, and overall reduced quality of life. Studies have shown that EMDR therapy with older adults harboring unresolved trauma greatly improved their quality of life and reduced overall frailty.2
Resolving Distressing Memories
Older adults can carry distressing memories with them throughout their lives without ever finding a way to resolve them. This is where EMDR, through bilateral stimulation, can help unlock a solution.
When a therapist uses EMDR, as the adult client thinks about a disturbing memory, bilateral stimulation quickly produces changes to the emotionality of the memory and reduces its intensity. Bilateral stimulation also taxes the attention and acts as a distraction from the traumatic memories. Bilateral stimulation can also trigger an orienting response in the brain, allowing the nervous system to assess safety and risk. In other words, EMDR therapy allows people to reorient the traumatic events in their minds, providing them with the clarity they need to recognize that the event is over and they have survived.
While not everyone is an ideal candidate for EMDR, older patients can greatly benefit from it as an approach to confront and metabolize their trauma—even if that trauma happened years or decades earlier. Quality of life becomes more important to foster and improve as we age, meaning addressing unresolved issues that may still cause pain or distress becomes more of a pressing issue.
One hallmark of growing older is experiencing loss and the subsequent grief we feel as a result of those losses, and the more we age, the more people we love we are bound to lose. EMDR can be effective in dealing with the grief we feel as a result of that loss.
Intense Healing
EMDR is a form of evidence-based therapy and has been recognized as a first-line treatment for PTSD and other trauma-based disorders. However, there may be some hesitation among older adults to participate due to the intensity of the therapy. Clients who experience the most success with EMDR therapy are those who are motivated and able to tolerate stressful feelings when they arise.
EMDR can offer a quicker path to healing, which can be a great benefit for those who are in their later years. After navigating the minefield of trauma for years or decades, being able to let go of the negativity associated with that trauma can come as a great relief, allowing patients to live out the remainder of their lives free from trauma and healthier than they may have been in their earlier years. EMDR therapy can be a boon to those who undergo it, serving as a powerful option for healing trauma across the span of one's life.
— Rebecca Kase is a licensed clinical social worker and yoga instructor, living in Gig Harbor, Washington. She is an eye movement desensitization and reprocessing (EMDR) consultant and basic trainer, and owner of Kase & CO, an EMDR training and consulting company. She is the author of Polyvagal Informed EMDR: A Neuro-Informed Approach to Healing.
References
1. About EMDR therapy. Emdria website. https://www.emdria.org/about-emdr-therapy/. Accessed May 2, 2023.
2. Gielkens EMJ, Turksma K, Kranenburg LW, et al. Feasibility of EMDR in older adults with PTSD to reduce frailty and improve quality of life [published online September 4, 2022]. Clin Gerontol. doi: 10.1080/07317115.2022.2114397.