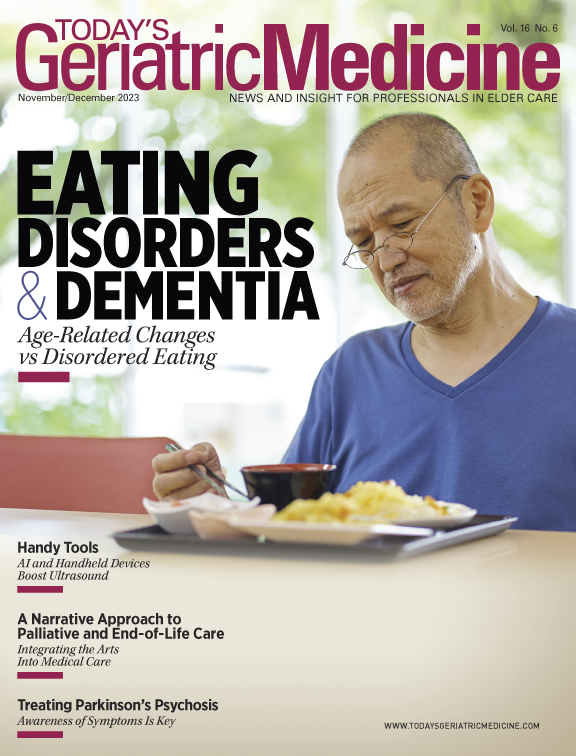 November/December 2023
Research: Advancing Geriatric Clinical Trials
By Scott Gray
Today's Geriatric Medicine
Vol. 16 No. 6 P. 6
The Case for a Caregiver-Centric Approach
Due to advancements in modern health care, people worldwide are living longer, healthier lives. According to data from the World Health Organization,1 one in six people will be aged 60 or older by 2030. By 2050, the population of this group is expected to reach nearly 2.1 billion, while those aged 80 or older will number more than 426 million.
As the global population continues to age, clinical trials specifically addressing the health challenges of geriatric adults increase significantly in their importance. These research studies hold the key to advancing further understanding of age-related diseases such as Alzheimer's and dementia and developing targeted treatments for these disorders. However, the successful execution of geriatric clinical trials goes beyond traditional research methodologies and hinges on the often-unsung heroes of the health care landscape—patient caregivers.
Caregivers play an essential role in supporting older adults throughout the clinical trial process, from assisting with study enrollment to ensuring treatment schedule adherence and more complete data collection. Recognizing the pivotal role and vital contributions of caregivers in geriatric clinical trials makes a compelling case for clinical research organizations (CROs) to implement a caregiver-centric approach to trial design. By adopting this approach, the landscape of geriatric research can be revolutionized, leading to more accurate, ethical, and patient-centered outcomes.
Barriers to Clinical Trial Participation
When patients have opportunities to take part in a clinical trial, they must weigh the various emotional, financial, and logistical challenges of participating in the study. This evaluation process is especially important for older patients with cognitive or physical impairments placing limitations on their mobility. These challenges often include complex travel arrangements, missed work (and subsequent loss of income), time away from home and family, and the financial burden of delayed reimbursements for expenses incurred throughout the trial.
In an independent study from Clincierge,2 87% of patients surveyed said participating in a trial was stressful for themselves or their families due to the abovementioned issues. Patient recruitment continues to be a pressing issue for trial sponsors developing novel treatments for diseases affecting older adults, many times resulting from the stresses related to trial participation. Once patients are successfully enrolled, CROs face the uphill battle of retaining these patients for the duration of the study. With study dropout rates often exceeding 30%,3 the loss of trial participants is a significant concern for many stakeholders within our industry.
Since clinical site staff and researchers are primarily focused on a trial's medical and scientific facets, patients, caregivers, and their families are often left to manage the logistics of trial participation on their own.
The Caregiver Experience
Geriatric patients often rely on family or friends to act as caregivers and provide crucial emotional, physical, and medical support. While most pharmaceutical sponsors are concerned with the patient experience during treatment, few have historically been interested in understanding the caregivers' needs.
To provide this level of support, caregivers must learn about the disease and come to understand the various treatment options available to patients. They must help patients weigh the risks and benefits of different drugs and treatment methods while comforting them and keeping their best interests at heart. Many times, caregivers must endure watching the patients' health deteriorate while remaining positive and supportive, a process that can be detrimental to their own emotional health.
A recent study conducted by Phreesia Life Sciences4 investigated the importance of interactions between pharmaceutical companies and those providing care for seriously ill patients.
More than 2,000 caregivers participated in the survey, with 76% of these being women, with a majority older than the age of 55. The study revealed how involved caregivers are at every step of the treatment process, indicating the following:
• 75% accompany patients to their consultative visits;
• 73% are responsible for scheduling medical appointments for the patients;
• 69% are responsible for picking up the patients' prescriptions; and
• 64% supervise the patients' medication protocols.
Similarly, caregivers often take the lead when determining treatment options for patients. The study also revealed that 92% of caregivers are actively involved in conversations between doctors and patients. Eighty-two percent of ill patients reported turning to their caregivers for guidance when choosing treatment options, with many relying on them to make health care decisions on their behalf.
Caregivers play a pivotal role throughout various steps of the clinical trial procedure. First, they aid in expediting the recruitment and enrollment phase of the trial. Studies indicate that a mere 5%5 of eligible patients participate in clinical research, primarily attributed to their limited awareness of ongoing study opportunities. Trusted caregivers can make all the difference in keeping patients abreast of potentially life-changing opportunities for novel medications or treatments.
In addition to assisting with recruitment and enrollment, caregivers often administer and monitor treatment regimens and collect patient data, both invaluable tasks to trial site staff. These data include recording physical observations and insights into a patient's overall well-being and quality of life, contributing to a comprehensive understanding of the treatment's impact. Caregivers act as an on-site resource to ensure that patients continue to take their medications as directed. Their diligent record-keeping, medication monitoring, and open communication with the clinical team facilitate compliance with trial protocols and the identification of any adverse events.
Investing in Caregiver Support
Investing in patient and caregiver support services helps mitigate participation barriers while ensuring efficient trials. These support services have been proven highly beneficial to patients and caregivers, especially when they come from a patient concierge services company.
A patient concierge is paired one-on-one with a patient and caregiver at the time of trial enrollment. This individual is located in the same time zone, speaks the patient's language, understands the nuances of the region where the trial is occurring, and provides continuous support throughout the duration of the study. This person offers specialized assistance, such as managing travel and lodging arrangements, addressing questions or concerns from the patient or caregiver, acting as a liaison between the clinical trial staff and the participant, and simply being a shoulder to lean on for emotional support. The patient concierge builds a personal relationship with the patient and caregiver, offering a comprehensive level of support needed during this journey.
In conclusion, the success of geriatric trials hinges upon recognizing and addressing the many challenges facing potential patients and their caregivers. Providing support services for both can minimize the additional pressures associated with trial participation. By adopting a caregiver-centric approach, study sponsors and CROs can revolutionize geriatric research, enhancing patient recruitment, improving patient retention, and ensuring trial success.
— Scott Gray is cofounder and CEO of Clincierge, a provider of patient support services for clinical trials. Since 2015, the company's patient coordinators have managed travel and reimbursements in more than 140 clinical trials around the world.
References
1. Ageing and health. World Health Organization website. https://www.who.int/news-room/fact-sheets/detail/ageing-and-health. Published October 1, 2022.
2. Amplifying patient voices in rare disease clinical trials. Clincierge website. https://info.clincierge.com/vop
3. Alexander W. The uphill path to successful clinical trials: keeping patients enrolled. P T. 2013;38(4):225-227.
4. Industry perspectives: engaging, equipping and supporting caregivers. Phreesia Life Sciences website. https://lifesciences.phreesia.com/reports/caregivers-perceptions/. Accessed August 16, 2023.
5. Goodson N, Wicks P, Morgan J, Hashem L, Callinan S, Reites J. Opportunities and counterintuitive challenges for decentralized clinical trials to broaden participant inclusion. NPJ Digit Med. 2022;5(1):58.