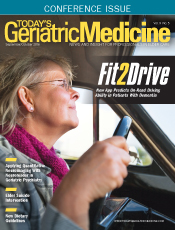 September/October 2016
Elder Suicide Intervention
By M. Kaleem Arshad, MD, DFAPA
Today's Geriatric Medicine
Vol. 9 No. 5 P. 24
Learning to identify patient profiles at greatest risk can position providers to save lives.
We hear about the aging baby boomer population's significant and continuing influence that has resulted in profound changes to our economy, culture, and perspectives on aging. Though, as the population continues to skew older and live longer, providers should also be cognizant of another significant effect: the increasing rate and alarming prevalence of geriatric suicide. While this may be an uncomfortable topic to discuss among peers and patients, this issue can be addressed with proven suicide prevention measures.
A Pervasive Issue
That older adults are disproportionately more likely to die by suicide is a surprising fact. While older adults make up 15% of the United States population, this demographic accounts for 18% of all self-inflicted deaths.1 And given the fact that older adults are forecast to comprise an even larger share of the population in the future, care organizations should take notice and become prepared.
According to the US Department of Health and Human Services, people aged 65 and older represented 15% of the population in 2014, but that is expected to increase, with some estimates predicting the elderly will comprise 22% of the population by 2040.
Who is at risk? While no demographic group is immune to suicide, rates vary by race, gender, and lifestyle. By understanding the patient profiles at greatest risk, providers and case managers can better position themselves to apply interventional strategies and most importantly, save lives. Consider the following statistics:
• The gender gap: The suicide rate among males is four times higher than that of females. Male deaths represent 79% of all US suicides and are highest among those aged 75 and older.1
• The social connection: Suicide rates among the elderly are highest for those who are divorced or widowed.1
• Rates by ethnicity: The percentages of adults aged 18 or older having suicidal thoughts in the previous 12 months were 2.9% among blacks, 3.3% among Asians, 3.6% among Hispanics, 4.1% among whites, 4.6% among Native Hawaiians/other Pacific Islanders, 4.8% among American Indians/Alaska Natives, and 7.9% among adults reporting two or more races.2
The Link Between Depression and Suicide
While there are many reasons individuals decide to end their lives, the majority of the people who take their lives, estimated at 90%, were suffering with substance abuse or an underlying mental illness such as depression.3 This is due, in part, to the way depression alters an individual's mental health, prompting feelings of hopelessness and helplessness.
And the risks are pervasive throughout the United States. The National Institute of Mental Health estimates that at least 6 million people aged 65 and older have symptoms of depression that are severe enough to require treatment.
It is also worth noting that due to the stigma around mental illness that is common among the World War II generation, diagnosing depression in elderly patients can be more complex in comparison with a younger cohort. Many feel that conditions such as depression are indicative of weak personality traits rather physically based. As a result, older patients suffering from depression may be hesitant to talk about their symptoms or even try to ignore them completely.
Depression or Dementia?
While depression can be common among the elderly, it can be difficult for health care professionals to accurately diagnose mental illness in older patients because dementia can cause the same symptoms.
For example, some symptoms common to both depression and dementia include apathy, loss of interest in activities and hobbies, social withdrawal, isolation, difficulty concentrating, and impaired thinking.
Given the fact that more than 5 million Americans are living with Alzheimer's disease, it is important to carefully screen patients exhibiting these symptoms to help determine the correct plan of care.
Why Are the Elderly at Risk?
One of the most surprising aspects of the high suicide rate among older adults is that, paradoxically, studies have shown that some of the oldest Americans are also some of the happiest. The University of Chicago recently found that 33% of Americans report being very happy at age 88, compared with only 24% of young adults. This can often be attributed to greater schedule flexibility, less workplace and childrearing-related stress, and more experience with coping skills.
Due to genetic and situational factors, not all older adults report high satisfaction rates late in life. Many events commonly associated with the aging process are known to increase the risk of depression and suicidal tendencies, including the following:
• managing chronic conditions, such as heart disease, type 2 diabetes, and osteoporosis, which limit mobility and independence. According to the US Census Bureau's American Community Survey, some type of disability (eg, difficulty in hearing, vision, cognition, ambulation, self-care, or independent living) was reported by approximately 38% of people aged 65 and older in 2013;
• managing chronic pain associated with natural bone degeneration, being overweight, and nerve damage;
• handling social isolation. One-third of baby boomers are divorced, separated, or never married,4 and almost one-half of older women (46%) aged 75 and older live alone5;
• experiencing financial difficulties as a result of major medical events, long term care, and retirement. More than 4.2 million older adults, or 9.5%, were living below the poverty level in 20135;
• facing mortality;
• coping with major life changes, such as moving or experiencing the loss of a loved one or friends;
• taking a combination of prescription medications, which can cause an imbalance in the brain chemistry; and
• battling substance abuse issues. Individuals aged 45 to 64 made up more than one-fourth of all emergency department visits in the United States for drug-related suicide attempts in 2011.4
Challenges Unique to Elders
It is important to address depression, which increases the risk of suicide, and other behavioral health issues because many older patients are also managing chronic conditions. If left untreated, older patients battling depression have an increased risk of acerbating existing care protocols by neglecting medication regimens, failing to keep medical appointments, and reducing physical activity.
Intervention Opportunities
While the increased risk of suicide in later life is not commonly discussed, the good news is that with the right tools and resources, provider organizations are well positioned to make a positive impact in the lives of their older patients. Among older adults who die by suicide, approximately 77% visit a primary care provider within the last year of life, and 58% do so within their last month of life.6 Because this high-risk group frequently comes into contact with clinical environments during this sensitive window of time, providers are uniquely positioned to curb rates of suicide among the elderly and limit self-inflicted deaths.
One of the most powerful tools available to physicians, case workers, and other clinical staff is the act of listening and observing. Patients with depression and suicidal tendencies often leave clues during the weeks and months before ending their lives.
When consulting with elderly patients, even during routine checkups, listen for key phrases such as the following:
• "My family would be better off without me. I am too much of a burden."
• "Sometimes the pain is too much to bear, and I would just rather die."
• "My health will never improve, and I just want to give up."
• "I have no reason to live."
In addition to patients' verbal clues, the following behaviors can also be indicators of possible suicidal tendencies:
• looking for a way to kill oneself, such as searching online or buying a gun;
• increasing the use of alcohol or drugs;
• acting anxious or agitated or behaving recklessly;
• sleeping too little or too much;
• withdrawing from social settings or becoming isolated;
• showing rage or talking about seeking revenge; and
• displaying extreme mood swings.
Clinicians should be mindful of the fact that the symptoms of depression may be more difficult to detect in the elderly population due to a variety of factors. Older adults can be reluctant to seek professional help for emotional problems, partly because of the perceived stigma of psychiatric illness among the elderly.
Passive Suicide
It's important for health care providers not only to be aware of the general warning signs that indicate a patient is at risk for depression and suicide but also to understand the unique aspects associated with treating an aging population.
While younger individuals may tend to use more aggressive methods such as poisoning, self-inflicted gun shots, and hanging, older patients actually choose forms of suicide that are equally deadly but less visible. These include malnutrition (refusing to eat), dehydration (refusal of fluids), medication avoidance (refusing to take maintenance drugs), and refusing to accept care in emergent situations.
There Is Hope
While the incidence of suicide among older Americans can't be eradicated, research from the American Association for Marriage and Family Therapy indicates that the common catalyst, clinical depression, is highly treatable. In fact, studies suggest that more than 80% of geriatric patients recover from depression when treated with talk therapy in conjunction with prescription medications.
It is worth noting that some patients, especially older ones, may be resistant to speaking with a therapist. If patients initially dismiss the idea of speaking with a mental health clinician, providers can help overcome this barrier by helping them better understand what talk therapy is and what is isn't, including discussing the following concepts:
• Talk therapy involves not simply talking about problems but also focuses on working toward solutions.
• Some therapists ask patients to document their moods and thoughts throughout the day.
• Therapy can help patients develop healthful stress coping skills.
• There are a variety of mental health professionals, each with specialized skills, such as psychiatrist (MD), psychologist (PhD, PsyD, EdD, MS), social worker (DSW, MSW, LCSW, LICSW, CCSW), counselor (MA, MS, LMFT, LCPC), or psychiatric nurse (APRN, PMHN).
In addition to talk therapy, many patients with depression and suicidal tendencies also benefit from prescription medications. There are three primary types of medications most commonly recommended for the treatment and management of mental health issues: mood stabilizers designed to even out highs and lows, antidepressants designed to alleviate the symptoms of depression, and antipsychotics designed to treat symptoms of mania, hallucinations, and racing thoughts.
Implementing Strategies
While there is no foolproof method to accurately diagnose 100% of elderly patients at risk of depression-related suicide, there are proven strategies caregivers can implement in order to identify at-risk patients and intervene on their behalf.
One of the most widely used models for depression screening is the Beck Depression Inventory. This tool comprises 21 multiple choice questions designed to measure the severity of depression.
The Beck Depression Inventory poses questions about how the patient has been feeling during the week prior and includes four response options that range in intensity. For example: (0) I do not feel sad. (1) I feel sad. (2) I am sad all the time and I can't snap out of it. (3) I am so sad or unhappy that I can't stand it.
While the Beck Depression Inventory was created in 1961 by Aaron T. Beck,7 it remains one of tools most commonly used by clinicians to measure the intensity, severity, and depth of depression in patients with psychiatric diagnoses.
Clinicians can leverage a variety of methods to adopt more frequent meaningful and thorough screenings for depression. Among them are the following:
• During office visits, ask caregivers about patients' recent behavior, seeking to identify atypical behaviors or changes in mood.
• Ask high-risk patients whether they have ever considered suicide or occasionally have suicidal fantasies.
• Ask high-risk patients whether they have recently experienced a death in the family or among friends (trigger points).
• Include the Beck Depression Inventory in a direct mail or patients' invoice statements, and invite patients and their caregivers to schedule an appointment to discuss the results.
Prevention Is Key
While the rates of geriatric suicide are currently high, prevention programs that utilize depression screening combined with health education can significantly reduce suicide among the elderly.
For physicians, nurses, case workers, and other health care professionals, it is important to consider the increased risk of depression and suicide for patients later in life. Clinicians can make a difference and help save lives by understanding the red flags for mental illness and suicidal tendencies.
With early intervention, older patients at risk of committing suicide can access the help they need within inpatient and outpatient care facilities.
— M. Kaleem Arshad, MD, DFAPA, is a board-certified addiction, adult, and geriatric psychiatrist at Oceans Behavioral Hospital Greater New Orleans, an affiliated hospital of Oceans Healthcare. He is a diplomate of the American Board of Psychiatry and Neurology.
[Sidebar]
ELDER SUICIDE STATISTICS
• In 2013, 41,149 suicides occurred in the United States, a rate of 12.6 per 100,000; this is equivalent to 113 suicides per day or one every 13 minutes, according to the Centers for Disease Control and Prevention (CDC).
• According to the Administration on Aging, by 2060, there will be about 98 million older persons; this is more than double the 2014 total.
• about 51 of every 100,000 white men aged 85 and older committed suicide, compared with the national average for all ages of 12.6, according to 2012 statistics from the CDC. In addition, 6,648 of the 40,600 Americans who took their own lives in 2012 were older than 65.
• According to "Elderly Suicide: Risk Factors and Preventive Strategies" in SciMed Central, 93% of older adults who committed suicide had, either as inpatients or outpatients, a history of psychiatric care.
References
1. Suicide facts. Suicide Awareness Voices of Education website. http://www.save.org/index.cfm?fuseaction=home.viewPage&page_id=705D5DF4-055B-F1EC-3F66462866FCB4E6
2. Substance Abuse and Mental Health Services Administration. Results from the 2013 National Survey on Drug Use and Health: Mental Health Findings. http://www.samhsa.gov/data/sites/default/files/NSDUHmhfr2013/NSDUHmhfr2013.pdf. Published November 2014.
3. Suicide and depression. Suicide Awareness Voices of Education website. http://www.save.org/index.cfm?fuseaction=home.viewpage&page_id=705c8cb8-9321-f1bd-867e811b1b404c94
4. Salvatore T. Suicide risk in older adults: a growing challenge for law enforcement. Federal Bureau of Investigation website. https://leb.fbi.gov/2016/january/suicide-risk-in-older-adults-a-growing-challenge-for-law-enforcement. Updated January 6, 2016.
5. Administration on Aging highlights. Administration for Community Living website. http://www.aoa.acl.gov/Aging_Statistics/Profile/2014/2.aspx. Updated October 7, 2014.
6. Older Americans Behavioral Health. Issue Brief 4: Preventing Suicide in Older Adults. http://www.aoa.gov/AoA_Programs/HPW/Behavioral/docs2/Issue%20Brief%204%20Preventing%20
Suicide.pdf
7. Beck Depression Inventory. Encyclopedia of Mental Disorders website. http://www.minddisorders.com/A-Br/Beck-Depression-Inventory.html