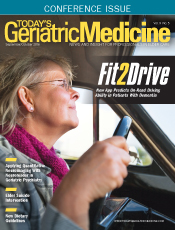 September/October 2016
Pain and Adverse Drug Reactions
By Elizabeth Landsverk, MD
Today's Geriatric Medicine
Vol. 9 No. 5 P. 34
We are well aware of elders' risk of adverse drug reactions (ADRs). One study showed that the most common type of adverse reactions leading to 80% of hospitalization for ADRs are predictable and concentrated in antibiotics, anticoagulants, digoxin, diuretics, and antineoplastics. NSAIDs are responsible for 60% of ADR admissions to hospital and 70% of ADRs in hospital. Primary care physicians are given an increasing list of tasks, including ensuring all quality indicator screening/treatments are performed, decreasing hospital readmission, maintaining productivity, and keeping costs down.
Elders are at particular risk of ADRs because they consume the greatest percentage of the medications, and often take as many as six to 12 medications, increasing the risk of adverse reactions and interactions—not to mention the over-the-counter medications a patient and his or her family may fail to disclose. Very popular over-the-counter medications are widely promoted in local pharmacies and some, including Tylenol PM and Aleve PM, can be dangerous for elders.
Families and some clinicians believe that over-the-counter medications are safer. The concept of avoiding anticholinergic medications in elders is not widespread. We clinicians must be vigilant and ask patients to bring all their medications with them for review. My father, to my chagrin, took Tylenol PM to help him sleep, and my sister-in-law took Unisom. More people are aware of the dangers of acetaminophen and fear it in disparate proportion to its actual risk. However, there is less awareness of the risks of increased confusion and agitation in elders from anticholinergics, particularly Benadryl.
Recent notifications from the Centers for Disease Control and Prevention (CDC) that opiates should not be used for chronic pain have been taken to extremes. I was recently referred to an 80-year-old woman, who had no psychosis prior to a recent hip fracture. Since then, she has been very agitated and aggressive. The physician on her case indicated several times that opiates must be avoided because the patient has dementia. I disagree with this conclusion to withhold lower dose opiate pain medication from elders.
The American Geriatrics Society has guidelines for pain treatment. The reasonable, stepwise increase in strength of pain medication advises to "start low and go slow." As a geriatrician who often works treating agitation in people with dementia who are also suffering with pain, I would advise to give a standing dose of long-acting acetaminophen, 650 mg two to three times for those with a history of arthritis but no longer complain of knee or hip pain, but easily get angry. We know that the low dose acetaminophen is not likely to lead to hepatic damage unless there is underlying liver disease, or the patient is not eating and drinking.
The National Safety Council advises that NSAIDs, rather than opiates, be used in elders; that is concerning. NSAIDs are on the Beers list and have been found to be a major source of ADRs. The CDC study recommending that opiates not be used for chronic pain used average doses of 40 mg to 50 mg of morphine daily.
In my work as a hospice medical director, boarded in palliative care, I have used that dose in less than 5% of all patients. We providers need to be aware that elders must have lower doses. In my geriatrics practice I almost never use OxyContin or MS Contin since 10 mg to 15 mg of morphine equivalent is too much for most elders. Often one-half of a hydrocodone/apap 5-325 tablet given two to three times per day will address the pain and allow increased mobility. As always, treat for constipation.
My approach has been a bit eclectic. Gabapentin has little research to guide use. However, it is safe (if doses are low enough to prevent sedation), inexpensive, and may be helpful. Officially used for postherpetic neuralgia, it often helps other neuropathic diseases, such as peripheral neuropathy, spinal stenosis, and arthritis, and orthopedists use it for joint pain. I suggest starting at 50 mg (1 mL of 250/5 mL) at night and slowly increase from there. Other risks are constipation and dry mouth. It has a large safety index (maximum dose is 3,600 mg per day, or limited by sedation).
Remember, our first mandate is to "do no harm." Ignoring pain is causing harm.
— Elizabeth Landsverk, MD, is the founder of ElderConsult Geriatric Medicine (www.elderconsult.com), a house calls practice in the San Francisco Bay Area that addresses the challenging medical and behavioral issues often facing older patients and their families. She is board certified in internal medicine, geriatric medicine, and palliative care and is an adjunct clinical professor at Stanford University Medical School.