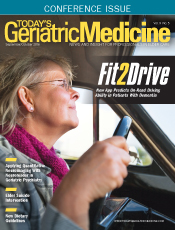 September/October 2016
Fluoroquinolone Antibiotic Risks
By Mark D. Coggins, PharmD, CGP, FASCP
Today's Geriatric Medicine
Vol. 9 No. 5 P. 6
A number of FDA medication advisories have been issued in recent years as a result of increased awareness of serious side effects associated with fluoroquinolones, a class of broad-spectrum, systemic antibacterial agents that have been widely used for a number of infections, including respiratory and urinary tract infections.
In addition to increased warnings, a number of fluoroquinolone antibiotics have been withdrawn from the US market and other countries due to various concerns (see Table 1).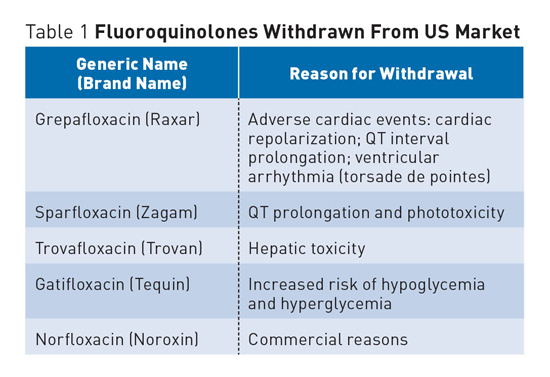 FDA Advisories and Black Box Warnings
Fluoroquinolone Use Should Be Reserved
In May 2016, The FDA released a drug safety letter advising health care professionals that for patients with other treatment options, the risks associated with using fluoroquinolone antibiotics generally outweigh the benefits for patients with acute sinusitis, acute bronchitis, and uncomplicated urinary tract infections. For patients with these conditions, fluoroquinolones should be reserved only for those without alternative treatment options.1,2 Many cases of acute sinusitis and acute bronchitis infections are often viral rather than bacterial, making the use of any antibiotic inappropriate.
The FDA noted that safety reviews have shown that fluoroquinolones, when used systemically (ie, oral or injectable), are associated with disabling and potentially permanent serious side effects that can occur together. These side effects can involve the tendons, muscles, joints, nerves, and central nervous system. As a result, the FDA required manufacturers to update fluoroquinolone drug labeling and their associated Medication Guides to reflect this new safety information.1,2
Patients should be counseled about the potential serious side effects associated with the use of fluoroquinolones to help minimize potential harm. Educate patients on the signs and symptoms of serious side effects, which include tendon, joint, and muscle pain, a "pins and needles" tingling or pricking sensation, confusion, and hallucinations. Instruct patients to contact their health care professionals immediately if they experience any serious side effects while taking any of the fluoroquinolone agents.1,2
The FDA also recommends that prescribers stop systemic fluoroquinolone treatment immediately if a patient reports serious side effects, and to switch to a nonfluoroquinolone antibacterial drug to complete the patient's treatment course.2
Peripheral Neuropathy2
In August 2013, the FDA required the drug labels and Medication Guides for all fluoroquinolone antibacterial drugs to be updated to more fully explain the serious side effect of peripheral neuropathy, a nerve disorder of the arms or legs. Symptoms include pain, burning, tingling, numbness, weakness, or a change in sensation to light touch, pain, or temperature, or the sense of body position. The serious nerve damage potentially caused by fluoroquinolones can occur at any time during treatment with fluoroquinolones and can last for months to years after the drug is stopped. The damage could possibly become permanent. Patients developing symptoms of peripheral neuropathy should immediately inform their health care professionals.
The risk of peripheral neuropathy is associated only with systemic fluoroquinolones taken by mouth or by injection. Topical formulations of fluoroquinolones, applied to the ears or eyes, are not known to be associated with this risk.
Tendinitis and Tendon Rupture Black Box Warning3
In 2008, the FDA strengthened previous prescribing information and warnings about the increased risk of tendinitis and tendon rupture in patients taking fluoroquinolones, requiring manufacturers to add a Black Box warning to their labeling.
Tendinitis and tendon rupture most frequently involve the Achilles; surgical repair is sometimes required. Tendinitis and tendon rupture have also been reported to occur in the shoulder (specifically, the rotator cuff), the hand, the biceps, and the thumb. Tendon rupture can occur during or after completion of fluoroquinolone use; cases have been reported to have occurred up to several months after completion of therapy.
Inform patients that tendons are the areas that connect muscles to joints and that the Achilles tendon is at the back of the ankle. Health care professionals and patients should recognize pain, swelling, inflammation, and tears of tendons including the Achilles, shoulder, hand, or other tendons as possible side effects of fluoroquinolone treatment.
The risk for tendon problems is higher in patients who are over the age of 60, taking steroids (corticosteroids), and who have undergone kidney, heart, or lung transplant.
Other reasons for tendon ruptures and increased risk include physical activity or exercise, kidney failure, and prior tendon problems, such as with those occurring with rheumatoid arthritis.
Patients receiving fluoroquinolones should notify their health care providers immediately at the first signs or symptoms of pain, swelling, or inflammation in a tendon area, and should avoid exercise and use of the affected area. The fluoroquinolone medication should be stopped until it is determined whether it results from tendinitis or a tendon rupture.
Signs or symptoms of tendon rupture include the following:
• a snap or pop in a tendon area;
• bruising right after an injury in a tendon area; and
• inability to move the affected area or bear weight.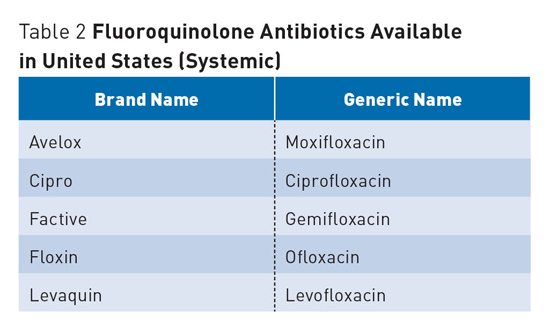 Other Side Effects and Concerns
Clostridium difficile Infections
Fluoroquinolone antibiotics along with clindamycin, broad-spectrum penicillins, and cephalosporin are widely implicated in predisposing patients to Clostridium difficile (C. diff) intestinal infections. C. diff is the causative organism of antibiotic-associated colitis. Colonization of the intestinal tract occurs via the fecal-oral route and is facilitated by disruption of normal intestinal flora due to antimicrobial therapy. The organism is capable of elaborating exotoxins that bind to receptors on intestinal epithelial cells, leading to inflammation and diarrhea.4
QT Prolongation
Fluoroquinolones can cause arrhythmias due to QT prolonging effects that may be augmented if given together with any of the multiple other drugs, such as amiodarone, that cause QT prolongation. These interactions may increase the risk of torsades de pointes and sudden death; thus, fluoroquinolones should not be given together with other drugs known to prolong the QT interval.5,6
Retinal Detachment
Conflicting studies indicate a potential association between fluoroquinolone use and retinal detachment. The link is possibly associated with the effect these antibiotics have on collagen and connective tissue.7
Hypoglycemia and Hyperglycemia
Fluoroquinolones have been associated with both hypoglycemia and hyperglycemia. These effects are a result of drug-induced changes in insulin secretion. This risk should be taken into consideration when using these antibiotics in patients with diabetes.8
Dosing Adjustments
Appropriate dosing of fluoroquinolones is very important, with dosing adjustments varying by agent depending on their principal route of elimination. Whereas moxifloxacin is eliminated predominately by nonrenal pathways, ofloxacin and levofloxacin are eliminated predominantly by the kidneys. Most other fluoroquinolones, such as ciprofloxacin, are excreted by both renal and nonrenal routes.
For patients with impaired renal function, the following adjustments should be made:
• reduce doses of levofloxacin in patients with creatinine clearances (CrCl) below 50 mL/min;
• reduce doses of ciprofloxacin in patients with creatinine clearances (CrCl) below 30 mL/min; and
• no dose adjustment of moxifloxacin is necessary in the presence of renal failure.
Antimicrobial Stewardship
Fluoroquinolone use has the potential to cause significant harm to patients who may take these medications. These risks, along with growing concerns of antibiotic resistance and potentially inappropriate antibiotic use, further demonstrate the importance and growing need for strong antimicrobial stewardship implementation across health care settings.
— Mark D. Coggins, PharmD, CGP, FASCP, is senior director of pharmacy services for skilled nursing centers operated by Diversicare in nine states, and is a director on the board of the American Society of Consultant Pharmacists. He was nationally recognized by the Commission for Certification in Geriatric Pharmacy with the 2010 Excellence in Geriatric Pharmacy Practice Award.
References
1. FDA drug safety communication: FDA advises restricting fluoroquinolone antibiotic use for certain uncomplicated infections; warns about disabling side effects that can occur together. US Food and Drug Administration website. http://www.fda.gov/Drugs/DrugSafety/ucm500143.htm. Updated June 7, 2016. Accessed July 17, 2016.
2. US Food and Drug Administration. FDA drug safety communication: FDA requires label changes to warn of risk for possibly permanent nerve damage from antibacterial fluoroquinolone drugs taken by mouth or by injection. http://www.fda.gov/downloads/Drugs/DrugSafety/UCM365078.pdf. Published August 15, 2013. Accessed August 1, 2013.
3. Information for healthcare professionals: fluoroquinolone antimicrobial drugs [ciprofloxacin (marketed as Cipro and generic ciprofloxacin), ciprofloxacin extended-release (marketed as Cipro XR and Proquin XR), gemifloxacin (marketed as Factive), levofloxacin (marketed as Levaquin), moxifloxacin (marketed as Avelox), norfloxacin (marketed as Noroxin), and ofloxacin (marketed as Floxin)]. US Food and Drug Administration website. http://www.fda.gov/Drugs/DrugSafety/PostmarketDrugSafetyInformationforPatientsandProviders/
ucm126085.htm. Updated August 15, 2013. Accessed August 1, 2016.
4. Johanesen PA, Mackin KE, Hutton ML, et al. Disruption of the gut microbiome: clostridium difficile infection and the threat of antibiotic resistance. Genes. 2015;6(4):1347-1360.
5. Kang J, Wang L, Chen XL, Triggle DJ, Rampe D. Interactions of a series of fluoroquinolone antibacterial drugs with the human cardiac K+ channel HERG. Mol Pharmacol. 2001;59(1):122-126.
6. QTdrugs list. CredibleMeds website. www.Crediblemeds.org. Updated August 10, 2016.
7. Etminan M, Forooghian F, Brophy JM, Bird ST, Maberley D. Oral fluoroquinolones and the risk of retinal detachment. JAMA. 2012;307(13):1414-1419.
8. Hypoglycemia and hyperglycemia with fluroroquinolones. Med Lett Drugs Ther. 2003;45(1162):64.