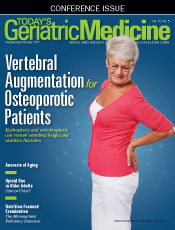 September/October 2017
Clinical News: Unmasking Overactive Bladder
By Michael Kennelly, MD, FACS, FPMRS
Today's Geriatric Medicine
Vol. 10 No. 5 P. 8
Physicians can create a dialogue with patients to identify an embarrassing problem.
Nearly 15 million Americans are living with overactive bladder (OAB), a common and sometimes disabling condition they may be too uncomfortable to discuss with a physician.1-3 OAB is a condition in which affected or damaged nerve cells cause the bladder to contract uncontrollably, resulting in leakage; the strong, sudden need to "go right away"; and going too often.4
Unfortunately, data show that most people living with OAB learn to settle and mask their symptoms rather than seeking help—they may even avoid activities they enjoy due to anxiety about leakage or not having a bathroom nearby and often hide their condition from their peers, caregivers, and loved ones. In fact, only about 5 million people living with OAB seek care from a physician,5 and only one-half of those patients seek a specialist such as a urologist or urogynecologist for treatment.3 Women are especially likely to deprioritize their own care, often putting family members' health before their own. Instead of tackling their personal health issues head on, many are settling for living with uncomfortable conditions from OAB.6
This makes it even more critical for providers to empower patients to talk about OAB, to let them know they are not alone, and to help them understand that they can gain control of their symptoms. My advice to physicians? Encourage patients to put their health first and refer them to an OAB specialist, such as a urologist or a urogynecologist.
Diagnosing and Treating OAB
In the body certain chemicals travel from nerve cells to muscle cells to make the bladder contract so an individual can urinate. With OAB, these muscles contract uncontrollably, and the person frequently feels as though he or she has to empty the bladder.4 Seeking an accurate diagnosis is the first step to finding out more about treatment options that can work for a patient.
The American Urological Association has clearly defined guidelines on treatment protocols for patients and physicians to consider.7 Treatment begins with lifestyle changes, such as reduction of fluid intake, decreased amounts of caffeine, bladder control strategies, and pelvic floor muscle training.
Anticholinergic medications, which are commonly prescribed as pills or patches, are also often prescribed by physicians to manage OAB in adults.8 While oral anticholinergics are the most commonly prescribed form of treatment, a recent study (n=103,250) showed that 86% of patients discontinued their first anticholinergic treatment within two years.9 According to two separate surveys, the top reasons OAB patients discontinue anticholinergics are the side effects of dry mouth and constipation and/or lack of results.10,11
Newer Treatment Options
Many patients don't realize that when lifestyle changes are not sufficient and medication is poorly tolerated, there are other options beyond pills. The emergence of several newer therapies such as neuromodulation therapy, including sacral neurostimulation and percutaneous tibial nerve stimulation, as well as onabotulinimtoxinA (BOTOX) bladder injections have opened several new avenues of treatment for OAB patients. These third-line therapies have provided novel options for OAB patients and have successfully been combined with medication and behavioral therapies to drastically improve quality of life.
For example, BOTOX, which was approved in January 2013 to treat OAB, works by calming the nerves that trigger the overactive bladder muscle. It thereby works in reducing daily leakage episodes, treating the strong need for immediate urination, and reducing the number of times needed to empty the bladder daily.7 In clinical trials, BOTOX significantly reduced leakage after 12 weeks. The majority of patients receiving BOTOX had at least a 50% reduction of daily leakage episodes. Many of these patients reduced their leakage episodes by 75%. Approximately one in four of these patients reported that leakage episodes stopped completely.12
Looking Forward
OAB is a huge quality-of-life issue for many people. While there is no cure for OAB, future research focusing on the treatment goals and root causes of OAB could further improve treatment for OAB patients. The causes of OAB are so subtle and difficult to define that it may be a long time before OAB can be prevented entirely. However, regardless of whether prevention may one day be possible, research has and will continue to lead to great improvements in treatment options for the symptoms of OAB. Research that focuses on new medication delivery methods that reduce side effects as well as therapies with minimal adverse events may prove particularly helpful.
Further research should also explore the cause of OAB as it relates to the deficiencies in the interplay of central nervous system and lower urinary tract structures that contribute to OAB. Moreover, researchers should note that although the several different causes of OAB can lead to similar symptoms, they are not all rooted in the same physiology and may not all respond to the same treatments.
To learn more about OAB and to find a specialist, visit www.BOTOXforOAB.com.
— Michael Kennelly, MD, FACS, FPMRS, is a professor in the department of urology and department of obstetrics and gynecology at Carolinas Medical Center in Charlotte, North Carolina. His research interests are in the areas of urinary incontinence, voiding dysfunction, pelvic reconstruction surgery, and neurourology. He remains active in the research community as the principal investigator of several clinical trials in his areas of interest. In addition, he has authored or coauthored several journal articles, book chapters, and educational videos in the areas of urinary incontinence and neurourology and has lectured regionally, nationally, and internationally on these topics.
References
1. Tubaro A. Defining overactive bladder: epidemiology and burden of disease. Urology. 2004;64(6 Suppl 1):2-6.
2. Stewart WF, Van Rooyen JB, Cundiff GW, et al. Prevalence and burden of overactive bladder in the United States. World J Urol. 2003;20(6):327-336.
3. Data on file, Allergan. OAB NDO Funnel Support Data, 2016.
4. National Institutes of Health, National Institute of Diabetes and Digestive and Kidney Diseases, National Kidney and Urologic Diseases Information Clearinghouse. Nerve disease and bladder control. https://www.niddk.nih.gov/-/media/Files/Urologic-Diseases/NerveDisease_508.pdf?la=en. Published February 2008.
5. Chancellor MB, Diokno AC, eds. The Underactive Bladder. New York, NY: Springer; 2016.
6. Harris SS, Link CL, Tennstedt SL, Kusek JW, McKinlay JB. Care seeking and treatment for urinary incontinence in a diverse population. J Urol. 2007;177(2):680-684.
7. Gormley EA, Lightner DJ, Faraday M, Vasavada SP; American Urological Association; Society of Urodynamics, Female Pelvic Medicine. Diagnosis and treatment of overactive bladder (non-neurogenic) in adults: AUA/SUFU guideline amendment. J Urol. 2015;193(5):1572-1580.
8. OAB: frequently asked questions. National Association for Continence website. http://www.nafc.org/oabfaq/. Accessed June 13, 2016.
9. Chancellor MB, Migliaccio-Walle K, Bramley TJ, Chaudhari SL, Corbell C, Globe D. Long-term patterns of use and treatment failure with anticholinergic agents for overactive bladder. Clin Ther. 2013;35(11):1744-1751.
10. Benner JS, Nichol MB, Rovner ES, et al. Patient-reported reasons for discontinuing overactive bladder medication. BJU Int. 2010;105(9):1276-1282.
11. Muller N. Overactive bladder in middle age women: the frustration of baby boomers with OAB symptoms. Ann Urol. 2010;1(1):1-8.
12. BOTOX for overactive bladder: proven results. BOTOX for OAB website. https://www.botoxforoab.com/botox-and-oab/proven-results