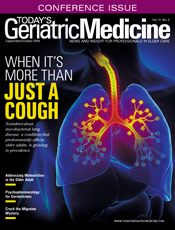 September/October 2018
Vintage Voices: A Meeting of Minds
By Mary D. Naylor, PhD, RN, FAAN, and Nancy A. Hodgson, PhD, RN, FAAN
Today's Geriatric Medicine
Vol. 11 No. 5 P. 34
Thought leaders gather to improve care for vulnerable older adults.
Our health and social systems exhibit consistent fault lines in responding to older adults living with complex care needs. Fragmentation within and across these systems is the norm, often with harmful consequences for this population and their family caregivers. Absent immediate efforts to strengthen this foundation, the projected growth of older adults requiring services and support accompanied by the expected shrinking pool of family caregivers will further strain systems ill equipped to meet current needs. The future human and economic toll of widening breakdowns in care is likely to be devastating.
To address this societal priority, more than 50 thought leaders representing diverse perspectives and sectors worked together for several months to identify actionable "big ideas" that, if implemented in the next few years, could substantially enhance the capacity of our care systems to deliver high-value care to vulnerable older adults and support their family caregivers.
These experts focused on the following three paths to achieve a more person-centered, seamless care system: accelerating the use of proven care models, increasing partnerships with consumers, and advancing the use of human and technological innovations. At a convening of these thought leaders hosted by the University of Pennsylvania School of Nursing in May, potential solutions were prioritized. Consensus on two overarching recommendations and key strategies to implement them resulted from this process.
The first is that a national dialogue focused on what matters most to older adults living with complex care needs and their family caregivers is essential. Strategies identified to achieve this recommendation include positioning older adults and their caregivers as central participants in this conversation, fostering consistent messages such as the urgent need to improve the effectiveness and efficiency of both health and social systems, targeting key stakeholders including federal and state policy makers, and using playbooks that have guided other effective national conversations.
Successful dialogues are grass-roots efforts, engage trusted community members, and have clearly identified metrics. A national dialogue designed to stimulate system transformation aligned with older adults' and caregivers' goals needs to take place in diverse communities throughout the United States. Trusted clinicians engaged in the care of older adults—nurses, physicians, and other health professionals—will need to be active participants in local contexts as well as leaders at local, state, and national levels in advocating for the key ideas emanating from this dialogue.
The second recommendation is to accelerate adoption or adaptation of high-value care models that have been proven to improve the care and outcomes of older adults coping with complex needs and those of their family caregivers. Currently, health and social systems' use of these evidence-based approaches is quite limited. Experts agreed that widespread implementation of the Transitional Care Model, Aging in Place, and ENABLE, among other models, could yield immediate improvements in older adults' health and quality of life while reducing costs.
Positioning systems to implement these models by building the core competencies of clinicians is an example of a strategy proposed by thought leaders. For example, clinicians need to be able to engage older adults and their family caregivers, improve care transitions, prevent functional decline, enhance palliative care, and effectively function as a team. In addition to developing core competencies, clinicians need to advocate for the use of such evidence-based approaches within their care systems as well as for the policy changes essential to ensure their sustainability.
It's essential that clinicians are actively engaged in implementing each of the strategies proposed by these thought leaders in order to move the needle in redesigning health and social care systems for the vastly growing population of older adults with complex care needs and their caregivers who are counting on us.
— Mary D. Naylor, PhD, RN, FAAN, is Marian S. Ware Professor in Gerontology and director of the New Courtland Center for Transitions and Health at the University of Pennsylvania School of Nursing. Nancy A. Hodgson, PhD, RN, FAAN, is Anthony Buividas Endowed Term Chair of Gerontology and an associate professor in the biobehavioral health sciences department at the University of Pennsylvania School of Nursing. Naylor and Hodgson served as cochairs for "Assuring High Value Care for Vulnerable Older Adults and their Caregivers: Maximizing the Contributions of Nurses," a meeting held May 2–3, 2018, at the University of Pennsylvania School of Nursing in Philadelphia.