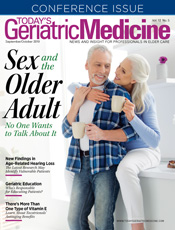 September/October 2019
The Last Word: Physicians Help in the Caregiver Shortage
By Eboni Green, PhD
Today's Geriatric Medicine
Vol. 12 No. 5 P. 34
Family and paid caregivers—nursing assistants, home care assistants, and companions—are the backbone of the long term care system in America. Family caregivers primarily assist aging parents or spouses with such tasks as managing medications, scheduling doctor appointments, arranging transportation, and paying household bills. Yet increasingly, family caregivers are taking on more complex tasks such as assisting with injections, feeding tubes, and colostomy care.
The shift in providing these more complex care tasks from professional providers to family caregivers is due in part to the preferences of a loved one. But for some it has more to do with the burgeoning aging population and a significant shortfall in the number of paid caregivers who would traditionally provide this type of complex care either in the home or in a long term care setting. Research suggests that the number of people who will need care is expected to be significantly greater than the number of family and paid caregivers who could provide that care. This projection suggests that family and paid caregivers will likely feel the strain of being unable to meet the care needs of their loved ones or clients. There are negative implications that may result in quality of care issues for the elderly if both family and paid caregivers are burned out or simply unavailable.
Physicians are in a unique position to empower both family and paid caregivers to care for themselves, as the patient-doctor relationship is generally a relationship built on trust. Following are approaches physicians might use to support family and paid caregivers in maintaining their well-being as they care for others.
Ask patients if they are caring for a loved one or client. Routinely asking patients if they are family or paid caregivers might alert physicians that they may be experiencing some measure of physical or emotional distress. Making this connection may also prompt physicians to encourage caregivers to proactively participate in self-care strategies such as support groups and respite, and, for paid caregivers, make good use of vacation time.
Encourage caregivers to document their care preferences. Most individuals do not have documentation about their preferences for care during an emergency. Physicians are in an ideal position to encourage caregivers not only to document the care preferences of their loved ones or clients but also to ensure their personal wishes are communicated. Once documented, care preferences can be integrated into the caregivers' electronic records. Tools such as portable medical orders, or POLST forms, can be useful for both family and paid caregivers. Although it's ultimately up to the caregivers and their loved ones to determine the right time to document care preferences, tools such as POLST can help ensure that care preferences and resources are identified and integrated into the health care record.
Encourage family and paid caregivers to participate in their annual wellness visits. Caregivers can particularly benefit from their annual wellness visits' evaluation of their physical and emotional well-being. Physicians may then take special care to note whether the caregivers have had a recent weight gain or weight loss, if they have musculoskeletal problems, or if the patients' blood pressures have increased. Any of these factors might indicate that the caregivers are experiencing increased stress at work.
Be alert for signs of grief after a loss. Grief is often overlooked as a contributing factor to caregiver stress, especially when caregivers feel emotionally unprepared to cope with loss, when the caregivers and clients had close relationships, or when care was provided for long periods of time. Physicians can refer caregivers to support groups or advise caregivers to use employee assistance program services to assist grieving family and paid caregivers.
The shortage among family and paid caregivers will make it necessary for the entire health care team to work together to ensure that caregivers are given the help they need to continue to care for their loved ones and clients. This includes physicians, who may be the first line of defense against caregiver burnout.
— Eboni Green, PhD, is founder of Caregiver Support Services and a Right at Home caregiver wellness consultant. She's the author of At the Heart of the Matter, Caregiving in the New Millennium, and Reflections from the Soul, and writes a monthly article focusing on self-care among caregivers. Green has extensive experience focused on caregivers' health and wellness, with an emphasis on caregiver stress, burnout, and related family conflicts.