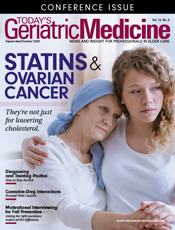 September/October 2020
The Last Word: The Problem With EMRs
By Christina McGann, RN, MS
Today's Geriatric Medicine
Vol. 13 No. 5 P. 34
I have been a bedside nurse for 25 years, long enough to watch the evolution of paper to electronic documentation, and I've found that from a nursing perspective, the electronic medical record (EMR) remains burdensome and intrusive. I believe this problem is multifaceted. Contributing to it are understaffing, the lack of information technology and cybersecurity specialists (including on-site assistance), the explosive growth of telemedicine and other software and hardware demands, and the lack of tech-savvy health care professionals.
The reality is the products used by most offices and hospital systems are extremely cumbersome. EMRs were supposed to help organize data and make information easy to retrieve and review. The software and hardware available make these tasks difficult and time consuming.
Excellent health care providers do not necessarily excel in computer literacy, nor should they have to. I would prefer a greater portion of my classroom time be spent in clinical education, not computer training. There's an insufficient number of cybersecurity and information technology professionals on staff, on site, and nationwide overall. Health care professionals cannot be expected to fulfill two roles.
Software developers and informatics experts may not realize what it's really like at the bedside. Today, there's a critical nursing shortage and high rates of burnout and moral injury. Often, nurses are working in departments so short-staffed that they can't take time to go to the bathroom or eat lunch, which is difficult for non–health care providers to understand. Of course, it's a workplace requirement that we be able do both, but nurses, by nature, often put their patients ahead of their own needs. As precious as time is, any delay caused by a computer is unacceptable. When the computer "goes down," patient care comes to a screeching halt. Delays in medication or procedures happen because of inability to access the order entry feature in the computer.
We do not have user-friendly software or hardware available. I look forward to the day when I can face my patient and dictate notes while having a conversation, building trust and rapport. Wouldn't it be nice to ask the computer, "Show me the X-ray reports for Mary Smith, DOB 12/15/72"? This is not so far-fetched; we can talk to our phones after all. The data the EMR cannot collect are the personal relationship between provider and patient and the patient's subjective measure of improved quality of life, which appear unimportant to the Centers for Medicare & Medicaid Services (CMS) and clinical information system specialists.
The truth is, at the bedside, I don't care about CMS data collection. I am too busy to hunt for the correct drop-down or check box. Instead, in the interest of time, I have documented information as a narrative. For example, when providing wound care, I need to find the correct drop down boxes for size, shape, color of wound bed, drainage, color of drainage, amount of drainage, number of gauze, size of gauze, packing, wraps, cushioning, and elevation, and then go to the medication area and document whether I applied any medication to the wound after scanning the patient's armband, and so on. I can put that in a narrative so much faster than I can by clicking all the boxes. I prefer to spend my limited time talking to the patient about caring for their wounds at home, rather than staring at a computer screen. My concerns are caring for the patient and documenting such care. The information documented as a narrative is lost, irretrievable, and useless.
When I don't have enough time to adequately teach my patients how to care for themselves and where to find support after they leave the hospital, inevitably, they will be back. Time for patient education is not accounted for in reimbursement; my nursing care is rolled into the cost of the room. Research shows that excellent nursing care brings optimal patient results, improves patient satisfaction scores, and improves the patents' views of their overall care teams.
I would like to see programmers develop software with the end user in mind first, then consider the needs of CMS policy data collection. If the end user can't use the technology, the data collected are skewed and useless. Until we see the technology catch up with the needs of the providers, accurate data collection will be nearly impossible.
— Christina McGann, RN, MS, has spent the majority of her nursing career as a telemetry nurse and has recently become RN community educator at Carroll Hospital in Westminster, Maryland, teaching wellness and disease prevention. She has a master's degree in health policy from the University of Maryland.