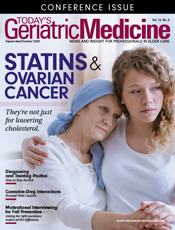 September/October 2020
Innovations in Geriatrics: Contact Tracing — Automating With Real-Time Location Systems
By Deric Blattenberger
Today's Geriatric Medicine
Vol. 13 No. 5 P. 5
During the past few months, contact tracing has made headlines across the globe. Within older adult living communities, contact tracing solutions allow community administrators and caregivers to track who has been in contact with other residents and staff, when the encounter occurred, and how long it lasted. Technologies such as real-time location systems (RTLS) can automate contact tracing processes, trace the source of an outbreak, and quickly notify those who may have come in contact with an infected individual.
This same system can support visitor management. Guest badges, similar to those worn by residents, are assigned upon entry to the community and enable staff to monitor who is in the building and the length of each person's visit. If a visitor is later diagnosed with a communicable disease, the community can quickly inform those who encountered that person and more appropriately implement quarantine procedures where they're needed most. Using this technology, communities can avoid lockdown scenarios and feel more confident allowing visitors to enter the premises, something that can have a major impact on a resident's sense of freedom, psychological well-being, and overall health.
RTLS can serve a multitude of use cases beyond contact tracing. The data collected from RTLS can easily integrate with emergency call systems, wander management systems, and asset tracking systems, among others. True location data are collected through a small sensor that residents wear on a pendant, wrist attachment, or belt loop. The sensor collects data anywhere on the community's campus and is equipped with an emergency button. With built-in enterprise location technology, staff can use the same system to locate residents in the case of an emergency, prevent residents from wandering into restricted areas or off campus, and view their interaction reports with others for accurate and automated contact tracing.
Residents' families find comfort in RTLS since they can provide insights and contextual awareness about who their loved ones are engaging with and helps mitigate their risk should any health or safety issues arise. Upon conversion of the community's emergency call budget from simple help buttons to a resident safety system with accurate and meaningful location data, residents gain a sense of security, families gain peace of mind, and communities gain a greater sense of control.
Implementing Certainty-Based Contact Tracing
In order to effectively and accurately trace contact history of residents, the community needs to have certainty-based locating, as opposed to approximate locating, in place. Approximate locating is typically implemented using antiquated technology or in conjunction with human observation. Manually recording resident touchpoints with people and their associated locations is time consuming and inherently flawed due to the nature of human error and a lack of visibility into an entire campus around the clock.
Certainty-based locating has not been implemented in senior living communities in the past in part because the technology available did not allow for it. Technology has evolved, and today, certainty-based locating systems are affordable, wireless, and relatively simple to install. With an automated contact tracing system, administrators can view the exact location of residents and staff at any time, access historical data, and trust the data they are viewing are complete and accurate.
Since federal guidelines are ambiguous, individual communities must create strategies for protecting their residents while providing a dignified living experience. Community managers should follow state and local guidelines and also look to implement modern technology, such as a certainty-based location system, to manage risk and offer exceptional care. Systems that provide methods of easy deployment, eg, self-installation, can reduce the number of visitors entering elder communities during this outbreak.
Additionally, it is important to consider the system's ability to expand and build upon its initial use cases. For example, passive data collection for integration into electronic health record systems and other solutions can help increase efficiency and overall resident satisfaction. A high-tech automated system will present staff and leadership with data they likely have never been able to access in the past. The data provided by a certainty-based contact tracing system can help the leadership team make better decisions that lead to improved safety and health outcomes for residents.
— Deric Blattenberger is a product manager at CenTrak, a provider of location-based IoT solutions for the health care industry. CenTrak has been named a visionary in the Gartner Magic Quadrant for indoor location services and recently added contact tracing capabilities to its TruView platform for senior living communities.