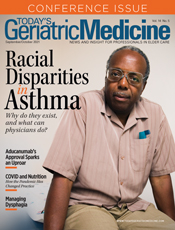 September/October 2021
Nutrition: Meals on Wheels — A Crucial Resource for Your Older Homebound Patients
By Heather McCormick, MS, RDN, LD, CDE
Today's Geriatric Medicine
Vol. 14 No. 5 P. 26
The 65-and-older age group is the fastest growing segment of the population. According to the US Census Bureau, older adults, those aged 65 and older, will outnumber children by 2034. Over 10 years, this age group increased from 38.8 million in 2008 to 52.4 million in 2018—a 35% increase, and it's projected to reach 94.7 million in 2060.1,2
For everyone, but especially older adults, nutrition plays a key role in healing, maintaining health, and managing chronic diseases. As more adults start falling into the 65-and-older age group, it is important to recognize whether your patients are struggling to eat well. You can do this by asking them about their ability to prepare meals, whether they have any difficulty grocery shopping, and whether they are eating well-balanced meals. Well-balanced meals include foods from all five food groups: fruits, vegetables, dairy, protein, and grains. If you have homebound patients and you suspect they are struggling with their meals, you might want to consider sharing information about the Meals on Wheels (MOW) program and how they can contact their local MOW provider.
What Is MOW?
Home-delivered meals or MOW has been around for almost 60 years. There are roughly 5,000 MOW providers across the United States. It's largely funded through the Older Americans Act and is the largest national food and nutrition program for older adults. Its other funding sources include states and localities, block grants, and donations. MOW is generally for homebound adults 60 years of age and older, the beneficiary's spouse or domestic partner (regardless of age), and cohabitating people with disability. The fee for the meals is based on the person's income level, and your patients may be able to receive meals at no cost, or for a nominal fee, depending on their income.
Participants can receive one to three meals daily either five or seven days per week. A nutritional benefit of the program is that meals are required to meet at least one-third of the DRI (Dietary Reference Intake), follow the most recent Dietary Guidelines for Americans, and are certified by a registered dietitian nutritionist.3 In addition to offering balanced meals, many MOW providers offer therapeutic meals, such as sodium-controlled, diabetes-friendly, or mechanically altered (eg, soft or puréed) meals. Knowing that an older adult is receiving MOW can help reduce stress and provide a sense of relief for patients and their families and health care providers.
Who Might Benefit?
MOW helps serve the most vulnerable population. Two-thirds of participants are at or below the poverty line, with one-third taking in less than $1,000 a month. More than 50% of participants are widowed. Nationally, minorities make up 23% of older adults nationwide but comprise 33% of local MOW program participants.4 A survey conducted in 2009 found that 56% of MOW participants lived alone, 25% had an annual income of less than $10,000, and 59% reported that MOW provided at least one-half of their food intake for the day. This survey also found that 40% of recipients needed help with one or more of activities of daily living, such as bathing, dressing, eating, using the toilet, and transferring into or out of a bed or a chair, and 85% needed help with instrumental activities of daily living, such as light housework, taking medication, managing money, and grocery shopping.5
There are several factors to consider as you determine whether your patients might benefit from MOW. Two studies found that older adults who delegate food activities such as grocery shopping and cooking have a worse nutritional status than do those who can do these activities themselves. The first study found that the number of older adults who were undernourished (lacking nutrients) was 8% for those who were independent, 16% for those receiving non–food-related assistance, and 46% for those receiving help with food.6 The second study, a meta-analysis, found that older people receiving homecare services had the highest rates of malnutrition (nutrition imbalance when looking at both quality and quantity of food).7 If your patients are receiving help at home, that can be an indicator that they might also need some assistance getting nutritious meals.
If you have patients who were recently discharged from the hospital, they might benefit from MOW until they have fully recovered. "More than a Meal," a 15-week pilot study, found that older adults who received MOW had greater improvements in self-rated health and decreased hospitalizations compared with those who did not receive meals. This study also found that 14% of older adults receiving MOW were hospitalized, compared with 20% of older adults who were not receiving MOW.4
Benefits of MOW
A joint position statement from the Academy of Nutrition and Dietetics and the Society for Nutrition Education and Behavior states, "All older adults should have access to evidence-based food and nutrition programs that ensure the availability of safe and adequate food to promote optimal nutrition, health, functionality, and quality of life."8 MOW offers patients nutritional, financial, and social benefits.
The most obvious benefits of MOW are nutritional. Poor diets are linked to numerous health problems, such as delayed recovery from surgery or illness, decreased bone mass, reduced cognitive function, poor wound healing, anemia, decreased immune function, and decrease in muscle function.9 Poor diets can also increase the risk for chronic diseases, such as heart disease, diabetes, hypertension, and certain types of cancers.
Diet also has a role in managing chronic diseases. Poor diet quality is a major risk factor in older adults, and MOW can help older adults improve their diets. A review article found that in six of eight studies, MOW programs improved diet quality, increased nutrient intakes, and reduced food insecurity and nutritional risk among participants. In addition, MOW recipients were found to have higher intakes of vitamin A, vitamin C, thiamin, riboflavin, vitamin B6, folic acid, vitamin B12, beta-carotene, calcium, magnesium, phosphorus, potassium, iron, and zinc.10 Intakes of carbohydrates and fiber are higher, and intakes of sodium, saturated fat, and cholesterol were found to be lower in MOW participants. A systematic review of MOW programs found that they improved nutritional status and decreased the prevalence of undernutrition. Most of the studies in the review showed that providing MOW led to higher energy intake and protein intake. The review also found that providing nutrition counseling by a registered dietitian nutritionist improved the nutritional status and/or intake even more.11
MOW also offers financial benefits for older adults and health systems. Most older adults would prefer to live at home, and it's less expensive to live at home than in a skilled nursing facility. MOW programs help older adults maintain independence and remain at home as their health and functions decline from aging.5 Ninety-two percent of older adults who received home-delivered nutrition services were able to remain living at home, according to the Administration for Community Living.12 The average cost of a one-month stay in a nursing home is equivalent to providing MOW five days per week for seven years, and every $25 that is spent on home-delivered meals per year for adults 65 years and older is found to be associated with a decrease in low-care nursing home population by 1%.13
A final consideration is the social advantages of MOW. The COVID-19 pandemic has affected the mental and physical health of older adults largely due to increased social isolation.14 Since the pandemic has exacerbated social isolation for older adults, MOW provides an added benefit. MOW drivers can be a regular contact for those receiving MOW, and the brief time that drivers spend delivering meals is often something MOW recipients look forward to daily or weekly. More than 40% of MOW programs drivers spend at least five minutes with the MOW participant at each visit.4 They also serve as a "safety check" by reporting on unanswered deliveries or health concerns they might observe.10 From this perspective, MOW America accurately notes that it is "providing much more than just a meal."15
Since the start of the COVID-19 pandemic, more older adults are seeking meal assistance with MOW. In a survey from Meals on Wheels America in 2020, 89% of MOW providers are experiencing more requests for MOW, and 4 out of 5 of these MOW providers reported that these requests have at least doubled. Even as more older adults are being vaccinated for COVID-19, the demand for MOW has increased 37% from pre–COVID-19 levels.16
For more information on MOW and to help find a MOW provider near you, go to Meals on Wheels America at mealsonwheelsamerica.org/find-meals.
— Heather McCormick, MS, RDN, LD, CDE, is a dietitian with Mount Carmel Health System and previously worked at LifeCare Alliance, a Meals on Wheels provider in Columbus, Ohio. She's been president for both the Columbus Dietetic Association and the Ohio Academy of Nutrition and Dietetics.
References
1. Vespa J. The graying of America: more older adults than kids by 2035. United States Census Bureau website. https://www.census.gov/library/stories/2018/03/graying-america.html. Updated October 8, 2019. Accessed May 16, 2021.
2. Administration for Community Living; Administration on Aging 2019 profile of older adults. https://acl.gov/sites/default/files/Aging%20and%20Disability%20in%20America/2019Profile
OlderAmericans508.pdf. Published May 2020. Accessed May 16, 2021.
3. Meals on Wheels America. Section 304 – nutrition service program guidelines and requirements. https://www.mealsonwheelsamerica.org/docs/default-source/research/retirement-research-foundation/georgia.pdf?sfvrsn=3befac3b_2. Accessed May 16, 2021.
4. Meals on Wheels America. More than a Meal pilot research study: results from a pilot randomized control trial of home-delivered meal programs. https://pubmed.ncbi.nlm.nih.gov/29856007/. Published March 2, 2015. Accessed May 16, 2021.
5. Administration on Aging; Department of Health and Human Services. Aging in place: do Older Americans Act Title III services reach those most likely to enter nursing homes? https://agid.acl.gov/resources/datasources/DataFiles/AoA_1_NursingHomes_041311.pdf. Published July 2010. Accessed May 16, 2021.
6. Maitre I, Wymelbeke VV, Amand M, Vigneau E, Issanchou S, Sulmont-Rossé C. Food pickiness in the elderly: relationship with dependency and malnutrition. Food Qual Prefer. 2014;32(B):145-151.
7. Crichton M, Craven D, Mackay H, Marx W, de van der Schueren M, Marshall S. A systematic review, meta-analysis and meta-regression of the prevalence of protein-energy malnutrition: associations with geographical region and sex. Age Ageing. 2019;48(1):38-48.
8. Academy of Nutrition and Dietetics and Society for Nutrition. Position of the Academy of Nutrition and Dietetics and the Society for Nutrition Education and Behavior: food and nutrition programs for community-residing older adults. J Acad Nutr Diet. 2019;119(7):1188-1204.
9. Ahmed T, Haboubi N. Assessment and management of nutrition in older people and its importance to health. Clin Interv Aging. 2010;5:207-216.
10. Zhu H, An R. Impact of home-delivered meal programs on diet and nutrition among older adults: a review. Nutr Health. 2013;22(2):89-103.
11. Fleury S, Tronchon P, Rota J, et al. The nutritional issue of older people receiving home-delivered meals: a systematic review. Front Nutr. 2021;8:629580.
12. Administration for Community Living. Aging in place: do Older Americans Act Title III services reach those most likely to enter nursing homes? https://agid.acl.gov/Resources/DataOutputs/OAA_Brief_1_12-4-19_508.pdf. Published December 2019. Accessed May 16, 2021.
13. Thomas KS, Mor V. The relationship between Older Americans Act Title III state expenditures and prevalence of low-care nursing home residents. Health Serv Res. 2013;48(3):1215-1226.
14. Sepúlveda-Loyola W, Rodríguez-Sánchez L, Pérez-Rodríguez P, et al. Impact of social isolation due to COVID-19 on health in older people: mental and physical effects and recommendations. J Nutr Health Aging. 2020;24(9):938-947.
15. Find a Meals on Wheels provider near you. Meals on Wheels America website. https://www.mealsonwheelsamerica.org/find-meals. Accessed May 16, 2021.
16. How Meals on Wheels continues to feed our vulnerable seniors amidst the pandemic. Meals on Wheels America website. https://www.mealsonwheelsamerica.org/learn-more/blog/how-meals-on-wheels-continues-to-feed-our-vulnerable-seniors-amidst-the-pandemic. Published May 18, 2020. Accessed May 16, 2021.