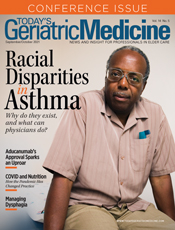 September/October 2021
Last Word: Maximizing Personal, Interpersonal Agency to Enhance the Lives of Elders
By LaTricia Perry, PhD
Today's Geriatric Medicine
Vol. 14 No. 5 P. 34
The recent American Society on Aging's On Aging 2021 virtual conference reignited a passion and curiosity to explore ways in which gerontologists and geriatricians can maximize personal and interpersonal agency to enhance the lives of elders. The speakers at the conference were passionate, both personally and collectively, and it was the action and presence of these speakers that reminded me that we need to use our voices for change, and the call to action is now. You see, having agency and exercising one's agency are distinctly different. By our training alone as gerontologists and geriatricians, we have agency, or the ability to effect change through our thoughts and actions. But it is not until we personally and collaboratively act with our agency that we are able to elevate the lived experiences of the aging population we serve.
Growing our sense of agency can be a powerful, personal journey. Identifying our intrinsic motivating factors for growth in this area can only come from self-reflection as to the meaning and purpose of the work we do or could do in the field of gerontology. What made you fall in love with the aging population, and what would you wish for your legacy to be in this field of study? At the core of your personal reflection will be an apparent passion.
Tangible Steps
Once you've answered these questions, begin to act in ways that fuel your agency. Set the intention to engage with your patients. Be present in all encounters. Be with patients as opposed to simply doing for them. Learn their stories as part of your holistic health mindset, because until we know our patients, we cannot truly understand the barriers they may face in the prescribed plans of care. In fact, invite them to be part of the plans of care—engage and cocreate to maximize outcomes through empowerment and ownership. Setting the intention to improve the lives of others through subtle changes in your practice can have a positive and rewarding impact on you as well. Start small, engage more, and build the personal sense of agency that demonstrates grit and tenacity for the population you serve.
As you gain traction with building your personal agency, surround yourself with other gerontologists and geriatricians who share a common passion or goal. Build interpersonal agency by creating partnerships where the collective voice for change is even stronger. Conduct research, advocate for policy change, and become active in health care reform all for the betterment of an aging population. After all, we are all stakeholders in this investment. Consider redefining your practice to collaborate in interdisciplinary ways where elders experience a one-stop shop when they enter your office. In that space, they know that their gerontological (psychological, biological, and sociological) needs are going to be met. They know that if they can't afford the medication that you are about to prescribe for them, that the interdisciplinary team working with you will work to ensure that their needs are met. This model demonstrates collective dedication, collective passion, and collective action needed to improve the lives of our elders. This, right here, is interpersonal agency.
Proceed With Passion
The pandemic has posed many challenges but also beautiful opportunities. There has never been a better time to reinvent yourself or your practice—to use your personal agency and to collaborate with others to maximize interpersonal agency all for the betterment of the aging individuals we serve. Reflect, dream, collaborate, act, and repeat. We've got this!
— LaTricia Perry, PhD, is a PhD-prepared gerontologist, a registered nurse for more than 24 years, and the associate dean for the School of Nursing at Nevada State College. In 2015, she was recognized with an Excellence in Geriatric Education Award by the National League of Nursing and Hearst Foundation for her integration of the web-based ACE.S (Advancing Care Excellence for Seniors) resources, demonstrating exceptional instruction and innovation in this key area of nursing education.