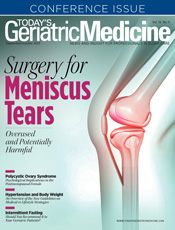 September/October 2022
The Last Word: Caring for Aging Eyes: Concerns and Opportunities
By Walter Whitley, OD, MBA, FAAO
Today's Geriatric Medicine
Vol. 15 No. 5 P. 34
A s patients live longer and the geriatric population grows, we must work to improve the quality and efficiency of our care for elderly eyes. This care influences patients' quality of life, the lives of their loved ones, and costs to the health care system.
Older adults often have physical challenges that affect their eye care. They may have several comorbidities and often take multiple medications throughout the day. Mobility issues are another common challenge affecting not only the patient's ability to get to the eye care clinic but also their ability to function in certain tests in their eye exams.
As we seek to provide increasingly efficient care for this growing group, new technologies are providing additional options. New advanced diagnostic technology is helping physicians with diagnosis and treatment of diseases such as cataract, glaucoma, diabetic eye disease, and macular degeneration, which are sight-threatening conditions more prevalent in older patients. One example is using innovative algorithms to scan the eyes of patients with diabetes to detect the presence and severity of the condition. Technology is also being developed to feed data from patient evaluation and testing into interoperative microscopes for cataract surgery. Postoperative data is then added to create an optimized algorithm aimed at maximizing future visual outcomes.
New diagnostic technology can also be used for virtual reality that helps loved ones and caretakers better understand life with a visual difficulty. The National Eye Institute has an app that allows participants to see the world through the eyes of those with various eye diseases. When a patient is dependent on others for support, understanding on the part of these caretakers is vital.
To enhance our patient care and facilitate eye testing on older patients in our practice, we have begun using a wearable augmented reality/virtual reality device. These devices have great potential to improve the quality of care we can give older adults because they can be brought to the patient, with the test performed as they sit comfortably in a waiting room or exam lane. This eliminates the need for patients to move from room to room during their visits and the requirement that they maintain a stiff posture with their chin and forehead pressed against a device, as seen with legacy diagnostic equipment. For those patients with mobility issues and back or neck problems, this is a game changer.
The platform we use can perform several different diagnostic exams ranging from visual acuity and visual fields to contrast sensitivity, color vision, and dark adaptation testing. In our practice, we can screen every patient for visual defects as the platform has a rapid screening exam (Fast Pattern Suprathreshold) that can be completed in as little as 40 seconds.
A recent clinical study showed that age-related macular degeneration affects 1 in 8 adults older than 60.1 The dark adaptation and contrast sensitivity exams available on the platform provide physicians with a complete diagnostic portfolio that may detect subclinical age-related macular degeneration at least three years before drusen is clinically evident.2 Early detection of the disease enables physicians to intervene sooner by recommending lifestyle changes that may slow the progression of the disease.
We are now running a clinical trial with participants of various ages to evaluate visual field testing on the platform, and the results have been positive. Our patients have enjoyed using the interactive diagnostic technology. They report that the platform is easy to use and enjoy the more comfortable experience. From the provider perspective, the data is comparable to the traditional testing using legacy diagnostic devices and the process is very efficient.
Down the road, these technologies will allow patients to monitor themselves. Many people already have virtual reality headsets at home. There are three in my house because my children all play virtual reality games. As uses for these devices expand, and medical applications become more common, patients will be able to do advanced eye exams at home, allowing them to test far more frequently than they do now. Eye care providers will have more information, and patients can receive top care despite the physical limitations that eventually come with aging.
— Walter Whitley, OD, MBA, FAAO, specializes in ocular surface disease, glaucoma, surgical comanagement, and clinical research. He practices at Eye Care Associates of Nevada in Sparks, Nevada, where he has been involved in clinical research for Heru's wearable technology.
References
1. Bourne RRA, Jonas JB, Flaxman SR, et al. Prevalence and causes of vision loss in high-income countries and in Eastern and Central Europe: 1990-2010. Br J Ophthalmol. 2014;98(5):629-638.
2. Owsley C, McGwin G Jr, Clark ME, et al. Delayed rod-mediated dark adaptation is a functional biomarker for incident early age-related macular degeneration. Ophthalmology. 2016;123(2):344-351.