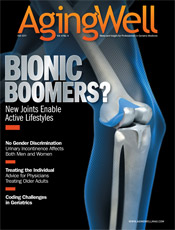 Fall 2011
Use Restraints With Caution
By Maura Keller
Aging Well
Vol. 4 No. 4 P. 8
Walking down any hallway in a nursing home or hospital in 1981, you were likely to see residents restrained in wheelchairs and beds throughout the facility. Fast-forward 30 years, and you're unlikely to see the use of restraints in these same facilities, as today's physicians and regulatory bodies have devised alternate methods for handling agitated, violent, and disruptive individuals.
Historically Speaking
The use of physical restraints for "uncooperative" patients has declined in recent years. As Cheryl Phillips, MD, senior vice president for advocacy at LeadingAge in Washington, D.C., explains, prior to 1987 and the regulations for nursing reform as part of the Omnibus Budget Reconciliation Act 0f 1987, the use of restraints was common in nursing homes. The belief was that they prevented falls and injuries and helped staff by preventing wandering and disruptive behavior.
"However, increasing evidence has shown that physical restraints led to higher risks of injury and did not prevent falls," Phillips says. "Furthermore, they contributed to depression, immobility, increased agitation, and confusion." Most states report fewer than 4% of patients on average in nursing home settings are physically restrained, but use varies considerably across states and settings—with the most commonly restrained group being individuals with dementia or other cognitive impairments.
Over the past decade other care settings have also recognized the harms of physical restraints, including acute care hospitals and rehabilitation centers.
"There are still areas for improvement in both nursing home and other care settings," Phillips says. "While many have moved to a 'restraint-free' commitment to care, there is still a need for better understanding of what a physical restraint is and how it can negatively impact the person restrained. Families themselves need to be educated about the real risks of routine use of physical restraints."
Here are some things we know: Restraints are associated with death by strangulation; they are associated with increased weakness if used for long periods of time; and they contribute to increased confusion, increased risk of pressure ulcers, depression, and agitation.
"As knowledge regarding the adverse effects of both physical and chemical restraints has accrued, the utilization of restraints is now considered only as a last resort," says Mark A. Supiano, MD, executive director at the University of Utah Center on Aging, chief in the division of geriatrics at the University of Utah School of Medicine, and director of the VA Salt Lake City Geriatric Research, Education, and Clinical Center.
In fact, according to Supiano, most long term care facilities are now entirely restraint free. "In the inpatient hospital setting, physical restraints are occasionally justified," Supiano says. "For example, agitated patients in an ICU are at risk from pulling out life-supporting breathing tubes or other invasive devices."
Supiano stresses that data clearly show that physical and chemical restraints are associated with adverse outcomes, including fatalities. "In turn, there is absolutely no data to report that restraints have any effect to decrease fall risk—a common justification for their use," Supiano says. "In fact, when carefully studied, the risk for fall-related injury increased in patients who were restrained relative to those who were not."
Jacob DeLaRosa, MD, chief of cardiothoracic surgery at Portneuf Medical Center in Pocatello, Idaho, says restraints can be humane when used appropriately and in the correct setting. "When patients are in the transition from being anesthetized to awake can be a dangerous time when patients do not understand what is happening and can be a danger to themselves," DeLaRosa says. "This is the only indication that I feel restraints should be used."
DeLaRosa says restraint use is restricted to patients coming out of heart surgery during their resuscitation. "The restraints are put on to protect each patient from reaching up and pulling out lifesaving catheters and intravenous and interarterial lines," he says. "Once the patient is conscious and following commands, the restraints are removed."
Alternate Restraint Methods
Chemical restraints have also played a role in healthcare management of older adults. "In the past, people were medicated with the sole intent of causing them to stop moving, but those days are gone," Phillips says. "What is the challenge now is how to manage the kind of behaviors that are difficult for caregivers and for the individuals themselves to cope with. Problems such as yelling out, striking, resisting care, [and] delusional thinking are all examples of these kinds of responses to negative stimuli—most often occurring in people with dementia or other cognitive impairments. Because these are the best medications—we often have to address disturbing delusions and psychotic behaviors—they are thought of as a 'fix' for other distressing actions by people with dementia, by families, caregiving staff, and often physicians."
Phillips says the solution is not to eliminate the drugs from ever being used but rather to improve understanding of what alternatives exist and, when they are used, information on how to use them safely and at the lowest dose for the shortest time.
Experts agree that healthcare professionals should prevent the need for restraints—either physical or medication—and change the care facility's culture to adopt a restraint-free approach. One step is delirium prevention, which mitigates the need to restrain agitated patients. The Hospital Elder Life Program (HELP) at the University of Utah Health Care Hospital offers an effective approach to preventing delirium in older, at-risk patients. "Trained volunteers support patients with standardized protocols proven to decrease delirium risk factors such as maintaining hydration, ambulation, orientation, vision, hearing,and promoting sleep," Supiano says.
In the last year since launching HELP, the incidence of delirium in patients enrolled in the program has decreased to 7% from a baseline of 33%. "Restraints should never substitute for a lack of staffing to provide adequate patient supervision," Supiano says. "Alternatives to nursing supervision include involving family members or having close supervision by trained sitters to be with the patient at all times."
Partners in Progress
Concerned family members who may have objections to having parents or spouses restrained often question physicians. That's why it's imperative you understand the reason you are ordering a restraint.
"I think it is essential that physicians discuss why restraints are placed and when they will be removed," DeLaRosa says. "Also, discuss the alternatives that can be used instead of having the restraints as well as the complications that can arise if the restraints are not being used."
Phillips adds that physicians should work with direct care providers for other interventions to behaviors that create concern. "Think about factors that could be contributing to the need for a restraint," Phillips says. "Is the confused person striking out because they are in pain? Are they agitated because they are hungry or because there is too much stimulation in the environment?"
Then look to the least restrictive device and when ordering, use it only for the shortest possible period of time. Work with your physical therapists to look for physical conditioning in lieu of physical restraints to prevent falls. Work with your nursing staff to identify other options for addressing disturbing behaviors.
"Physicians should provide a daily written order to indicate the nature of the restraint (using the least restrictive possible), the indication for the restraint, and a time-limited duration not to exceed 24 hours," Supiano says. "In addition, analogous to any other procedure or treatment that carries significant risks, patients' families should complete an informed consent agreement to approve of restraint use once the risks and benefits of their usage have been thoroughly explained."
In the rare situations where restraints are justified, their use should be governed by strict adherence to the rules of The Joint Commission, a private sector U.S.-based not-for-profit organization that accredits and certifies more than 15,000 healthcare organizations and programs in the country. Joint Commission accreditation and certification is recognized nationwide as a symbol of quality that reflects an organization's commitment to meeting certain performance standards.
There also are various regulations requiring provider settings of care to create policies regarding when restraints are used, how they are ordered, how restrained patients should be monitored, and what documentation must be present. If a physician has a question, he or she should first ask the director of nursing services or the facility administrator to explain the policies in that setting of care.
— Maura Keller is a Minneapolis-based writer and editor.