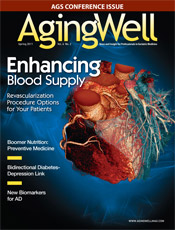 Spring 2011
Geriatricians in Short Supply
By Sharon A. Brangman, MD
Aging Well
Vol. 4 No. 2 P. 34
People who care for aging relatives or friends often visit our offices, call, or write with questions about their loved ones' health and care. Often, they're unsure how to handle health problems their family members have developed, wonder whether they should see a geriatrician and if so, how and where to find these specialists.
For example, a concerned spouse inquired about her 71-year-old husband who had experienced a heart attack two years prior and has since become very anxious. He recently fell while walking up the steps to their home. He wasn't badly hurt but has since been afraid of falling again and consequently spends more time at home, just sitting and watching TV. His wife inquired about suggestions for getting him up and out.
Of course, we've all had patients with similar concerns. Falls are serious because they can cause life-threatening injuries, especially in later life. But this patient's concerns don't mean that he should stay home in an attempt to avoid another fall. In fact, we can make it clear that sitting inside will actually increase his risk of falling again. New fall prevention guidelines published by the American Geriatrics Society and British Geriatrics Society recommend instituting several measures to lower risks.
The guidelines advise older adults to get sufficient exercise, including exercise that can improve their balance such as tai chi. The guidelines also recommend that older adults check with their healthcare providers to ensure that their medications aren't raising their risk of falling, as some drugs, including certain antianxiety and heart medications, can do this. Getting enough bone-building vitamin D, wearing glasses if necessary, fall-proofing the home, and choosing the right footwear are also important parts of an overall strategy for lowering fall risk. Be sure to share such strategies with your patients.
Another cause for frequent concern involves older patients with, for example, a seizure disorder and depression, who have had several mini strokes along with a diagnosis of dementia. After starting on several new drugs—perhaps taking as many as nine—such patients may not appear to be themselves. They may fail to recognize family members who often wonder whether the medications are part of the problem. What answers can we offer our patients' loved ones?
Such patients can benefit from seeing a geriatrician. Geriatricians and other geriatrics healthcare providers can take advantage of specialized training that prepares them to care for older adults with multiple chronic conditions, or who are frail and take multiple medications. Since drugs and interactions among medications can cause unwanted side effects such as memory problems, geriatricians try to limit, to the extent possible, the number of drugs their patients take. It's health, rather than age, that determines whether patients need to see a geriatrician. Someone of advanced age who has few health problems may be just fine with a primary care physician.
Some family members recognize the benefits of their older loved ones seeing a geriatrician. But many communities lack geriatricians' expertise and where there are geriatricians available, many times they're not taking new patients. Unfortunately, there's a shortage of geriatricians in our country and it's getting worse. Over the next two decades, the number of older Americans will nearly double to 70 million. But the number of geriatricians practicing in the United States is expected to remain flat at 7,000, at best. The results of a survey published in the Journal of the American Geriatrics Society found a growing consensus among leaders in geriatrics that geriatricians should focus on the sickest, frailest older adults. Primary care physicians should care for healthier seniors, according to survey respondents.
For patients with multiple, complex health problems who need a geriatrician, the American Geriatrics Society's Foundation for Health in Aging can help locate one. The foundation offers a free referral service that helps people find nearby geriatricians. Patients can call 800-563-4916 or visit www.healthinaging.org.
— Sharon A. Brangman, MD, is president of the American Geriatrics Society and a professor of medicine and division chief in geriatrics at SUNY Upstate Medical University in Syracuse, N.Y.