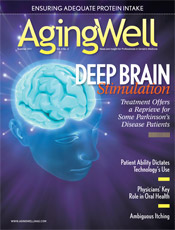 Summer 2011
FDA Extends Age Range for Shingles Vaccine
By Jessica Girdwain
Aging Well
Vol. 4 No. 3 P. 30
The FDA has approved Zostavax, a live attenuated virus vaccine for shingles, for use in patients between the ages of 50 and 59; it had previously been approved only for patients aged 60 and older. The FDA lowered the age for receiving the vaccine because the risk of developing shingles begins to increase at the age of 50.
The recent approval means another group of at-risk patients will be given a chance to prevent the painful disease. The Zostavax vaccine significantly reduces the risk of developing shingles.
Nearly 1 million cases of shingles are diagnosed each year in the United States, according to the Centers for Disease Control and Prevention. "The incidence of shingles has increased sixfold over the last 50 years. And truthfully, we're not sure why," says Barbara Yawn, MD, director of research at Olmsted Medical Center in Rochester, Minn. Shingles rates for those aged 50 and older have increased too, so the vaccine comes at the right time.
Although the vaccine doesn't fully prevent shingles, Kenneth Schmader, MD, chief of the division of geriatrics at Duke Medicine, calls it "a major step forward in our tools to reduce the burden of illness caused by shingles." He notes, "It's the only intervention we have to prevent the disease."
Limiting Shingles Risk
In a study published earlier this year in The Journal of the American Medical Association, researchers analyzed more than 300,000 vaccinated and unvaccinated individuals and found the vaccine was associated with a 55% reduction in shingles incidence.
Shingles is particularly distressing because of its significant impact on individuals, according to Schmader. "The acute pain that occurs during the time of the rash and the chronic pain after the rash has healed, also called postherpetic neuralgia, has a devastating impact on the quality of life and functioning of older adults," he says. "The pain causes poorer physical functioning, emotional distress, and altered social roles. It interferes with activities of daily living, sleep, and general activity. Many victims call it the worst pain they have ever experienced."
Because of this acute pain, many older patients need to recover at home, something about which many of your patients may be unaware—and a risk they may be unwilling to take if they know about the vaccine's potential. "They often have to take off a great deal of work," says Yawn, which can be especially difficult for patients in the prime of their careers. "People aren't retiring at 65 any more, so we're seeing the ramifications of this disease show up in new ways."
In addition to pain, fatigue is another detrimental aspect of the disease. "That's a big problem," says Yawn. "As you get older, you're quicker to tire in the first place, but shingles compound exhaustion."
For many elders, it's just one more problem on top of a series of events related to declining health. Patients aged 80 and older are frequently admitted to the hospital for dehydration because "they feel so lousy they don't want to get up and drink anything," Yawn adds.
Early Diagnosis Is Key
Whether or not elders are immunized, one critical factor in managing recovery from shingles is to diagnose it early, which can prove to be a challenge, according to Yawn. She recommends making sure you ask your patients to describe any pain they are experiencing. "Often pain will begin around the jaw, back, shoulder, or abdomen—a telltale sign where the rash will break out. But the rash won't emerge for a week or 10 days, and the pain can get misdiagnosed as a heart attack or appendicitis," she says.
Even older patients who have previously had shingles can receive the vaccine, and it's a good idea for them to do so. A recent study published in Mayo Clinic Proceedings found that the rate of shingles recurrence is just as common as acquiring it the first time, disproving the common misconception that patients can get shingles only once. "The results were a surprise to a lot of people," notes Yawn, who was a researcher on the study. "Patients knew it because it was happening to them, but there has been a fair number of physicians who say you only get shingles once and then it's gone or it's rare to get again. But our data says it's not rare."
Despite the devastation the disease causes, only 6.7% of adults over the age of 60 were immunized in 2008, according to a new study in the American Journal of Preventive Medicine. So what accounts for the low numbers? Researchers identify a lack of patient awareness and interest in the vaccine as well as a low number of providers actively recommending it.
Yawn is well aware of obstacles to widespread use of the vaccine. "Up to this point, we've had problems being able to immunize people," she says. She attributes the barriers to immunization to a recent vaccine shortage and billing issues. Medicare patients must pay in full up front and then submit the vaccine bill for reimbursement from their insurer. "Not only does the vaccine cost up to $400—and the patient has to come up with that initially—the paperwork often takes a long time to process and sometimes the vaccine isn't even fully covered," she notes.
While doctors aren't sure how the new rules for the shingles vaccine will pan out with insurers, there's hope that shingles immunizations will soon be billed like any other vaccine and be fully covered for those aged 50 and older. With these barriers removed, providers hope to see an upswing in vaccine rates, which research indicates would prevent 250,000 cases annually.
So who are the ideal patients for whom you should recommend the shingles vaccine? "Everyone over 50 that's not on an immunosupression drug or has a problem with their immune system," says Yawn. "The vaccine isn't perfect, but it's the best we have right now."
— Jessica Girdwain is a Chicago-based freelance writer who has contributed health-related articles to several national magazines.