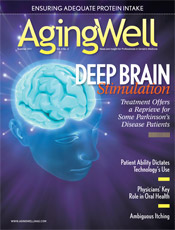 Summer 2011
Short-Cycle Dispensing: New Age for Long Term Care?
By Carol Sirianni, RPh
Aging Well
Vol. 4 No. 3 P. 32
Since the passage of the Patient Protection and Affordable Care Act in March 2010, long term care (LTC) pharmacies and skilled nursing facilities have asked many questions about how they will operate their businesses and serve their residents beginning in early 2012. In response to the healthcare reform legislation, the Centers for Medicare & Medicaid Services (CMS) ruled that LTC pharmacies serving Medicare Part D beneficiaries in skilled nursing facilities would have to provide medications in supplies of seven days or less, known as "seven-day-or-less dispensing."
Because the CMS estimated that 75% to 80% of drug waste comes from about 20% of drugs—most of which are brand name—the thought was that short-cycle dispensing would help reduce drug diversion and unnecessary dispensing of prescription drugs. This particular waste reduction provision was expected to generate $6 billion in Part D savings over 10 years.
The initial provision promised to give rise to complications and challenges, especially given the aging population. According to the Administration on Aging (AoA), there were 39.6 million people aged 65 or older in 2009, representing approximately 13% of the population. By 2030, the AoA expects there will be 72.1 million older individuals. As a result of the significant increase in the number of older adults over the next 20 years, more people will reside in LTC facilities, making the issue of how to medicate them a top concern for facilities, pharmacies, and residents alike.
But on April 5, the CMS released the final rule implementing section 3310 of the Patient Protection and Affordable Care Act, incorporating two major changes that should help ease the burden of complying with short-cycle dispensing.
Requirements
The first major change dictates that the final rule will now take effect on January 1, 2013, rather than January 1, 2012, as was previously proposed. This will give LTC pharmacies and skilled nursing facilities more time to transition to short-cycle dispensing. LTC pharmacies will now have an expanded opportunity to compare dispensing methodologies so that the most effective and efficient systems can be implemented. There will also be more time for skilled nursing facilities to work directly with their LTC pharmacies to ensure that both sets of staff are trained and comfortable with the new workflows and processes.
The second major change from the proposed to the final rule is that LTC pharmacies (including closed-door LTC pharmacies and retail and mail order pharmacies that dispense to LTC facilities) will have to dispense solid, oral doses of brand-name medications to patients in 14-day-or-less supplies. This should place less of a burden on both sides than the seven-day requirement.
Two types of solid, oral branded medications are excluded from the 14-day-or-less requirement: antibiotics and drugs that are dispensed in their original container (as indicated in the FDA Prescribing Information) or those that are customarily dispensed in their original packaging to assist patients with compliance (eg, oral contraceptives).
Controlled substances are included in the short-cycle dispensing requirement, as the CMS believes this will result in fewer unused controlled drugs in skilled nursing facilities, decreasing the disposal burden and risk of diversion.
Unused Drugs
The final rule requires LTC pharmacies to report a calculated amount of a medication that goes unused. This is a fairly significant change from the proposed rule that would have required unused drugs to be returned to the pharmacy and reported back to the Part D plan. Now, unused medications will not have to be returned to the pharmacy, and pharmacies will be required to calculate the amount of unused drugs by using the difference between the amount dispensed and the amount consumed. This applies to both brand and generic drugs.
If an LTC pharmacy and skilled nursing facility decide to voluntarily adopt seven-day-or-less dispensing over the required 14-day-or-less dispensing, they will not need to report unused drugs to Part D plans. Because the CMS feels so strongly that seven-day-or-less dispensing will nearly eliminate the problem of drug waste, it is giving pharmacies and facilities that implement the shorter cycle a reprieve when it comes to reporting unused drugs.
Dispensing Techniques
Part D plans must permit a pharmacy to implement the type of uniform dispensing technique(s) agreed on by the LTC pharmacy and the skilled nursing facility. Dispensing methodology is defined as both the packaging system (eg, punch cards, envelopes, strip packaging) and the dispensing increment (eg, 14-day, seven-day, 2-2-3, daily, automated dose dispensing).
LTC pharmacies will be required to enter codes developed by National Council for Prescription Drug Programs on billing transactions to facilitate the collection of information on the dispensing methodology used for each dispensing event. In turn, the CMS will use this data to determine whether certain dispensing requirements reduce unused drugs in order to evaluate whether this program should be applied to generic drugs in the future.
Preparing for Short-Cycle Dispense
Currently, more than one-half of LTC pharmacy providers use short-cycle dispensing for specific reasons (eg, customer preference, Medicare Part A residents, drug type). The current primary dispensing methodology is punch card/blister pack—in fact, 83% of LTC pharmacy providers are using this dispensing technique in 30-day quantities. Few of them utilize remote dispensing due to pharmacy and nursing workflow changes, lack of nursing facility interest, willingness to share in technology costs, and the increased need for staff training.
The new rule promises to bring about many challenges for pharmacy and nursing workflows, operations, and billing. If not properly approached, the medication process could become more problematic and less efficient, resulting in negative impacts to quality and patient care. Below are the top five challenges facing LTC pharmacies and skilled nursing facilities and some recommendations for how they can work together to ensure successful compliance.
1. Need for increase in collaboration across departments: LTC pharmacies and skilled nursing facilities will need to work very closely to ensure consistency across both organizations. Multidisciplinary teams should be created to include representatives from pharmacy, nursing, administration, physicians, IT, quality, and billing in order to identify each role within the system and identify strengths and weaknesses. A prioritized action plan should be created and implemented to ensure smooth communication, efficiency, and a workflow free of non–value-added activity.
2. Skilled nursing facility variation: The acuity and mobility of skilled nursing facility residents have a dramatic impact on both workflow and the medication process. Extra time and motion must be addressed in advance of January 2013 to ensure medication is not delayed and/or medication errors don't increase.
3. Increase in volume of medications at pharmacy level: Shorter dispensing cycles will result in higher volumes at the pharmacy level. As a result, pharmacies will need to look at their current processes and improve efficiencies in terms of order entry, billing, pick-pack-label, staging, and checking. This is where the brand-only requirement of this rule will especially complicate things. Multiple dispensing system management will create an additional layer of challenges.
4. Implementation of change management: To accommodate additional workloads, the multidisciplinary team will need to implement focused change management. Change management is a structured approach to transitioning individuals, teams, and organizations from a current state to a desired state. Both the LTC pharmacy and skilled nursing facility will need to work together to ensure new workarounds are put in place and a dashboard for monitoring progress is created.
5. Supporting workflow with technology: There is no one-size-fits-all solution approach for each organization. Because technology is often implemented prior to workflow and process redesigns, many solutions are not integrated, resulting in a duplication of work, breakdowns in communications, and errors. These challenges will be compounded with shorter dispensing cycles, so it's important for both sides to work together to ensure there will not be an increase in medication errors and efficiency won't be sacrificed.
Final Thoughts
As outlined previously, there are some key challenges both LTC pharmacies and skilled nursing facilities will face come January 2013. While both facilities and pharmacies will have an extra year to prepare, it's important to maximize the additional time to put the right processes in place to ensure a smooth transition. Because staffing and workload challenges will occur on both sides, it is important that both sides work closely together to prepare for the upcoming changes. These challenges provide a great opportunity to evaluate operational processes to ensure increased teamwork and a safe, efficient, and effective medication process for the ultimate benefit of patients—and the bottom line.
— Carol Sirianni, RPh, is vice president of customer programs and solutions for alternate care at AmerisourceBergen in Chesterbrook, Pa.