February 2015 | Archive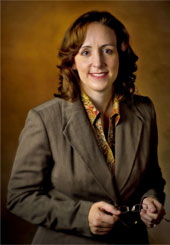 Managing Hypertension
I love February, and not just for the chocolate and flowers. Ever since the American Heart Association recognized February as American Heart Month, more folks are learning about heart disease. This attention raises awareness that heart disease is the No. 1 killer of Americans—men and women alike. Patients fear cancer and Alzheimer's disease, but hypertension is not called "the silent killer" for nothing. Hypertension is a common symptom of heart disease and a risk factor for stroke. With stroke as the fourth leading cause of death, it's clear that elevated blood pressure must not be ignored.
The evidence is nearly iron clad that for patients aged 60 or older, hypertension is a risk factor for stroke and death. So it seems an easy clinical decision to simply lower the blood pressure for those patients. But of course, nothing in geriatric medicine is simple, is it? In fact, if you are "thinking like a geriatrician," the current Eighth Joint National Committee (JNC 8) guidelines, which are supposed to make treatment decisions easier, actually make it more difficult to reach treatment decisions. Fortunately a minority opinion that addresses this situation was published.
At issue are critical matters: At what blood pressure should treatment of hypertension be instituted and what should be the treatment goal for patients aged 60 and older?
The JNC 8 guidelines recommend: In patients aged 60 and older, start treatment in blood pressures >150 mm Hg systolic or >90 mm Hg diastolic and treat to under those thresholds.1
The minority opinion read: "We, the panel minority, believed that evidence was insufficient to increase the SBP [systolic blood pressure] goal from its current level of less than 140 mm Hg because of concern that increasing the goal may cause harm by increasing the risk for CVD [cardiovascular disease] and partially undoing the remarkable progress in reducing cardiovascular mortality in Americans older than 60 years."2
The progress in reducing cardiovascular mortality has its origins in a now widely known research study known by its acronym, SHEP.3 Published in 1991, this study evaluates rates of stroke in patients treated or not treated for isolated systolic hypertension. Notably, it was stopped early when the treatment arm proved highly successful at lowering stroke events. Subsequent studies confirmed the benefit of reducing this modifiable risk factor. One study, HYVET, documented antihypertensive therapy benefits in persons aged 80 or older.4 A key aspect of this study was that benefits were seen without increased pharmacologic adverse events.
The authors of the minority opinion cite these studies and argue to maintain the systolic blood pressure target of 140 mm Hg or lower in patients aged 60 and older.
As you see patients this month, keep this discussion in mind, and keep an eye out for blood pressure >140 mm Hg. When that risk factor shows up, and you know it's possible to safely treat elderly patients with hypertension, it's time to "think like a geriatrician" and make a decision. Here's the patient-centered foundation on which all clinical decisions rest: What are the patient's personal preferences for treatment, social situation, burden of disease, and current and projected cognitive, physical, and functional status? Although it's clearly a lot to think about in a 10-minute office visit, with practice it will become second nature.
A current favorite guide for the treatment of hypertension in the elderly is available online at http://content.onlinejacc.org/article.aspx?articleid=1146473.5
Pearls of Practice
White coat hypertension is more prevalent in older adults. Be sure to get home/outside blood pressure monitoring to be certain the elevations are persistent before treating. Diagnosis is made at two separate visits with elevations on three or more measurements.
Blood pressure naturally goes up with age. However, this doesn't mean we should allow it to be persistently >140/90 mm Hg in patients aged 60 or older.
For patients on antihypertensive medications, watch carefully for weight changes as well as medication changes from other physicians, and as they age, consider an annual orthostatic hypotension evaluation. Be sure to have patients maintain adequate water intake.
— Rosemary Laird, MD, MHSA, AGSF, is a geriatrician, medical director of the Health First Aging Institute, and past president of the Florida Geriatrics Society. She is a coauthor of Take Your Oxygen First: Protecting Your Health and Happiness While Caring for a Loved One With Memory Loss.
References
James PA, Oparil S, Carter BL, et al. 2014 Evidence-based guideline for the management of high blood pressure in adults: Report from the panel members appointed to the Eighth Joint National Committee (JNC 8). JAMA. 2014;311(5):507-520.
Wright JT Jr, Fine LJ, Lackland DT, Ogedegbe G, Dennison Himmelfarb CR. Evidence supporting a systolic blood pressure goal of less than 150 mm Hg in patients aged 60 years or older: the minority view. Ann Intern Med. 2014;160(7):499-503.
Prevention of stroke by antihypertensive drug treatment in older persons with isolated systolic hypertension. Final results of the Systolic Hypertension in the Elderly Program (SHEP). SHEP Cooperative Research Group. JAMA. 1991;265(24):3255-3264.
Bulpitt C, Fletcher A, Beckett N, et al. Hypertension in the Very Elderly Trial (HYVET): protocol for the main trial. Drugs Aging. 2001;18(3):151-164.
Aronow WS, Fleg JL, Pepine CJ, et al. ACCF/AHA 2011 expert consensus document on hypertension in the elderly: a report of the American College of Cardiology Foundation Task Force on Clinical Expert Consensus documents developed in collaboration with the American Academy of Neurology, American Geriatrics Society, American Society for Preventive Cardiology, American Society of Hypertension, American Society of Nephrology, Association of Black Cardiologists, and European Society of Hypertension. J Am Coll Cardiol. 2011;57(20):2037-2114.