September/October 2018

Departments
From the Editor
Taming Lung Disease
Clinical News
Nurse Practitioners Bring Back the House Call
Medication Monitor
Challenges of Discontinuing Antidepressants
Research Review
Sedentary Habits Linked to Memory Loss
Alzheimer's Update
'Beeting' Alzheimer's Disease
Vintage Voices
A Meeting of Minds
---
July/August 2018

Fighting Racial Health Disparities in Alzheimer's Disease
The notorious Tuskegee Syphilis Study, begun in 1932, has left a stain on medical research that remains to this day, dissuading minorities from participating in clinical research and thus hindering medical advances and health care in their communities. The consequences have been wide ranging and point to the need for strategies to eliminate health disparities.
The Role of Polypharmacy in Swallowing — Its Implications for Clinicians
Medications increase the risk of dysphagia, a risk that's multiplied and amplified in geriatric patients who take several medications. Clinicians must be vigilant about assessing medication use in older adults.
Prediabetes on the Rise
Along with rising rates of prediabetes are growing risks for renal and cardiovascular diseases. Research indicates that early intervention with intensive lifestyle modification can both slow the progression to type 2 diabetes and prevent or reduce comorbidities.
Knee Osteoarthritis in Older Adults
This painful condition is associated with high medical costs, lost productivity, and reduced income for sufferers. A new nonsurgical, regenerative solution recruits the body's own stem cells to enhance healing and reduce pain.
Departments
From the Editor
A Legacy of Shame
Innovations
Analytics in Palliative Care
Alzheimer's Update
Moving Toward Prevention of Alzheimer's Disease
Clinical News
Improving Warfarin Adherence in Elders
Focus on Fitness
Tips to Prevent Osteoporosis
Medication Monitor
Medications That Increase Fall Risk
Vintage Voices
Neuroplasticity and Dysphagia
---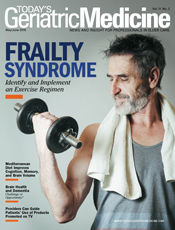 May/June 2018
May/JUNE 2018

Departments
From the Editor
An Ending; a Beginning
Medication Monitor
Poststroke Care Warrants Specialized Attention
Innovations in Geriatrics
Wearables Gain Traction in Elder Population
Research Review
Improving Elders' Driving Safety
Education Guide
Vintage Voices
Caring for Serious Illness in the Community
---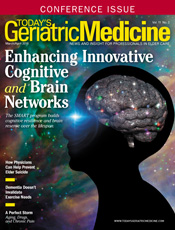 March/April 2018
March/April 2018

Enhancing Innovative Cognitive and Brain Networks
The evidence-based Strategic Memory Advanced Reasoning Training, or SMART, cognitive training program for healthy older adults focuses on specific cognitive functions, including strategic attention, integrated reasoning, and innovation.
Dementia Doesn't Invalidate Exercise Needs
Aerobic exercise for patients with dementia produces benefits including a reduction in fracture risk, reduction in mortality risk, and mitigation of depression and anxiety.
A Perfect Storm: Aging, Drugs, and Chronic Pain
Chronic pain requires specialized scrutiny without which older adults' quality of life is affected, often resulting in depression, isolation, or substance abuse.

How Physicians Can Help Prevent Elder Suicide
Patients' severe functional limitations, disability, increasing dependence on others, and the fear of becoming a burden are significant risk factors for elder suicide. Physicians must make efforts to ascertain their older patients' mental status and potential suicide ideation.
Departments
From the Editor
Addressing Brain Health Proactively
Medication Monitor
Medication-Related Sensory Impairments
Innovations in Geriatrics
Treating Spasticity Following Stroke
Clinical News
Elders' Loneliness Constitutes a Health Problem
Long Term Care
Narrative Medicine With Older Adults
Vintage Voices
Exercise Is Medicine
---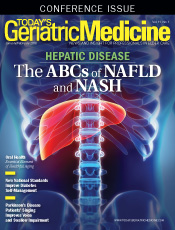 January/February 2018
January/February 2018

Departments
From the Editor
The Many Tentacles of Obesity
Medication Monitor
Biosimilars Can Reduce Drug Costs
Clinical News
Patient Data Safety for Dementia Patients Using Apps
Long Term Care
Palliative Care for Serious Illnesses
Nutrition
Osteoporosis Patients With Comorbidities: All Foods Can Fit
Alzheimer's Update
A Viruslike Protein Is Important for Cognition and Memory
Vintage Voices
Palliative Care at Home: Better Care, Fewer Burdens